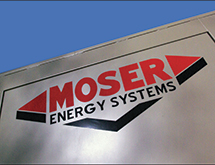 Oil and gas operations take place in some of the most remote and unforgiving environments on the planet, which means being resourceful is critical. Making every resource count is absolutely necessary for oil and gas operations, which is why Moser Energy Systems has been a trusted partner of numerous oil and gas companies for more than 40 years. Vice President Jakob Norman says the company's ability to manufacture generators that make the most of what's available in the field has made it a success, and the company's goal is to become the biggest natural gas generator supplier in the world.
Moser Energy Systems was founded by Jim and Kathy Moser in 1973 as an engine service company serving the oilfields of Wyoming. Eventually, the company started to offer other types of services, including distribution of engine components. Norman explains Jim Moser quickly earned a reputation in the industry for being able to solve virtually any issue with engines, and he parlayed that knowledge into building custom power generation packages for customers. From there, it was a natural progression for the company to building engines that ran off of fuels other than diesel or regular gasoline.
Kathy Moser says the reason for the company's growth is the same reason it continues to remain successful today. "We try very hard to respond immediately when a customer has a problem," she says.
Today, Moser Energy Systems specializes in the design and manufacture of industrial engines that run on non-treated field gas. Norman explains that this is the natural gas that often is the byproduct of oilfield mining, and it typically is considered a waste product.
By providing oilfield operators with an opportunity to use this byproduct to power the operation, Moser Energy Systems helps to make it easier for oilfield operators to get the job done when line power and other infrastructure are not available.
Serving All Sizes
According to Moser Energy Systems, the company's generator packages can lead to significant savings for customers. The company says one client launched 300 generators from Moser Energy Systems in 2013, which led to the elimination of nearly 18,500 diesel fuel deliveries, nearly $50 million in diesel fuel savings and the equivalent of more than 4,400 car emissions removed from the highways.
Not every customer that Moser Energy Systems serves operates on that type of scale, but Norman says that is one of the company's greatest strengths. The company's customer base ranges from some of the largest oil and gas operators in the world down to mom-and-pop operators. "For us, no client is too big or too small," he says.
Although the company shares the marketplace with some very large competitors in some sectors, Norman says Moser Energy Systems is comfortable in the niche it has created for itself. "We know it so well that we're really happy to be doing what we're doing," he says.
Individualized Service
Part of what makes Moser Energy Systems a success is its size, Norman says. Although the company sells more of its type of equipment than any other company in the world, Moser Energy Systems still behaves like a small company that can give each and every client individualized service. "We still have the small-company mentality even though we're a big company and doing what the big companies do," Norman says.
Helping the company maintain the high level of customer service for which it has become known is Moser Energy Systems qualified and long-tenured staff. Norman says the company has made great efforts to build a close-knit team, and the company is proud that nearly 40 percent of its staff is comprised of veterans of the United States armed forces.
Growing Up Fast
Moser Energy Systems is proud to have accomplished all that it has while remaining a relatively small company, but Norman says growth remains one of its primary concerns. "When you're doing what we are doing at the time we're doing it, the biggest challenge you're going to face is, 'How fast are we going to grow?'" he says.
Part of managing the company's growth involves educating customers about the equipment's benefits, Norman says. Despite the fact that many oilfield operators are using Moser Energy Systems' equipment to great benefit and interest in natural gas is at an all-time high, Norman says the company still encounters potential customers who don't fully understand the equipment. He says there are a lot of myths floating around about the type of equipment Moser Energy Services provides – such as that it requires pipeline-quality gas – that are not true. "Educating these big companies takes a lot of time," Norman says.
Nevertheless, Norman says, Moser Energy Systems stands ready to take advantage of the current boom in the natural gas market, and the company is prepared for the challenge. "My goal is in a year from now to be a global player," Norman says. "It's a great challenge to have, but it's a challenge nonetheless."