Highly reputed
It is around one year since Motherwell Bridge Ltd last appeared in European Oil and Gas, at a time when the business was maintaining its focus on developing in its key markets.
Since then the company, which is widely recognised as the world's leading manufacturer and maintainer of storage tanks, heat exchangers and gasholders, has continued to grow, cementing its position at the forefront of the industry.
In fact, in early 2013 the company, which is based in Lanarkshire, Scotland, announced that it had seen operating profit rise five-fold over the previous two years, largely due to its pursuit of a string of high-profile overseas contracts. For example, the business secured multi-million dollar contracts in Liberia in West Africa, Iraq, Turkey, Brazil, Mexico and India, which effectively saw its order book increase by around 80 per cent.
These projects followed the business strategy set out by Motherwell, which revolved around concentrating on engineering, design and construction of its core products – storage tanks, gasholders and heat exchangers, particularly in West Africa and the developing regions of Brazil and India. This point was reiterated by Russell Ward, chief executive, when last speaking to European Oil and Gas: "As a global player Motherwell Bridge's focus today, as it relates to its large storage tank business, is largely on the UK, Middle East and West African oil and gas markets," he confirmed.
"Separately, its gasholder business is focused primarily on the global steel manufacturing industry with a specific emphasis on the Indian, South American and Far East markets. Meanwhile, Motherwell Bridge's heat exchanger business targets the North Sea and shore based operations of its main oil and gas clients. In order to further this, the company is also in the process of offering a similar service to those based in the Middle East, where it is currently engaged in supplying units in Iraq."
As illustrated, the company's core services extend across three key areas of business, but the projects it has won cover all of these. For example, in April 2013 the company finished the construction of its first tank on a $22 million project to renovate and build 22 oil storage tanks in Liberia. This represents a significant project for the business, which commenced working on the site during 2012 and has been contracted to modernise the boat offloading, pipeline and jetties on site, carry out all civil engineering works, demolish redundant plant facilities, construct new bunding, lay foundation and construct new tanks, lay pipelines and install new pumps and electrical systems, and develop new instrumentation and fire fighting systems.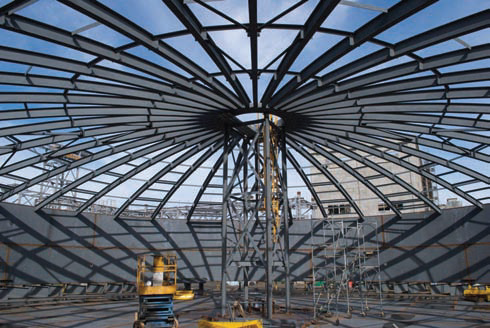 "We have been exploring opportunities in West Africa for some time and this contract with LPRC demonstrates our ability to undertake complex operations in new markets, building on our existing projects in Nigeria," said Russell, speaking about the project on the company's website. "We see significant opportunities in locations like Liberia, as there is still a tremendous amount of work to be done in the country following decades of civil war and we're not afraid of tackling challenges in what can still be a difficult environment. But we haven't gone into this job with our eyes closed. We've taken a pragmatic approach and have teamed up with people who know the market and can find the people and skills we need locally to make it happen. This project demonstrates what the modern Motherwell Bridge has to offer – the senior project management and technical expertise necessary to undertake even the most complex of tank storage projects – anywhere in the world."
Closer to home, tank storage is also a growing market in the UK for Motherwell Bridge as in May 2013 the company was awarded a contract to design, procure and install the replacement floor and double deck floating roof for a storage tank at Essar Oil (UK)'s Stanlow refinery, which was formerly owned by Royal Dutch Shell. Essar is conducting an ongoing investment programme at Stanlow and Motherwell Bridge will be handling the replacement of the floor and double deck floating roof on one of the facility's 100,000 m3 storage tanks. Together with the recent international developments this project represents Motherwell Bridge's continued success in its domestic market and is a strong endorsement of its capabilities, particularly in floating roof projects.
Of course, Motherwell Bridge's reputation is in little need of further endorsement, with the company firmly recognised for the highest standards of quality, health and safety. Indeed, during its history the business has received a number of prestigious awards in these fields including the British Safety Council National Safety Award (achieved annually since 2006), RoSPA President's Award (achieved in 2004 on receiving ten consecutive Gold Awards), RoSPA Order of Distinction (achieved in 2009 on receiving 15 consecutive Gold Awards), Membership of the British Safety Council, Nominated for Employer of the Year Scotland 2013, and quality and environmental management systems accredited to according ISO standards.
Naturally, achieving this level of quality relies heavily on the skill and competence of Motherwell Bridge's employees – an area in which the company continuously invests. In March 2013, for example, the business further strengthened its team with the addition of key employees. It expanded it storage tanks division by adding two design engineers, a junior welding engineer and a trainee CAD designer to the design and engineering team. Clayton Walker, Motherwell Bridge's gasholder division recruited a trainee design engineer during the same period, and a third new project manager, Alan Taylor, was added to the heat exchanger team.
These additions will only strengthen an already industry-leading team, continuing to drive Motherwell Bridge to new heights. In terms of growth the business is continuing to look to international projects, as well as maintaining its position domestically. During 2013 the company is looking to carry out high profile networking by appearing at various industry exhibitions and conferences to secure new leads. With the strengths of its name preceding it, there is little doubt that Motherwell Bridge will find a wealth of new work to propel it forward in the future.
Motherwell Bridge Ltd
Services: Manufactures storage tanks, heat exchangers and gasholders