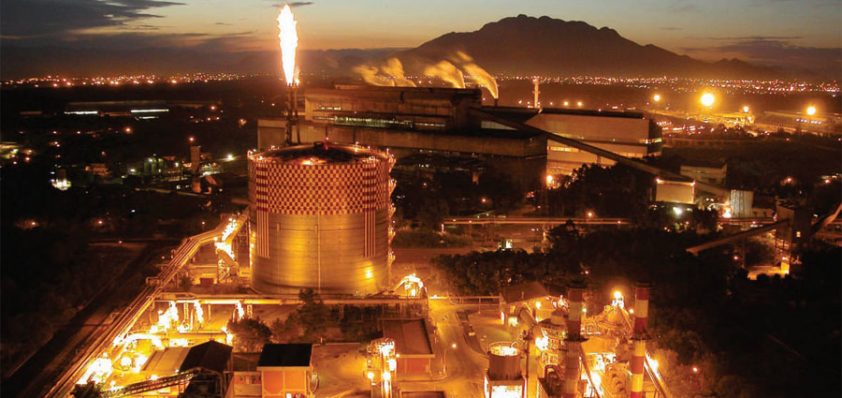 Bridging the gap
With a history dating back more than 110 years to an era when steel was first coming to the fore as a material for construction, Motherwell Bridge's roots are firmly established across a wide range of industries.
In the past this has seen the company take responsibility for the building of bridges, nuclear power plants and submarine sections. Now, in 2012, the company is recognised as one of the world's leading designers and constructors of large size storage tanks, gas holders, heat exchangers and thermal process equipment.
"Very much a global player, Motherwell Bridge's focus today, as it relates to its large storage tank business, is largely on the UK, Middle Eastern and West African oil and gas markets," explains chief executive officer, Russell Ward. "Separately, its gas holder business is focused primarily on the global steel manufacturing industry with a specific emphasis on the Indian, South American and Far East markets. Meanwhile, Motherwell Bridge's heat exchanger business targets the North Sea and shore based operations of its main oil and gas clients. In order to further this, the company is also in the process of offering a similar service to those based in the Middle East where it is currently engaged in supplying units in Iraq."
One of the points that sets Motherwell Bridge apart from its competition is the fact that it continues to maintain a full service and construction offering, from feed study and its own in-house design and engineering team, through to project management and construction: "Very few, if any other, UK based tank and gas holder companies are able to offer the type of cradle-to-grave service that Motherwell Bridge boasts," Russell continues. "For example, its in-house design team bring together many, many years of collective experience, which in turn provides its clients with
the confidence that what the company produces will do exactly what it says it will. Furthermore, the team helps ensure that Motherwell Bridge is able to react promptly to all of its clients' needs whenever necessary."
One of the more exciting items of news involving the company this year is its groundbreaking alliance with Projen, one that will make it the first contractor to offer a complete suite of tank storage services: "As is the norm with the company's existing business model, a client initially approached Motherwell Bridge, asking the business about the possibility of widening its scope outside of the storage tanks it already built and maintained to include the civil, electrical and process sides of projects," Russell states. "Upon evaluating this proposal, the company determined that the most efficient way to offer a truly turnkey operation was to form an alliance. Researching the market for a mid-size player, it soon became clear that Projen represented the perfect candidate.
"This alliance now gives clients the ability to come to either company and get access to full a turnkey project, based around tanks and storage systems. The combined efforts of Motherwell Bridge and Projen have allowed this alliance to flourish, with the two parties now active in West Africa together and with a further three projects in the pipeline, which is expected to commence within the next six months. Motherwell Bridge has been particularly impressed with the way the two teams have integrated seamlessly together to form a highly professional, industry-leading unit."
As well as investing in its people, something it has always believed to be of the utmost importance, the company has also recently undertaken a major office expansion project in order to cater for its growing storage tanks division. Now lead by general manager, John Smith, this team is attracting an increasing number of experience people to its ranks as it helps in driving current growth trends in the market. Meanwhile, Motherwell Bridge's gas holder business is being driven by customers' needs to reduce pollution and energy costs, trends that are contributing to solid global growth in this area of the business.
With the company still on the lookout to recruit experienced people, a new website being launched at the end of June and plans in place to exhibit at the Abu Dhabi International Petroleum Exhibition and Conference (ADIPEC) this November, there is lots for it to be optimistic about going forward: "Motherwell Bridge will most certainly continue to grow globally, spurred on by a business plan that focuses on its three core divisions and expanding their foot prints into strategic locations around the world," Russell says.
"Ultimately, what inspires the company is its aim to be a true turnkey provider to the various market sectors in operates in. Through its seamless and integrated turnkey and maintenance offering, Motherwell Bridge is convinced it can continue bringing real added value to its clients in these sectors for some considerable time to come," Russell concludes.
Motherwell Bridge Ltd
Services: Construction and project management contractor