Bouncing back: Motive Offshore's remarkable journey to becoming an international energy and offshore supplier
Maximizing potential
It's been over 12 years since Dave Acton and James Gregg founded Motive Offshore (Motive) in June of 2010
A specialist supplier and manufacturer of rental equipment for the energy and offshore industries, the company achieved ISO9001 accreditation in 2011, before securing work from EPC contractors working across the North Sea and UK Continental Shelf, including the likes of TechnipFMC and Ocean Engineering. In 2012, the relocation of its headquarters brought the company to the old 30-acre RAF base of Boyndie Drome, where it remains to this day. A further base, in Stavanger, Norway, followed in 2013, before a downturn in the oil and gas market, coinciding with the campaign for Scottish Independence, brought about a declining pipeline of work. Having established an annual turnover of £5 million, and an employee base of approximately 100 individuals, the company found itself scaling back, reducing its headcount by half.
"It was a difficult time," admits Dave, now CEO of Motive, when speaking to Energy, Oil & Gas. "However, we were able to learn a lot of lessons, and come out of it bigger and stronger." After initially focusing on the UK oil and gas sector following its rebuild, the company broadened its horizons in 2016, setting up a base in the Middle East. "That was our starting point, and it's gone from strength to strength," Dave continues. "In November of that year, we then took the decision to begin manufacturing equipment for rental, and to explore new service offerings, taking on private equity to do so. We achieved our goal of doubling in size within three years, setting up Motive LLC in Houston in 2018, before entering Taiwan in 2020."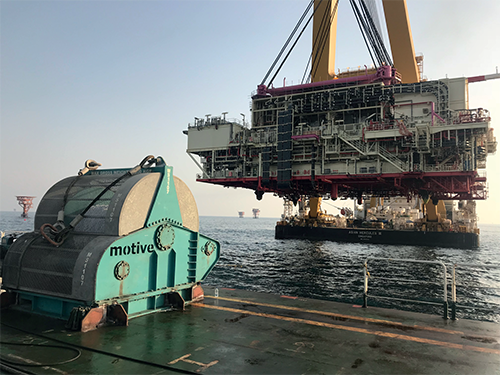 As of 2022, Motive has delivered projects in over 50 countries worldwide across sectors including oil and gas, telecoms, decommissioning, and more. Underpinning the company's growth are a number of driving factors, one of which is acquisition, beginning with the purchase of Norway-based Pumptech AS in late 2018. "The acquisition brought us Norwegian management, in a company that had synergies with our services, along with those that fell outside our remit," Dave explains. "In particular, they had a track record when it came to cables, which really provided a platform for us to move into offshore wind."
A second acquisition followed in 2020, of British-based company Flowline Specialists. Established in 2001, Flowline Specialists designed, engineered, and manufactured its own equipment, supplying experienced technicians and support services for the handling and deployment of flexible pipes, umbilicals, and cables to the offshore energy market. It was an acquisition that allowed Motive to further implement its strategic vision of market diversification into offshore wind, power, and utilities, via the introduction of complementary products, services, and expertise to existing and prospective clients alike.
"At the time of the purchase, we were Flowline Specialists' biggest client," Dave recalls. "We already knew the team and their equipment very well, and as such, it was a purchase that made sense – taking them out of the market, and bolstering our own rental fleet of equipment. It also allowed us to boost our head count by about 50, and it gave us an extra £7 million in turnover. Flowline Specialists also had a significant presence in the UAE, which was its biggest revenue generator. Because the same was true for Motive, it made sense to join those two ventures together."
Beyond its equipment rentals, Motive Offshore offers in-house design, manufacturing, and fabrication services for a wide range of bespoke and standard equipment, including winches, spoolers, tensioners, and associated cable and flexible conduit handling equipment, along with a repair, maintenance, and overhaul service. It's all part of Motive Offshore's ambition to maximize its clients' operational, commercial, and environmental performance.
"We're very self-sufficient, carrying everything from design and procurement through to testing it, all on site," Dave reveals. "We don't rely on subcontractors except where it's absolutely essential, giving us full control over the process. Within our manufacturing department, we have a dedicated R&D team whose main focus is currently to incorporate new technology into our processes, such as augmented reality. With that, we could have onshore staff wearing 3D headsets, giving them the ability to operate offshore equipment remotely. That's still in development, but we're talking to our clients and hope to commercialize a version of that soon enough. Some of our clients are already testing our smart equipment on their projects, and through that we'll be able to gather more performance data.
"Technology is set to be a big part of the future," he adds. "When the business started off, it was very much hands-on and mechanical. However, as we've grown, and given the way the world is changing, we're seeing more and more innovations being brought in all the time."
It's no secret that the energy sector is currently undergoing one of the most significant transformations in living memory. As the world seeks to allay growing fears around rising global temperatures, countries across the globe are pivoting towards renewables. For Motive, it's a similar story. "As we were going through our journey towards becoming a more resilient business, we decided that sticking purely to oil and gas wasn't a good thing," Dave says. "The world was going green, so we took the decision to transition into the offshore, and we set targets for that transition. In 2021, we hit our target of 40 percent non-oil-and-gas revenue, on a turnover of approximately £32 million. We began this year with the intention of increasing that to 60 percent, but global energy security concerns have shifted the focus back to oil and gas.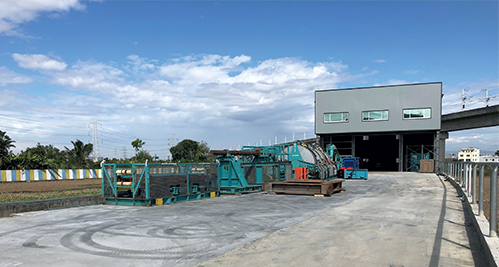 "We recently did a project in Germany for one client that involved synchronizing 20 winches to all work in tandem, as part of an offshore wind farm installation," he notes. "The actual function of these winches was to lower an air curtain to the seabed to prevent the harmonics from the tiling causing detrimental effects to any marine life."
Despite this, Dave emphasizes the continued importance of oil and gas. "We need to limit and reverse the effects of global warming, and to do that the world needs to reduce its carbon footprint," Dave insists. "At the same time, we need to take a sustainable approach to how we achieve that. Without fossil fuels, we wouldn't currently have the ability to develop new renewable technologies that harness wind, wave, sun, and other forms of renewable energy. It's about achieving balance within the context of the transition."
In 2021, Motive Offshore celebrated the official opening of a dedicated renewables hub located in Taipei, Taiwan, with an operational base near Taichung Port. The group's first facility in the Far East, it signals Motive's support for the region's burgeoning offshore wind market, and allows the company to build on its significant presence within the region, while simultaneously creating jobs to support the local economy. Since entering the market in 2018, Motive has played an instrumental role in the development and commissioning of every landmark offshore wind project in Taiwan to date, deploying multi-sector solutions to support the local supply chain.
"Taiwan is probably one of the first Far Eastern countries to have both established aggressive offshore wind targets, and actually delivered on them," Dave says. "At the same time, it also offers a stepping stone for the future, as countries such as Japan begin to look towards offshore wind. With a base in Taiwan, it also provides us with opportunities to secure more work across the oil and gas sector locally, and throughout Indonesia, Singapore, and Australia, all of which sit within the same time zone.
"Before the end of this year, we're also looking to complete another acquisition, which is set to increase our headcount by around 30, and bring in another £10 million worth of assets into our rental fleet," Dave states. "It will also broaden our geographical footprint, bolstering our presence in America and the Far East. Looking beyond, we hope to see the business achieve an annual turnover of £100 million within the next five years, eventually expanding our numbers to 500 people.
"The most important thing is to keep growing a sustainable business," he concludes. "We'll continue to pursue that organically, expanding our rental fleet and improving the level of our technicians. Geographically, we also have further plans. In general, our strategy is, and will remain, to follow our clients – that's what took us to Taiwan, it's why we went to Houston, Norway, and the UAE. We're now working with a new private equity company, with a fresh acquisition strategy, which will help us to further drive towards achieving those goals. We have a list of approximately ten companies with whom we're in dialogue, four of which are in the very early stages. By the end of this year, we hope to get at least one more acquisition over the line."
Motive Offshore
www.motive-offshore.com
Services: Offshore equipment manufacture and rental