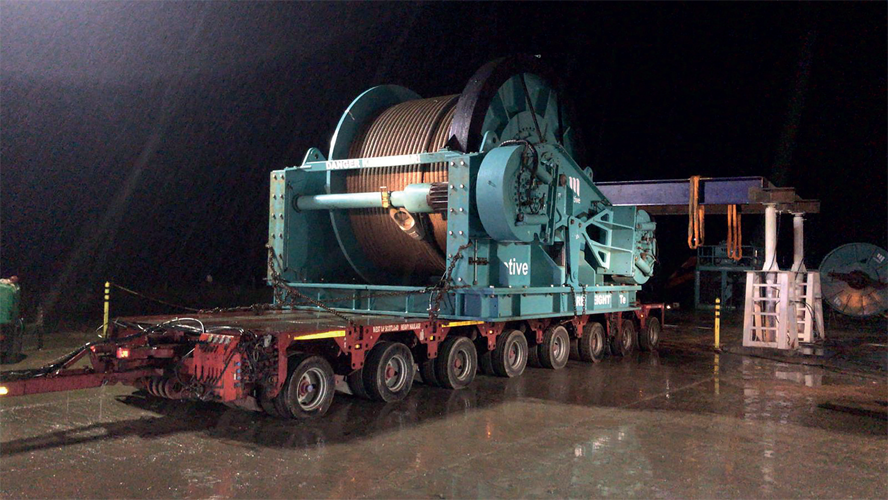 Going global
As trusted suppliers to the marine, renewables, and oil and gas industries, Motive Offshore Group is comprised of a team of experienced technicians who excel in supporting on and offshore projects. Since 2014, the Group has grown exponentially, and with strategic acquisitions, developing global bases, and growing into a 200-strong staff, it is now a leading business with a positive trajectory and the foundations to respond to market trends. This year, it is looking at a £30 million annual turnover, an all-time best. Last year, the company won the Aberdeen and
Grampian Chamber of Commerce 'Going Global Award', a fantastic way to have its success recognized.
This year, Motive was thrilled to be dubbed 'Business of the Year' by the same organization. The business believes that the award is a well-deserved tribute to the hard work and industrious commitment of its team during a turbulent year. Although it had hoped to honor the event with the usual black-tie festivities, Covid-19 restrictions required a virtual celebration.
Regarding its award-winning capabilities, Motive Offshore Group is a diverse business, organized into three key areas: rentals, engineering, and spooling and inspection. On the rental side, the group's equipment is manufactured in-house by Motive Engineering. This department guarantees quality and reliability that is tested to meet modern certification standards. Of the equipment on offer, Motive Offshore supplies winch projects, subsea equipment, offshore installation services, launch and recovery systems, wire spooling and inspections, as well as umbilical spooling and deployment services. The business prides itself on being a short lead time specialist that is able to respond quickly to meet tight deadlines set by its clients.
Tied with its rental services, the global company also specializes in wire rope spooling and inspection. With an offering of back-tension spooling winches up to 350teric, traction winches and capstan winches, Motive specifications are designed in accordance with global regulations and tested prior to mobilization. Its complete bespoke solutions package allows clients to select services and equipment to match their unique requirements.
"Our aim is to be the market leader, providing a range of multi-sector solutions tailored to the needs of our clients. The business is continuing to grow and expand, reacting to market trends and is committed to our transition into renewable energy," says Dave Acton, CEO and Founder of the specialist group. He speaks to us about the background of the business and its strategy to stay a pioneering supplier to the oil and gas industry.
"At the core of the company, the development of our team has always been my main priority. Our strapline is 'people, product, performance' and having the best team underpins this. When the company first began, we were a group of four. Now, there are over 200 people employed by Motive Offshore and, as we continue to grow and expand, the foundations of having a strong team will enable us to do this with continued success. This sets us apart from the competition because we are a home-grown company, based in the north east of Scotland, and now we have international bases that are running our projects all over the world," he shares with us.
As far as its acquisitions are concerned, each one has been completed with the client in mind. First with Pumptech in 2019, and most recently Flowline Specialists at the end of 2020. "Developing our role as industry leaders, Motive Offshore Group aims to be one company that can provide a range of solutions and services so that projects can be completed by us, without having to outsource. We had longstanding working relationships with both companies that we acquired, and they were a natural fit within the group," says Dave.
"With every project, we work with the customers from their bidding stage to ensure that we can provide the optimal solutions for their requirements. We offer support for every stage of each project, whether this is through technical drawings, engineering calculations or solutions, method statements or safe systems of work. Our ethos will always mean putting our clients first and there is always a point of contact from the Motive Offshore Group for support at every step. As the company continues to grow and diversify, it is important to us that this level of customer care is at the forefront of our operations," he expresses.
However, as important as the clients' interests are, Motive is equally as determined to bring leading service with sustainable solutions in a way that is aligned with market demands. "As we are now in the era of climate change and global warming, we are seeing an international trend towards the renewable energy industries. This is something that we are able to pursue and where we can grow our market share. It is important that we remain reactionary and resilient to the unpredictable, yet inevitable, changing global and market trends," he states.
With these ambitions in mind, Dave informs us of recent developments within the business in which it underwent a transformation to streamline its divisions to provide a more straightforward portfolio for its customers. "Before the restructure, we had seven elements to the business. As we continued to grow and diversify, it made a lot more strategic sense to simplify into three key divisions that then oversee all aspects of Motive Offshore Group. This provides greater clarity for our customers and clear accountability on leadership. As the business continues to grow and develop, we will be able to continue increasing our offering and add to the three divisions.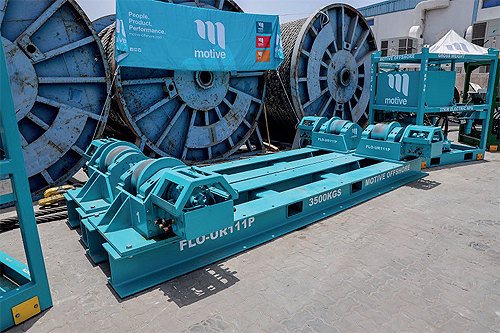 "Our next steps are to continue as we are; building the team and being awarded key contracts across the globe and focusing on sustainable energy sectors – developing the newest base in Taiwan and increasing our offering across the renewable energy sector, in particular. We need to remain flexible and resilient, as the company continues to grow and diversify, it is important that our core values remain consistent as we move forward," he shares.
One such project that demonstrates how the business is striving for excellence in the renewable energy sector is its partnering with Garioch Sports Centre to deliver a Motive clean energy container. According to the business, impressive steps towards sustainability can be made with minimal adjustments, such as the installation of a power container. This move is earning wide-spread interest among community projects, and also within the construction sector. The container is a reliable alternative to the diesel-powered generators that are commonly being used for temporary power requirements. With hybrid options offering 24/7 power generation, the Motive clean energy product range is designed for rapid deployment, low visual impact, ease of use and low maintenance. It can also be operational within four hours of delivery to its assigned site. The systems come fully charged, tested and can be utilized without connecting to the national grid, or in areas where there is no local infrastructure available for connect on.
Utilizing small scale wind turbines, typically 3kW and 6kW combined with solar PV and a battery bank, the power systems are designed, manufactured, and tested in Scotland, which further supports the local economy through supply chain, employment and the development of skills within the green energy sector. Motive believes that innovation used to develop products like the containers is crucial to enhancing the government's long-term climate change aspirations.
Not only do the Motive container systems contribute to energy saving targets, but they are designed to save another very valuable resource: time. "With remote monitoring and only a two-yearly servicing requirement, our solutions offer what we like to refer to in-house as a 'power up – man down' benefit, with organizations able to achieve significant cost-efficiencies through reduced personnel requirements onsite," adds Dave. With hopes to strengthen the sports centre's long-term aspirations from its association with the Climate Challenge Fund and the Scottish government's 'Net Zero Scotland' initiative, the introduction of the energy container is only phase one of reducing the carbon emissions within the facility. This is in line with its promotion of the benefits of on-site renewable energy technologies and electric vehicle charging points, with further expansions of clean energy systems planned for the future.
Looking further ahead, the business is keen to advance its strategies in energy efficiency while continuing to expand its operations on an international scale. "In the next few years, there will be more acquisitions and more global bases, with Motive operating out of additional countries. We want to continue with the trajectory of growth and development that the recent years have seen, having the best team working to always provide the best product and performance for our customers."
Dave is proud of the journey that his business has undergone over the past few years and he is equally as enthusiastic about the path ahead. "We have worked hard to get to where we are but there is still a lot more to do as we expand and diversify. It's a very exciting time to be Team Motive," he ends.
Motive Offshore Group
www.motive-offshore.com
Services: Integrated solutions-provider, specialising in lifting and deck equipment, engineering, multi-disciplined personnel, umbilical testing services, and hose integrity management