Motive Offshore shares big plans for business growth and international expansion
I'm one of the founders of the business," begins Dave Acton, CEO of Motive Offshore Group (Motive). "Along with James Gregg, COO, I recognized that there was an opening in the market for another company to supply marine equipment to the oil and gas industry in the North Sea. Our strategy was to build a rental fleet based on the needs of potential customers. We founded the business in 2010, and it has grown from there to not only deal in rentals but also sales, product development and more recently, inspection.
"We grew to 150 staff with more than a million-pound turnover and then we hit a key turning point at around the time of the Scottish Referendum. There was a bit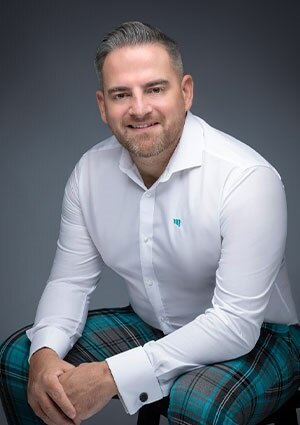 of a downturn in the oil and gas industry; work began to dry up and the demand for rental equipment depleted. To keep afloat, we had to sell some of our equipment which, in turn, meant we were unable to generate revenue. Then, in the summer of 2015, we had the opportunity to move some equipment to the Middle East. While it was difficult to manage, we seized the opportunity and it's fortuitous that we did, as the business has since gone from strength to strength.
"The MENA region now accounts for approximately 25 percent of our group's revenue. In a subsequent step, we settled on an inspection capability to diversify the business, and while rentals remain our biggest revenue generator, our inspection division is heavily involved in certifying lifting equipment and pressure vessels," Dave explains.
Adaptable equipment
Over the years, Dave's passion for pushing Motive forward has facilitated private equity investment, delivering significant growth. In August 2022, he secured a significant investment from H2 Equity Partners with a view to supporting international growth plans. "When we service a new region, we do so remotely to begin with. As revenue builds and reaches a certain threshold, we will set up an entity and move people to the region to establish a local business.
"In terms of the other aspect of growth, our plan is to close on more mergers and acquisitions. We're currently exploring various avenues and are engaged in the bidding process with the aim of continually diversifying. We've been getting increasingly involved in offshore wind to drive up the value of the business. Right now, we are at about 40 percent offshore wind and 60 percent oil and gas.
"While investment in oil and gas has decreased, we need to remember that the infrastructure just isn't in place to fully support renewable energy. Current political instability has reinforced the importance of energy security. We need to improve our ability to harness renewable energy but in a way that sets realistic and achievable targets. Claiming the ability to produce vast quantities of energy from offshore wind is all well and good but without the infrastructure to support the supply it's unreliable.
"We're currently following market demand but not focusing on a particular supply. The equipment that we design, manufacture and sell can easily be adapted to work in all sectors. Much of the equipment that is deployed in the recovery of oil and gas can be used in offshore wind. The export cables that run from the wind farm to the shore are winched onto the beach, which is a similar set up when you consider an oil and gas field. We'll deploy a cable in the seabed and then pull it onto the beach. The handling equipment that we make is adaptable. While there are tweaks to the processes, they're not material tweaks. From telecoms to decommissioning, the space in which our equipment works is suited to multiple sources," he elaborates.
Global presence
As the business grows, Dave wants to be able to offer clients more comprehensive solutions. When it comes to sourcing potential options for acquisition to enable this provision, an important factor is whether the organization is a good fit for Motive. "A preferred starting point is if we already have an established relationship with the company. Knowing each other's equipment, people, and management teams goes a long way. This was the case with Flowline Specialists. There were synergies between the businesses and because we knew them, integration was much easier. That's my preferred route and it has proved successful thus far."
To facilitate international growth, the business is setting up in situ entities to ease operations and retain overseas customers. "We have our first few employees in place in Brazil, which enables us to better support projects in South America. We also have a presence on the ground in Houston for oil work in the Gulf of Mexico. There are big plans for offshore wind on the East Coast of the US, and interestingly, organizations prefer to use European contractors because Europe boasts the most established offshore wind supply chain. We've already picked up approximately one million pounds worth of revenue from offshore wind this year alone. That's a significant amount of revenue for us and they've only just started the installation there.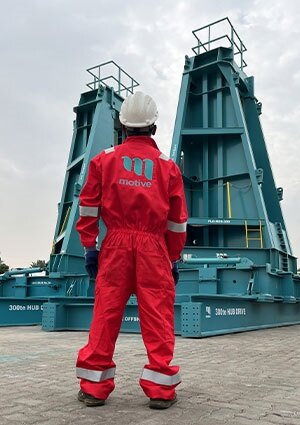 "We also put our first employee into Australia, doing sales and business development work. We see that as a good market, both for oil and gas decommissioning, and renewables.
With bases in the UAE and in Taiwan, time zone complications are reduced, making life a lot easier to work there. To work with oil companies in locations such as Abu Dhabi, there is a stipulation to employ a certain percentage of nationals. This involves either having a local operation, which demands a considerable level of overhead and risk, or working through an agency. We currently work for the Abu Dhabi national oil companies by means of an agency, which is promising considerable potential for us."
Expansion and growth
With its strategic growth plan well under way, Motive's entity in Brazil will predominantly focus on certification inspection work. Much of the work in Abu Dhabi will also incorporate inspection work and as the business becomes more heavily involved in North America, it aims to offer inspection work on the offshore wind farms too.
"I've learned from my mistakes over the years," Dave shares, "and that reinforces the importance of creating a diverse, resilient business that can transition. That's why we're working in multiple countries and sectors. The energy industry works in cycles, so, the hope is that if one bit of the business drops off then another is flourishing and propping it up.
"We hope to continue our geographic expansion, and growth, both in terms of acquisition and organic strategy," he concludes. "Whether we look to further private equity investment, trade sale or becoming listed, the plan is just to continue growing the business as aggressively as we can without taking on too many risks. If we get to 100 million in the next five years that would be a good result."