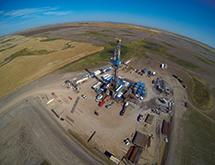 Mountainview Energy's founders believe strongly that the company can be a major player in the highly active Williston Basin – so much so that they have a large personal financial stake in it. "We came together to build this because we all have significant expertise in oil and gas," says CEO Patrick Montalban, who co-founded the Cut Bank, Mont.-based exploration and development company in 2002. "We have all invested in the company and believe in our people and our area of development highly."
Montalban and co-founders Carter Stewart and Jim Arthaud personally own 47 million of the TSX Venture Exchange-traded company's 87 million shares. "We all have skin in the game," he says.
Most of Mountainview's founders' industry experience is within the Williston Basin and surrounding oil and gas plays. Montalban has worked in various executive capacities for MSR Exploration Ltd., a public oil and gas exploration company working in the Montana, North Dakota and Texas oil fields. Along with his father, he also formed two private exploration and compression companies that are still operating. Arthaud's experience includes owning and operating a service company in the Williston Basin, and Stewart has worked in the area in several capacities for more than 40 years, Montalban notes.
Projects and Opportunities
Mountainview's cornerstone project is 12 Gage, located in Divide County, N.D., within the Williston Basin Bakken/Three Forks play. The company owns 14,000 net acres and controls 21 spacing units in the project. To date, Mountainview has completed six horizontal wells in 12 Gage:
Wigness 5-8-1H, in which it owns a 93.75 percent working interest
Leininger 3-10-1H, in which it owns a 87.51 percent working interest
Olson 35-26-1H, in which it has a 61.25 percent interest
Heckman 7-6-1H, which it owns a 89.75 percent interest
Olson 2-11S-1H, in which it has a 70.27 percent working interest
Charlotte 1-12-1H, which it has a 69.80 percent working interest
The average production of each well is approximately 400 BOE, Montalban says. Drilling on two new wells – Reistad 23-14-1H and Reistad 26-35S-1H – was completed in early 2014. Both wells were anticipated to go online at the end of February. The company anticipates drilling eight new wells in 2014 using a single rig. "We have a tremendous amount of wells to drill and they're all on proven and producing acreage," he says. "This is an area that we consider to be a company maker, and an excellent area within the Williston Basin."
Mountainview's other projects include the Red Creek field in Glacier County, Mont., where it operates 35 wells producing roughly 100 BOE a day each. The company also owns the Stateline Bakken/Three Forks project, a land holding of 13,000 acres located west of the 12 Gage project; and the Lake Frances Alberta Bakken project, which consists of 50,000 acres in the Williams/Lake Frances shallow gas fields in Pondera County in northwestern Montana.
The success of the company's 12 Gage operations will likely allow it to further develop and drill its Stateline and Lake Frances holdings. "We believe we have excellent opportunities in those plays," Montalban adds.