Funding the future
MPC Renewable Energies is making huge strides in the clean energy investment market. The company is a wholly owned subsidiary of MPC Capital, a publicly listed German asset and investment manager with EUR 4.2 billion assets under management (AUM). MPC Capital, founded in 1994, had already been involved in several renewable infrastructure projects for more than a decade prior to launching the specialised business unit in 2014.
David Delaire, managing director at MPC Renewable Energies, gave an insight into MPC Renewable Energies' portfolio, the company's investment focus and upcoming projects: "Our portfolio of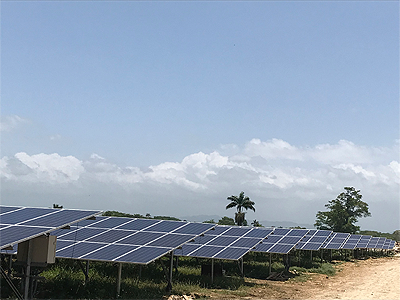 AUM includes biomass projects in Brazil, solar PV assets in Spain, the largest windfarm in Mongolia and a 50 per cent share of a 21 MW windfarm in Costa Rica. In addition to that, we have inaugurated Paradise Park, a 51.5 MWp solar PV park in Jamaica and the biggest solar PV farm in the English-speaking Caribbean," Mr Delaire said.
He explained that MPC Renewable Energies started to actively look into projects in Central America and the Caribbean after the acquisition of a 34 per cent share of Paradise Park in 2016 and following the exit from a 172 MW wind farm in Portugal in 2017 – the largest one in the country at that time.
"We realised that the region was heavily overlooked in terms of renewable energy assets – think of it as the hidden gem of clean energy investment opportunities. It's true that you need economies of scale if you want to set up shop there and capitalise on the abundance of renewable energies resources. Based on our research, however, we figured that we could be an aggregator that takes on smaller projects of five to 50 MW, combines them into one portfolio of several hundred MW and places them into a fund."
Fund specifically tailored to clean energy investments
After conducting in-depth research and analysis of the Caribbean market, MPC Renewable Energies created the MPC Caribbean Clean Energy Fund LLC ("the Fund") and MPC Caribbean Clean Energy Ltd. to enable investments into the Caribbean renewable energy space.
"Both the Fund and MPC Caribbean Clean Energy Ltd. are mainly focused on the Caribbean Community (CARICOM) region. It comprises 20 countries in the Caribbean Basin, among them Panama, Columbia and Costa Rica. Even though we exclude some countries that have a protectorate relationship with Europe or the US, such as the French Caribbean or Puerto Rico, we are looking into acquiring assets in the entire CARICOM region," Mr Delaire said.
One of the Fund's most significant investments so far has been Jamaica's Paradise Park. The solar PV farm commenced operations in June and was inaugurated in October 2019 and is a prime example of MPC Renewable Energies' holistic asset management strategy.
"We acquired our stake in 2016 and immediately got involved in all aspects of the project, including development, project financing and construction management. For instance, I personally participated in the selection and negotiations of the EPC and O&M contracts as well as the asset management agreements," Mr Delaire noted.
"Our operating principle makes this very clear: with our extensive renewable energies experience, we are confident that we can add more value to any project than just bringing the equity. We have expertise in project finance, development, construction, operations and asset management, and we want to bring all of that to the table, whenever we get involved."
Paradise Park, which is now the cheapest energy provider in Jamaica, also proves that MPC Renewable Energies is on the right track. The success of the solar PV plant demonstrates that the region has an appetite for large investment projects. Mr Delaire is convinced that this will "boost our ability to gain and execute other projects in the area."
Tilawind, a 21 MW wind farm in Costa Rica, represents another promising example in MPC Renewable Energies' portfolio. Mr Delaire explained that "this asset came to us in the third quarter of 2017. We saw that the wind farm was underperforming and knew that we could make improvements. To maximise our investment, we decided to partner with a strong regional company: ANSA McAL Limited, Trinidad and Tobago's largest conglomerate with well over $1 billion AUM.
"Due to the optimisations we have already implemented, Tilawind, as of today, is performing approximately seven per cent above what has been forecasted (P50). What's more, there is still room for improvement – and we are confident that the additional enhancements will increase the performance potential by another couple of percentage points."
On the lookout for new projects Mr Delaire pointed out that MPC Renewable Energies is constantly looking for promising opportunities. In fact, the clean energy investment specialist has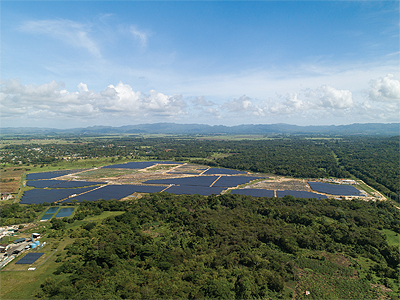 evaluated over 100 projects already.
"We are doing due diligence on about a third of those and have made binding or nonbinding offers on about 15 projects to date. We have an active pipeline of about 14 to 17 projects that we are working on now, all at various stages. It's also worth noting that we are looking at some storage and energy efficiency prospects. The focus of the Fund, however, lies on onshore wind and solar PV assets," Mr Delaire explained.
One such project is due to commence before the end of 2019. According to Mr Delaire, it's "a 6.5 MW project in El Salvador. We expect it to start in the next month or two. We have already signed the EPC and the O&M agreements and are currently looking at finalising the financing," he said.
In accordance with its plans to continue investing in the CARICOM region, MPC Caribbean Clean Energy Ltd. launched a $22.8 million rights issue to boost investment into new renewable energy projects. The rights issue runs from 13 November until December 2019 and is renounceable for current investors who do not wish to participate. Mr Delaire believes that, for the next three years, MPC Renewable Energies will be extremely busy realising assets and getting them into the Fund, to the point where they are generating revenues and returning dividends to investors.
"We have a lot of projects coming to us every day. Our aim consists of solidifying the Fund first though, before going further into the region with a second fund. That doesn't mean, however, that we've excluded other opportunities. If we see something good in a different location, such as Europe or the US, then we are open to it – as long as it falls within our investment mandate and within our comfort zone as a company," Mr Delaire concluded.
MPC Renewable Energies
Services: A business unit of MPC Capital, a leading investment platform