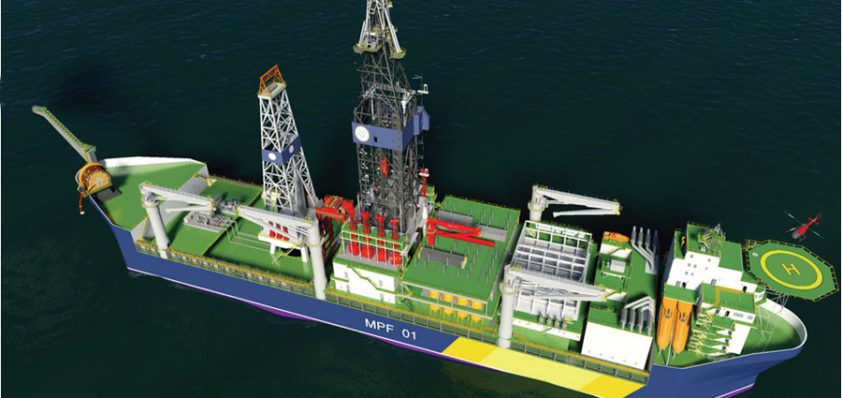 Multi-purpose progress
MPF Corp Ltd is currently constructing the world's largest multi-purpose drilling ship, which will potentially provide the blueprint for the next generation of exploration and field development tools.
The company was established in 2006 and is solely focused on owning and building MPFs (Multi-purpose floaters) that will be operational through lucrative contracts with oil and gas companies.
The installation is unique in that it combines the capabilities of an FPSO (Floating production, storage and offloading unit) and a drillship. At any one time it can be configured as one of the above or as a combination of the two. As drilling and production can be carried out simultaneously, the time it takes to extract oil is decreased while reservoir recovery is maximised. As an ultra-deep water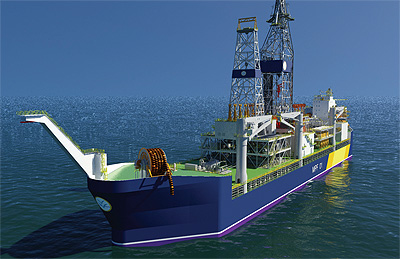 unit, it is also designed to deal with the harshest of environments.
The MPF is the brainchild of Wilhelm P. Blystad, the president and chief executive officer of MPF Corp. With the hull currently being built in China and the rest of the various parts and modules under construction at further sites around the world, the vessel is due to be completed and ready for operations in late 2009. That day will mark the culmination of a labour of love that has spanned almost 15 years to date.
Explaining how he came up with the concept for the MPF, Wilhelm says: "The research leading up to the MPF technology as it is today was started and initially funded by myself in the mid 1990s. My objective was to create an offshore floating structure to satisfy an increasing and apparent demand for more cost effective and fast track tools to explore and develop offshore hydrocarbons in deeper waters, harsh environmental conditions and remote geographical areas."
Having signed a construction contract in May 2006, the company raised $275 million through a Private Placement of Equity and a further $150 million through bonds three months later, allowing it to showcase the design to key figures in the oil and gas industry. "We have received very encouraging feedback from most of the operators with whom we have had the opportunity to discuss the project in detail. The MPFs give the operators the opportunity to take their own philosophy – to simultaneously drill and produce – into emerging markets anywhere in the world independent of pipelines or other infrastructure," comments Wilhelm
He is also keen to point out the benefits that the MPF offers to its surroundings – an important factor in today's business world where there is ever increasing pressure to display greener working practices. "The units represent an environmentally sound alternative to anchored units as we are operating on dynamic positioning. They can also operate independent of pipelines and other fixed installations which can damage the sea floor and other treasured nature, both on and offshore. When a reservoir has been depleted the MPFs can abandon the location with a minimum impact on the seafloor, move to the next location and ultimately, after 30 to 60 years, be recycled and used for other purposes," he comments
As well as offering advantages to consumers and a less damaging environmental impact, there are plans to equip the MPFs in a way that will make them less vulnerable to the potentially volatile conditions of the ocean. "We are considering incorporating a quick release system on our subsea systems, which will enable the MPFs to move away from any potential danger, such as weather and political risk, thus avoiding exposing such capitalintensive assets to uncontrollable hazards. When any such threat is reduced the MPF can be moved back to the location and continue its operations," says Wilhelm
With that in mind, Wilhelm is confident that once the first installation and the new technology has proved its worth, there will be a movement from those within the  industry to make the MPFs the installation of choice for combined drilling and production. "When our clients gradually get to know the MPF technology and its benefits, we believe it may change the way oil companies explore and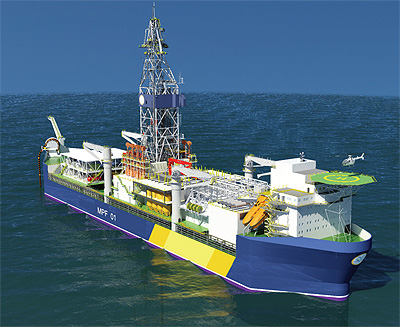 develop hydrocarbon resources in these emerging new operating theatres," he says
If that is the case – and there seems no reason why it shouldn't be – it will be in no small part down to the tireless work of the company's talented group of employees, a group that Wilhelm is quick to commend: "We have been able to recruit an impressive group of highly experienced individuals both in Houston and our local offices in Oslo, China and Spain. I believe we are the only contracting service company in the world with such experienced management in both deepwater drilling and production industries. Apart from the physical vessel that we are constructing, they are our biggest asset."
On the subject of constructing further MPFs, Wilhelm is cautiously optimistic, saying: "The company is set up to build and operate several MPFs so of course there are plans to increase the fleet. However we cannot commit to any such new building programme until we have secured an appropriate employment contract for our first unit. But we would hope that it could happen in the not too distant future."
Not that anybody at MPF Corp is getting carried away. While Wilhelm is understandably thrilled to see the fruits of his labour become a reality, he is clear that there is still much to do, as he states: "I am personally very pleased to see that finally we are able to realise a dream that I started many years ago. The project is now very much alive and has been well received within our industry. The mission is to develop into a world-class drilling and production contracting service company using the MPF technology. We are looking to bring value to our stakeholders, honour our commitments, utilise well maintained vessels and qualified, well-trained people to ensure the safe execution of work that will truly benefit our clients. Only then will we have achieved our objectives, I hope we will have the opportunity to do this as a modern and independent company."
Looking forward, Wilhelm concludes: "The long term-strategy is to satisfy our customers' demand for cost-effective and cash-flow orientated floating technology in their drive for improved financial returns in the emerging and challenging markets. Also, if the markets stay the same we should have three to five units either in operation or under construction in five years time."
MPF-Corp Ltd
Products: Multi-purpose floaters