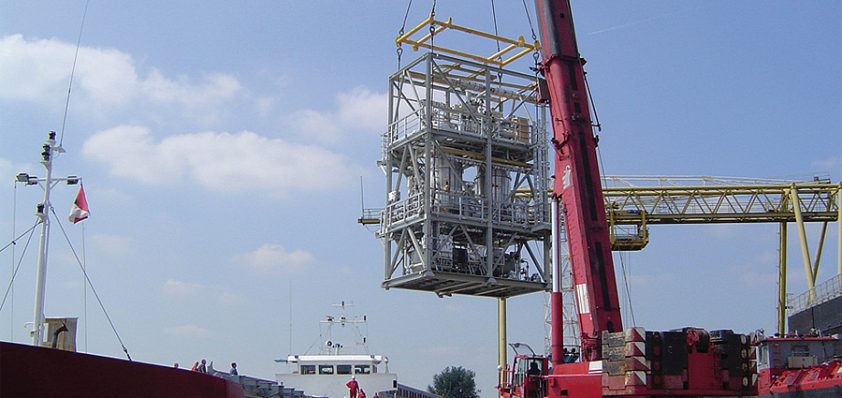 Extracting potential
As part of the global Veolia Water Solutions & Technologies company, MPP Systems functions under the oil and gas division specialising in developing, marketing, manufacturing and servicing water purification systems based on macro porous polymers (MPP).
Veolia acquired the company in 2006 following operations with AkzoNobel and today MPP Systems is renowned worldwide for its pioneering and patented technology known as MPPE (Macro Porous Polymer Extraction). This concept is a highly effective, fully automated, remote controlled and guaranteed technology for removing dissolved and dispersed hydrocarbons from water.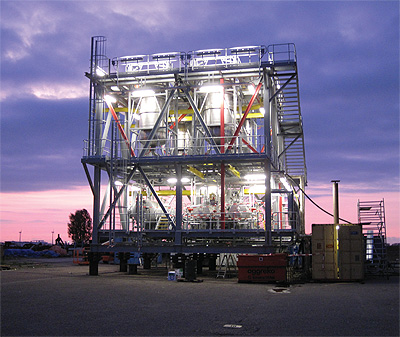 Porous polymers were first utilised in the medical industry and are now being developed for the activity of extracting compounds from water and being enhanced for use in a wide range of applications.
As a nontoxic and biodegradable extraction medium that absorbs and extracts hydrocarbons, reduces concentrations in water by up to a million and yields pure hydrocarbons suitable for reuse, it is ideal for the offshore sector. Its main applications are for offshore produced water, onshore produced water, waste water and ground water remediation – wherever toxic non-polarhydrocarbons are found, MPPE applications provide a solution. Aside from the oil and gas industry, companies in the chemical, petrochemical and pharmaceutical markets also benefit from this pioneering product.
The 80 years of accumulated worldwide experience behind the system, coupled with its tested and proven references by many respected companies, set it apart from alternative methods.Organisations such as Shell, Total, StatoilHydro, NAM (Shell/Exxon) and Woodside utilise its dynamic capabilities.
Dick Meijer, MPP Systems' managing director, highlights its key strengths: "MPPE's capability for predictive reproduction is extraordinary. If a client comes to me and asks me to reduce a mixture of chlorinated and aromatic hydrocarbons, for example, we are able to design a tailor-made unit in such a way that it will reach the target performance. As the process is determined by chemical and physical laws, we're able to give guarantee the performance for the entire lifetime of the unit, which other methods fail to provide. This is especially important in the oil and gas field where reliability is key, whilst cost and low energy factors are added benefits."
The very high reduction factor is an additional strength in that it can reduce concentration from 1000 parts per million, to one ppb (parts per billion). Moreover, the robust qualities of MPPE were not foreseen during the development stages and it was during its use throughout a number of applications and industries that this element came to the fore. It can conduct anaerobic operation in ambient temperatures, resists interference from dissolved iron, heavy metals, surfactants, salt and polar compounds without scaling, and emits no biological fouling because of the periodic in situ
regeneration of steam. Every individual unit is manufactured to meet the bespoke needs of environment, application and concentration.
The potential for MPPE to reduce the environmental impact of the international oil and gas industry is huge. In the 1970s when the European oil market began to grow in prominence, regulations were set at 40 ppm (parts per million) dispersed hydrocarbons in water as a maximum emission. It took 30 years, until 2007, for improvements to be made to 30 ppm, due to the fact that there are not enough affordable and applicable technologies to create lower values.
As increasing global focus on environmental issues puts greater pressure on oil and gas companies, countries such as Norway, which has its own environmental management tool known as the Environmental Impact Factor, are beginning to conduct studies to establish the best way of removing toxic and carcinogenic molecules from offshore produced water. Having been assessed in various field trials and industrial applications, it has been found that the MPPE technology is capable of reducing environmental impact by 95 to 99 per cent.
MPP Systems' latest contract involved the supply of a permanent MPPE unit to Statoil, replacing the mobile unit it had installed in 2005 that was put in place to combat the collapse of its biotreatment application. The MPPE unit's success over the past four years and Statoil's investment is testament to the company's market-leading solution.
For the future it is predicted that a new concept for floating LNG plants will be introduced to the global oil and gas market, as Dick explains: "Many oil and gas contractors are starting to look at the possibility of floating LNG plants that will function much like FPSOs to operate in deep water and far offshore regions. This move would create enormous flexibility as LNG plants could be installed on ships, but all designs and proposals of such would have to meet the requirements for zero harmful discharge.
"As a result of this we have received a great number of enquiries from various oil and gas companies that know of our expertise, to design an MPPE technology that would fit this type of application. None have been built yet but we will be keeping a close eye on developments and I believe the potential for this sector is huge. Our technology is ideal for coping with the ecological regulations and demands of future markets."
MPP Systems
Products: MPPE technology