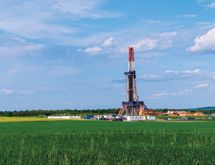 MS Energy Services has more than 20 years of experience and has become a leading independent directional drilling services company. It is one of the top-three independent companies that specializes in directional horizontal drilling in North America, and it has an established presence in most major producing onshore oil and gas basins in the United States.
Directional drilling and horizontal drilling allow access to areas that were not accessible vertically. Directional drilling and horizontal drilling also increase well productivity and reduce the drilling footprint. This allows for recovery of gas and oil from a greater area than is possible from a single wellbore.
MS Energy Services invests heavily in technology developments. In addition, it has strategically situated operational locations that have helped the company to realize revenue gains.
The company's legacy extends back to 1980 as an oil and gas well survey company. It grew during the 1990s through a number of acquisitions of directional drilling service companies. Its current setup came into existence via a number of mergers, acquisitions and a management buyout in 2004. MS Energy Services today describes itself as one of the most comprehensive oilfield service companies.
Headquartered in Conroe, Texas, MS Energy Services is based out of a more than 75,000-square-foot facility. Its fully integrated facility is home to its manufacturing, maintenance, inspection and management operations. In addition to its Conroe headquarters, it is positioned throughout the United States to provide support and products for all directional drilling needs.
Tech Leaders
The company's positive displacement motors represent the largest fleet and the largest configuration of different sizes of PDMs among independents in the directional drilling business. It has roughly 1,200 single units that feature a reliable design that can withstand harsh environments and high temperatures.
This technology helped the company to set a number of drilling records. Those include the Charco Sand drilling record and the Cotton Valley bottom hole assembly drilling footage record.
MS Energy Services' divisions provide expertise in an array of areas. Its offerings include directional planning, directional drilling, downhole performance motors, directional surveying, measurement while drilling (MWD) services, steering tools, downhole electric wireline, electromagnetic technology, QuikShot straight hole monitoring and onsite operational supervision. It has a diversified customer base that includes large, U.S. independent exploration and production companies.
The company is organized into a number of divisions. MS Directional provides directional drilling services that utilize industry-leading products. It can operate in all wellbore profiles and operating environments, and its drillers have experience in a wide array of formations and basins.
The MS Guidance division is positioned to serve all MWD needs. It serves both directional and vertical oil and gas drilling markets. Through internal R&D, design, engineering and manufacturing capabilities, MS Guidance can provide customers with high-value wellbore profile monitoring services.
The MS Survey division has 25 years of surveying experience. It offers a vast range of gyroscopic instrumentation, such as solid state technology, real-time and memory gyro systems. Its digital magnetic instrumentation can replace conventional mechanical compass style units, providing increased accuracy. Its temperature tool uses a platinum RTD sensor that has a fast response to temperature changes.
MS Energy Services' wireline division consists of a fleet of modern wireline units that are focused on serving the domestic U.S. oil and gas market. The company has single, split and dual drum capabilities. All of its units are equipped with high-temperature electric wireline drums of either 7/32" or 5/16" diameter.
Another part of the MS Energy Services family is Mpact Downhole Motors. It has more than 20 years of experience in the design and manufacturing of premium-quality drilling motors. Mpact is a leading supplier to the domestic U.S. directional, horizontal and vertical drilling markets. Its proprietary drilling motor products serve operations throughout the Gulf Coast, Permian Basin, Mid Continent, Rocky Mountain and Appalachian regions. From the 75,000-square-foot facility in Conroe, the company has 50,000 square feet dedicated to manufacturing and warehouse space for the motors, including repair and maintenance support.
Thanks to its internal engineering and development capabilities, MS Energy Services has been able to develop a number of proprietary technologies. These systems include guidance technology such as hot-hole MWD, high-resolution gamma, pulser designs for improved reliability and its surface data acquisition system. Proprietary survey technology includes solid-state gyroscopic tools, north-seeking gyroscopic tools, digital single-shot tools and digital multi-shot tools. Its proprietary drilling motor technology includes bearing assemblies, adjustable bent housings, power section designs and short radius/articulation designs.
MS Energy Services' development of proprietary electromagnetic measurement while drilling services is designed to speed up the process of drilling wells. It transmits information to the surface via radio waves, rather than pulses used with the traditional MWD systems. It improves the reliability of the data by eliminating the interference of mud and wire transmission common with traditional methods.
The company uses specialized solid modeling and stress analysis software in all mechanical designs. It performs circuit simulations and environmental tests on all new designs, which helps maximize downhole performance. Its tool data acquisition and control are handled by proprietary firmware, while in-house-developed Linux and Windows-based software performs surface data decoding, processing and display.
Through complete control of the design and manufacture of its equipment, MS Energy Services can provide better service and customized options for customers.