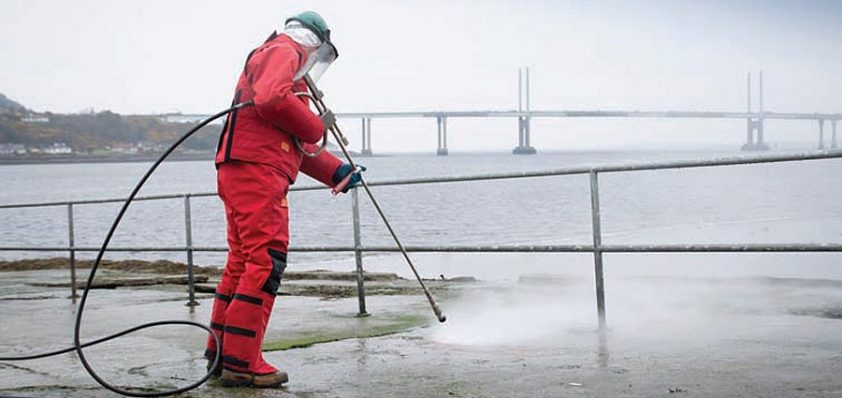 A capital investment
Operating a specialised business providing environmental services, MSIS has developed a forceful reputation as a leading niche service provider.
Since the company was founded in 1998 it has grown and now operates from two bases in Inverurie and Invergordon, and is well positioned to service and grow further to serve its key markets.
Throughout its history the MSIS brand has remained highly recognisable for the quality of its service operations and notable for its impressive growth, as David Skinner, managing director elaborates: "MSIS has built on its enviable reputation over the years and has continued to grow. We currently have a threeyear plan for further growth and as part of that initiative there has been some significant capital investment in equipment and staff. We see a
very good opportunity in the market place for us as we consider ourselves to be a specialist in what we do and there is a growing demand for our services from our client base."
MSIS is proud of the bespoke environmental services and equipment that it provides. MSIS operates both onshore and offshore. The traditional markets that the company was founded on are utilities and distilleries, however the growing market for the company's services is in the oil and gas sector and this now accounts for 70 per cent of revenues. "This is where we see our future growth," said David.
Within the oil and gas market MSIS is very strong in the floating production storage and offloading (FPSO) sector of the industry, where it provides specialist cleaning in both in situ operations and in docks and other secure environments. This has enabled the company to execute successfully challenging projects for some of the most recognisable names within the oil and gas market. One such example was an FPSO cleaning project undertaken on behalf of BP to solve a long-standing hydrocarbon problem. MSIS was tasked with supplying a bespoke cleaning solution to the company's Schiehallion FPSO vessel, and the project called for the removal of 120 tonnes of highly viscous hydrocarbon residue from the vessel's port and starboard tanks. This gave MSIS the opportunity to showcase its Premier Transfer System (PTS). The PTS system was selected as the best-fit solution to the task at hand and the removal of hydrocarbons from the vessel was achieved on time and without incident.
By combining safety, training and market leading innovation MSIS is able to create tailormade service solutions for its clients. Within the oil and gas sector its services include specialist cleaning, rig maintenance, emergency response, retro jetting, CCTV inspection, norm decontamination and waste management. Bespoke solutions are available alongside well-established techniques and these are further complimented by the company's range of professional services comprising of training, consultancy, project management and environmental management solutions. These provide the customer with a fully managed service through a single point of contact. Furthermore, the in-house expertise that MSIS provides results in reduced staffing costs and minimised liability and technical exposure through increased safety and efficiency to the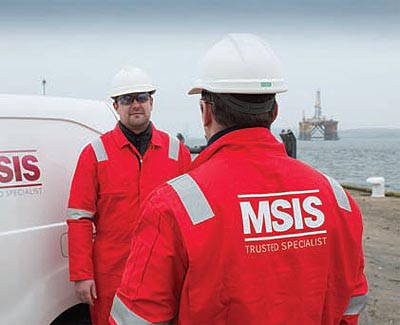 client.
Reflecting on what it is that identifies MSIS as a trusted specialist service provider David says: "I think that the company's successful delivery of projects and health and safety record speak for themselves. Tank cleaning is something that is sometimes perceived as just cleaning, but it is actually one of the more high-risk jobs that can be carried out in the offshore environment. It involves working in confined spaces that contain combined substances that could be dangerous. Preparation is key to a successful project; site visits and analysis are done beforehand to fully prepare for the job. Primarily it is our methodology and track record that differentiates us and we retain a high level of repeat business with our client base."
The highly regarded reputation of the MSIS brand has allowed the company to work with well-known industry clients including BP, Transocean, Talisman, Global Energy and BIS Salamis as well as several others. At present the company's operations are primarily focused on the clients operating in the North Sea and Norway, however MSIS is ready to meet these needs of its clients wherever the market is most active, as David explains: "I think the sustainability of investment in the UK oil and gas market is an important factor for us going forward. There is a high level of investment in the region up until 2015 and after that the market is a little more uncertain, however the North Sea will remain our key market and in addition we are already planning to address international opportunities to sustain our growing revenues."
Commenting on the company's current focus and position he concludes "We have done extremely well over the past two years, the company has grown and we have a plan in place to continue that growth. This is the result of significant capital investment last year and I think we are on the right track going forward."
MSIS
Services: Environmental services and equipment