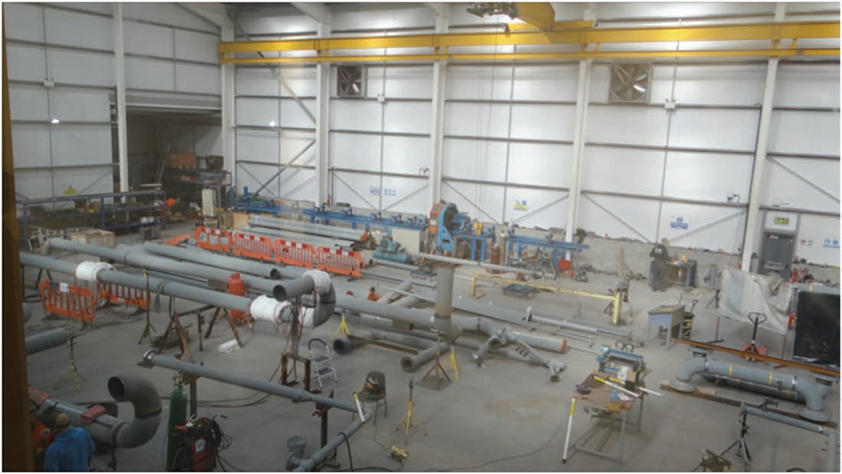 Strong roots
The roots of MSL Engineering Ltd date back to 1979 and through its 34 years of trading experience, the company has built up gradually from an initial small scale to its position today as a large and skilled contractor with a turnover of €20 million and an average workforce of 160.
"We specialise in the provision of pipe work installation and process equipment installation, utilising our fabrication facilities to produce piping spools and modules for site installation," says Maurice McGrath, managing director.
With the majority of its work undertaken in Southern Ireland, in 2012 the business invested in a brand new 20,000 sq ft premises from which it fabricates all types of pipe work from carbon steel to stainless steel and chrome-moly, and other exotic materials. "The increased space allows us to undertake modular builds. The reduction in the amount of man hours required on site has a lot of advantages from a safety perspective, as the work is undertaken in a controlled environment," points out Maurice.
In 1990, it received recognition of its capabilities, winning a series of significant contracts that ultimately positioned it as an automatic choice on the tender lists for consultants working with multi-national clients, as Maurice explains: "We received the contract for the maintenance work on the offshore production platforms for Marathon Petroleum on the Kinsale Head gasfield. We held that contract for five years during the peak production period, undertaking a great deal of work and establishing relationships with clients that would last decades." Under exclusive contracts, highlighting the confidence in the business, MSL Engineering executed numerous projects for a range of oil and gas clients including ongoing pipe work maintenance contracts.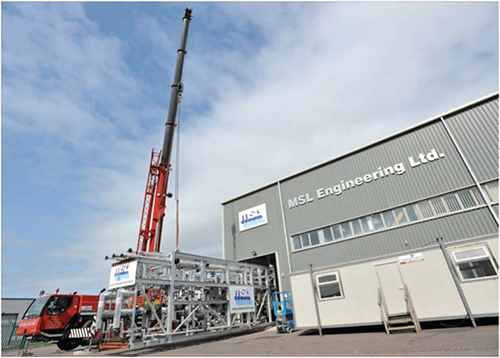 Subsequent projects included maintenance and capital works at Whitegate Refinery, which is currently Ireland's only refinery, owned and operated by Phillips 66. Crude oil processed by the refinery is light, low-sulfur crude oil sourced mostly from the North Sea, North Africa and West Africa. The refined products are distributed mostly inland, with some exported to international markets and the site operates a crude oil and products terminal with over seven million barrels of storage facilitated by an offshore mooring buoy in nearby Bantry Bay. "Under this contract we do all of their maintenance work and have also undertaken several major contracts for Phillips 66. The site was originally owned by ConocoPhillips and we had a very similar arrangement with them and a long working history together," says Maurice.
Today, the majority of the company's work is with pharmaceutical companies as well as in the power generation, and agri/dairy industries, which is a growing indigineous sector in Ireland. It has also undertaken a number of large distillery projects such as that with Irish Distillers, worth nine million euros, in which it fabricated and installed over 18,000 metres of pipe over an 18-month period. "As far as our clients are concerned the two most important factors are safety and quality. We work in industries that are inherently hazardous and any slip up on safety is very serious, so no shortcuts can be taken on safety. One of the reasons we have been successful is that we don't compromise on safety, which is reflected in our high standards and safety record. In our business quality is something that can be very easily measured, with our welding and fabrication subject to thorough NDT testing. The work is also very labour intensive and the personnel that we employ and depend on have a lot of industry specific knowledge and an excellent skill set," highlights Maurice.
With the industry in general feeling the skills shortage, Maurice comments on the impact that this has on the future of the business and industry: "As many of the older generations leave the industry they are not being replaced by new entrants. This seems to be down to a reluctance to get into the industry and a shortage of relevant training and courses." On a global scale, there is a great demand for people in all trades across the industry, particularly in countries such as Canada and Australia, which have several ongoing major mechanical projects. Considerable numbers of skilled tradesmen have emigrated as they search for lucrative opportunities. In response, MSL Engineering has an apprenticeship training programme which takes on youngsters every year.
"This is a very competitive business, particularly in Ireland where there are a number of companies operating in this niche market, which makes it more difficult to compete. In recent times, some of our competitors have moved into bigger markets such as the UK, Holland and Belgium as well as the Middle East. As we look ahead we see the UK as a market we would be able to compete in," explains Maurice. The Cork site benefits from a long tradition in developing the skills required in this industry, leading to a core of valuable experience. "Such resources are required in the UK and Europe where the oil and gas industry and pharmaceutical companies continue to expand. We see many future opportunities developing from this and through leveraging off our experience in Ireland we hope that we can build on opportunities in new markets," he concludes.
MSL Engineering Ltd
Services: Mechanical engineering contractor specialising in pipe work, fabrication and installation