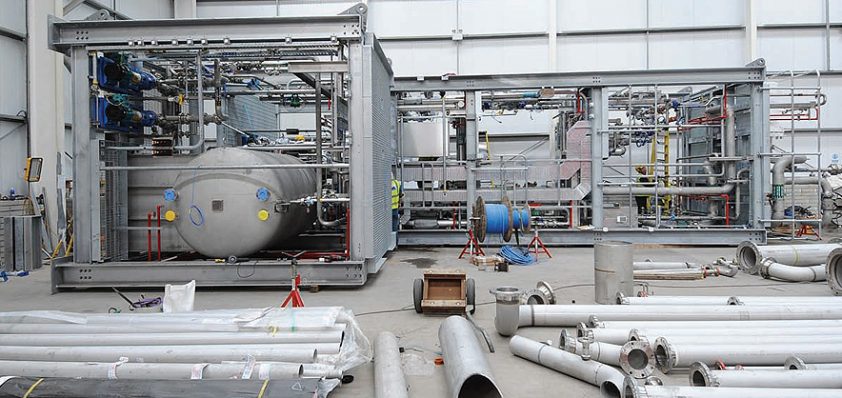 A new level
With roots dating back to 1979, MSL Engineering Ltd. is a leading mechanical engineering contractor dedicated to delivering a service that incorporates the highest standards of workmanship, safety, quality and reliability in interpreting and exceeding its clients' expectations.
Operating from its base in Watergrasshill, Cork, Ireland, MSL Engineering Ltd. (MSL) has close to four decades of industry experience as a trusted partner engaging in specialist design, fabrication,
installation, commissioning and testing of process pipework, utilities and highpurity pipework, as well as installation of process and heavy equipment. MSL also manages multi-discipline sub-contractors as part of many of it projects including heating, ventilation and air conditioning (HVAC), scaffold, cranes, insulation, painting, structural steel, sprinklers and non-destructive testing (NDT).
The business was previously featured in EOG's sister magazine Manufacturing Today Europe in April 2015, during which time Managing Director, Maurice McGrath discussed the importance of quality across its mechanical engineering operations and the company's growing presence nationally and internationally. Over the following period MSL has continued to enjoy strong growth across its traditional markets within Ireland, while its presence in the UK, Netherlands, Belgium, Switzerland and Sweden has equally expanded.
"As a company we have being trading well and very busy since April 2015 and while we have retained a lot of the previous clients that we have worked with locally, we have also acquired a lot of work outside of the Munster region with new clients. This includes increased work overseas, which is something that has also grown well over the past year or so. We have seen a change of previously having around 90 per cent of our work within the Munster region to under 50 per cent of our business now being undertaken locally. For example, there is a lot of development going on within Dublin at present and we are also being contracted for increasing amounts of work throughout Europe,"
Maurice reveals. "This has been the biggest change for us in recent times, but we have also increasingly focused on working with highpurity applications in mechanical engineering in line with the Biopharma industry demand. We have built a high-purity workshop at our premises in Cork and we have since won some good contracts in the fabrication and installation of high-purity pipework, which is a part of the business that continues to grow positively," he adds. "The new workshop was installed in early 2016 and quickly allowed us to complete the high-purity elements of existing contracts. However MSL has since won several larger jobs for high-purity pipework for projects overseas and this enabled us to make the workshop fully operational during the final quarter of 2016. Our high-purity facility continues to be busy and will remain so throughout 2017.
"Another aspect of the business that has helped us win work in the UK and Europe is our proven track record in successfully completing modular built pre-assembled process units and pre-assembled racks in our workshop in Cork for subsequent shipping and installation." On-site installation of these modules is normally carried out by MSL as part of the overall package, however installation by others is also an option.
Throughout its existence and increasingly so in recent years, MSL has also continued to invest in the development of its core staff and its competence in support of its manufacturing facilities. This has enabled the company to further add a design element to its service portfolio, hence increasing its potential to win new contracts across a variety of applications. "Our biggest on-going investment is in our personnel and we currently have more engineering personnel within the business then we have ever had in the past, as well as in-house piping
designers that allow us to take on projects outside of our traditional scope of work," Maurice elaborates. "Previously we would have carried out our line of work with the detailed design work provided by the client or an external engineer on behalf of the customer, whereas we are now able to have a positive input in the design of the project ourselves. We also find that this can be an attractive proposition to some of the engineering houses themselves, because apart from the fact that when they are very busy it can be difficult to find engineering resources, it can also prove very beneficial to have an experienced contractor's constructability input at design stage. A contractor that can offer a level of design is therefore a useful partner in undertaking projects."
While 2016 has proven to be a highly successful year for MSL, the company is showing no signs of slowing down. By offering a personal service and guaranteeing the highest levels of quality, MSL is set to continue to grow into new markets throughout the New Year. "We have essentially now risen to the 'next level' in terms the quantity of work that we can take on and the amount of turnover that we are able to generate. We increased our turnover substantially throughout 2016 and have expanded our presence across Ireland and overseas. As I mentioned previously, Dublin has been particularly active and we will aim to maintain our presence there over the coming months and years. We have invested in the additional resources to handle an increased level of work and our aim will be to keep those resources working and active," Maurice concludes. "We really are able to offer a first-class service based on very varied projects and a lot of experience. Although we are undertaking fairly sizable jobs we are a company that is still managed by the owners of the business, which is something that some clients find reassuring in that if they have any issues of any kind it is possible to pick up the phone to speak to the owners of the business to get the matter resolved quickly. When markets are busy clients like to know when they award work to a contractor that their contract is among the top on the contractor's priority list, which is more likely to be the case when the business is managed by its owners and able to offer a personal touch."
MSL Engineering Ltd
Services: Mechanical engineering contractor