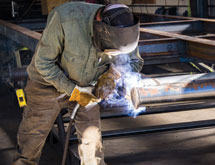 When the construction industry took a turn for the worse three years ago, Travis Jordan and many of his peers throughout Montana found themselves scrambling for new careers. Their options were to take on low-paying jobs and hope to make ends meet until the construction sector returned to normal, or set out on a new frontier.
After calling countless friends and family members, Jordan found his answer in Matco Manufacturing Ltd. – a Grand Prairie, Alberta-based manufacturer of oil rig mats and camp mats that primarily serves clients in the Alberta oil sands. The company told Jordan about the calls it regularly fielded to deliver its customized rig mats to operators throughout the Bakken Shale in North Dakota and Montana.
Rob Hoag and Garth Isaac are two Matco Manufacturing owners that helped Jordan get started. At the time, the inquiry calls were occasional, and orders were for standard rig mats rather than custom ones.
However, Hoag encouraged Jordan to launch MT Rigmats LLC. Matco helped the process by referring its Bakken shale customers to the new manufacturer in Ronan, Mont., trained its employees on how to manufacture mats and offered Jordan its support in every way imaginable.
"Hoag has helped me with pricing and bidding projects, along with market insights and industry information from 10 years of experience," Jordan says. "Also, he helped with pricing and sourcing raw materials, and has referred customers and orders to us that we would not have gotten otherwise."
After obtaining approximately $150,000 in financing, Jordan launched his company about a year ago. Today, the company will earn more than $1 million in sales for 2012, and Jordan expects to double that number in 2013.
MT Rigmat specializes in the manufacturing of oilfield rig mats, camp mats and custom-fabricated rig mats. Along with catering to operators in the Bakken Shale, the company also serves the oil industry in Wyoming. It can deliver directly to job sites through a network of installation companies in Williston, N.D., and Cody, Wyo.
"We build a superior product for a lower price and use a skilled and motivated labor force to get it there faster," Jordan says. "Being in the middle of the Rocky Mountains provides us a lot of saw mills to buy from with minimal transportation, which lets us have our flexibility to provide products when customers need them."
Keeping Up with Demand
The greatest challenge for Jordan's fledgling business is to keep up with demand for MT Rigmat's products. At first, the company received orders for eight mats at a time. However, oilfield operators began to find new applications for the mats in and around their rigs. Now, orders call for as many as 300 rig mats.
Jordan says MT Rigmat is doing all it can to keep up with demand, including attempting to double its current workforce to 12 employees and expanding its facility in Ronan.
In the challenging business environment of recent years, Jordan, CFO Don Woods and Operations Manager Avery Peters accept the work with open arms. Jordan says when the housing market collapsed in Montana, it left a number of experienced employees out of work.
His company has taken advantage of the work ethic and dedication of the Montana-based labor force and parlayed it into a successful operation that prides itself on delivering quality in a timely manner. From the local truckers who deliver loads on a moment's notice to saw mills that have restarted operation thanks to the need for raw materials, MT Rigmat has some people in its region of Montana working again. EMI