A focus on service
Today, Mubarak Marine is renowned for its experience and dependable service, making it one of the most recognised marine services companies in the Middle East region.
Miranda Strawbridge-Docherty, the marketing manager for the company, gives a few more details about this fast growing business: "We are a marine service organisation based in Dubai, and have provided towing, salvage terminal and SPM support to the region for almost 30 years," she says.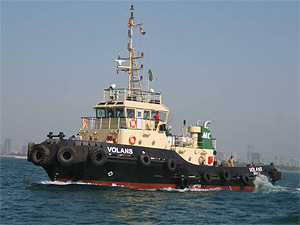 Mubarak Marine was established in 1979, running small cargo ships in the UAE. By 1982 it was involved with the ship demolition market, offering salvage and towage. Miranda adds: "This grew into a niche for us in the S&P of demolition-ready and decommissioned vessels. By the mid-1980s we were expanding into the general coastal and offshore towing industry, as well as providing pilotage and harbour towing services in the region. Today, we are diversified in the marine services we offer, providing all harbour towing for the Hamriya Port Dubai and the Dubai Creek waterways, salvage, emergency rescue and response throughout the region encompassing the GCC and surrounding waters as well as offshore support and third party chartering."
European Oil and Gas Magazine last spoke to Mubarak Marine in June 2009, and since then several developments have occurred, as Miranda explains: "We have opened an office in Saudi Arabia, launched three new barges and one tug, entered a new joint venture in Saudi Arabia and renewed several old client relationships. We have a new HR manager who is doing a great job with our crewing and we are still moving forward with our plans for the future office in the Dubai Maritime City."
She goes on to describe the new company in Saudi in more detail: "This office is in Dammam, and is headed up by our general manager Capt. Khalid Al Nasser. The office is handling the support of operations in Saudi Arabian waters and working with ongoing projects and new projects for Saudi Aramco, along with the development of new opportunities with other Saudi-based companies."
Mubarak often works with Saudi Aramco as a subcontractor to its direct clients, as well as providing services to several other blue chip organisations: "Our key clients come from a variety of industries, ranging from Government authorities and E&P contractors to near shore construction," says Miranda. "We have long term contracts with the UAE coast guard, Drydocks World, Chevron Thailand, SEPOC Yemen, BG India and many short term contracts with the likes of Van Oord & Boskalis, both leading worldwide dredging companies."
Such is the quality of Mubarak's service for the UAE coast guard, that the company's great support was recently recognised by the organisation. Miranda explains that this was a great privilege: "We are very honoured at receiving the recent recognition from the Coast Guard. It has a large responsibility here keeping the coastline safe and we appreciate the opportunities given to assist and support its operations."
The UAE coast guard and the other organisations that work with Mubarak are attracted by its strengths – diversity in services, excellent client communications and business integrity. "We offer our clients a personalised hands-on service," Miranda confirms. "We are experts in varied operations and tailor our marine spreads and personnel to clients' requirements. We have the expertise to meet the needs of most projects that come our way. From the managing director, Juma Mubarak, through to the 24-hour operations group, we work as a team to assure every client is satisfied with the services we provide."
In addition, Mubarak is not restricted to its location and will consider all viable opportunities. "We do primarily work in the Middle East, India and the Red Sea, but our towing operations take our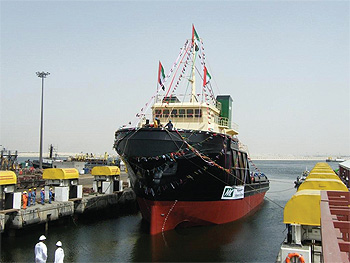 fleet to many locations in the Indian and Pacific Oceans, so we are flexible. Salvage operations have been historically in the GCC region, but we do act on opportunities beyond these waters," Miranda highlights. "We are currently working in India offering STS operations, and we are steadily growing these operations. North and West Africa, India and other Middle Eastern countries are areas where we are actively working on growing our business. We are also expanding our relationships with European shipping companies and offshore E&P companies working in this region.
"The general industries we serve are varied, as we tow ships, barges and rigs. Part of the towing services in recent years have extended to the rescue, response and supply for stranded and disabled vessels, for whatever reason – weather, piracy or mechanical breakdown. Our oil and gas support services include operations for pipelaying, platform construction, exploration, diver support for SPM maintenance and offshore accommodation barges for exploration and production. We also operate a 400-ton sheer leg crane barge to facilitate heavy lift operations and terminal maintenance such as loading arm change outs and terminal construction," Miranda explains.
As well as these capabilities, Mubarak has recently launched the accommodation/work barge Millennium II, and in April 2010 it is launching two new four-point mooring barges with up to 200-ton lift capacity cranes on each. "We are looking to grow our fleet by at least 50 per cent in the next five years, mainly through increases in AHTS, barges and adding jack-ups to the current fleet," adds Miranda. "The growth will add to the services we already offer as well as supporting up-coming projects in the region."
As mentioned above, April 2010 saw an important vessel launch, and in addition a significant contract has been signed. Miranda explains: "Recently we were nominated by the DMC for emergency response services to be offered to all ship owners placing vessels in lay-up at the Jebel Ali Anchorage (JALA). We completed the first agreement in March and we just signed a new one for a period of six months. We are very pleased to have this opportunity to assist the DMC and ship owners visiting Dubai." April is also going to witness an important conference for Mubarak, as it is the sponsor of the Shiptek 2010 event. "We are also sponsoring the October 2010 Seatrade Middle East marine exhibition and conference here in Dubai," adds Miranda. "We are really looking forward to networking at these events in view of developing new relationships and future long term clients."
Mubarak Marine LLC
Services: Towing, salvage terminal and SPM support