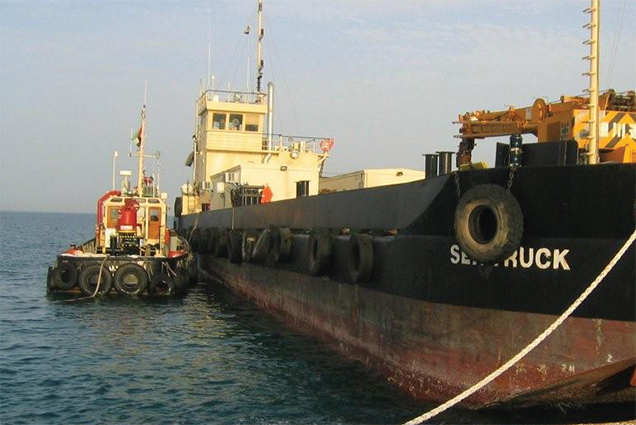 The right response
Mubarak Marine L.L.C. is a marine service organisation based in Dubai, providing towing, salvage terminal & SPM support to the region for over 27 years.
Mubarak Marine is renowned for its experience and dependable service, making it one of the foremost recognised marine services companies in the gulf.
Mubarak Marine managing director Juma O. Mubarak explains further about the company's evolution: "Mubarak Marine began in 1979, running small cargo ships in the UAE. By 1982 we were involved with the ship demolition market, offering salvage and towage. This grew into a niche for us in the S&P of demolition ready and decommissioned vessels. By the mid-1980s Mubarak was expanding into the general coastal and offshore towing industry, as well as providing pilotage and harbour towing services in the region. By the late 1980s we became the lead salvage operator for the Middle East.
"Today, we are diversified in the marine services we offer, providing all harbour towing for the Hamriya Port Dubai and the Dubai Creek waterways, salvage, emergency rescue & response in the GCC and surrounding waters as well as offshore support and third party chartering. In 2009 our primary work scope has been in the rescue and salvage arena, gaining a reputation for being extremely fast and prompt on response, therefore giving the customer time and cost savings."
Juma continues with more details about Mubarak's customers: "Our key clients come from a variety of industries, ranging from government authorities, to E&P contractors and near-shore construction. We have long term contracts with the UAE Coast Guard, Drydocks World, Chevron Thailand, SAFER Yemen, BG India, and multiple short term contracts with the likes of Van Oord & Boskalis. We are also employed to work on many projects with Saudi Aramco as a subcontractor to their direct clients."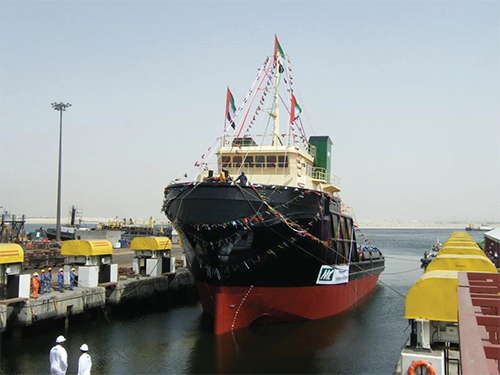 A prime example of a successful Saudi Aramco project was undertaken by Mubarak very recently, as Juma describes: "We had a four month hire to PMS for work with Saudi Aramco – the project was a great success for the charterer as hire became more commercially viable by way of our time saving approach and efficiency. Our crews work very hard to provide 'best performance' standards while on a project."
During this same time period Mubarak Marine was given the contract for the salvage of the capsized vessel Demas Victory. "We were one of the first companies on scene ready to take action," says Juma. "By mobilising our crews and equipment so quickly to the scene and standing ready, we were ready to immediately offer action for the salvage the moment the contracts were signed, thus offer a speedy recovery of the vessel for the owners and closure for the families of those who perished on board."
He continues: "During the recent monsoon season we also actively offered multiple fast response assistance in the Arabian Sea; an area riddled with unavoidable trouble for the shipping industry every year."
As evidenced by the examples above, Mubarak takes great pride in meeting the needs of its customers. To this end, it has to work closely with each client on each individual project, as Juma further explains: "We have a 'hands on' policy which stretches from the top management down to the crews and general office staff. We work with each client to develop our contracts and services to fit their needs specifically. Mubarak Marine maintains high ISM standards throughout the company and when working for the oil and gas sector we tailor new safety and quality control policies to meet the customers' standards and this encourages further growth and development across the board in our own operations."
This growth and development includes significant investments in new vessels. Juma describes two such projects: "We are near completion on the construction of the new Millennium II, a 320 passenger accommodation/hook up barge. We built this vessel, as we do most, on speculation of the future market needs. We are looking to securing long-term employment for the barge and have several options for up-coming projects in the region. Millennium II will be ready for action this November.
"We have also been building the new Mubarak Challenger a 5000BHP 60T AHTS with FI/FI and DP2 capabilities. Charterers can expect her to be available on the market in mid-December this year. Mubarak Marine will also be launching a 260-meter heavy lift barge around the end of 2009/beginning of 2010. Further growth plans are also in the works for building four new AHTs, ranging from 100tBP to 200tBP, and several more barges with varied crane capabilities."
The investment doesn't only apply to additions to the fleet – the company is also opening several new offices, as Juma comments: "We have recently set up Mubarak Marine in the Kingdom of Saudi Arabia and are working toward expansion with the launch of various other branches around the UAE. Currently we are exploring potential opportunities in West Africa and other regions for expanding our operations. We will also be relocating our HQ and primary support base to the New Dubai Maritime City when it opens."
Mubarak also extends this policy of continuous investment into its staff – as Juma notes, they regard themselves as a marine family: "We have a dedicated workforce, that is hard working and self-motivated to be the best. Finding the right staff and crews is an increasingly challenging task as we at Mubarak do not just simply employ personnel – we look for new members of our family who will care about the company and our customer expectations."
This caring attitude extends outside the company, as Mubarak Marine is a strong supporter of the Seafarers Mission and other key organisations that assist in providing a better way of life for those that work hard on the open seas. "Aside from direct contributions, we work with in varied industry fundraising events," says Juma. "This year we will be co-sponsoring the upcoming Abu Dhabi Workboats Golf Tournament. The main sponsors will be donating half of the proceeds from co-sponsorships to the Mission to Seafarers Angel Appeal."
Juma concludes by summarising the plans for the future for Mubarak Marine: "These are fairly straightforward – we plan to grow and expand to keep meeting our industry and client needs and expectations, building a competitive portfolio and looking to become the very best in the Middle East, Far East and eventually globally," he says. "Our vision is to become the top marine service provider to Asia & the Middle East. Our corporate strength lies in the diversity of services we offer to the region and the ability to develop to our customers individual requirements."
Mubarak Marine
Services Marine Services