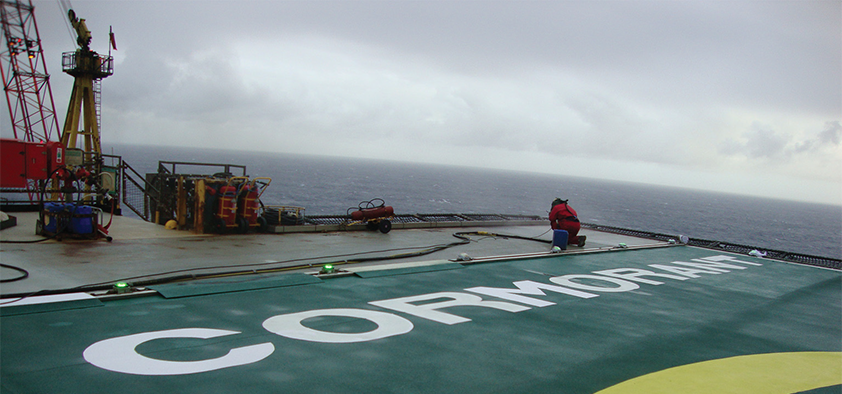 Protect and serve
Muehlhan AG provides custom surface protection and associated services to a range of sectors including shipbuilding and repair, offshore oil and gas, wind energy, and onshore heavy industry.
It began more than a century ago but entered the oil and gas industry in 2003 with the opening of a UK company – one of more than 20 subsidiaries located across
Europe, North America, Asia, and the Middle East. Approximately 75 per cent of Muehlhan's business across all its markets is with European clients but growing activity in its other regions forms a core part of the group's pro-active growth strategy.
Currently, Muehlhan has people stationed on seven oil and gas platforms in the North Sea. CEO Stefan-Mueller Arends discusses what they do in more depth: "Due to the logistical problems associated with working offshore and the limitations on platform manning levels it is important to make the best use of the people that you have on board. Having skilled multi-discipline personnel who can carry out a range of tasks such as scaffolding, painting, insulation, fire protection and inspection allows the customer to plan maintenance programmes with less change out of personnel. Not only does this save on expensive logistical movements it also reduces downtime by utilising the flexibility of the available workforce. With seven platforms we are comfortably small compared to some of the majors in this market but have a very clear growth strategy, beginning with several new contracts that will start in early 2013. Our ambition is to grow our oil and gas business a lot more, not only in the North Sea but also in other areas."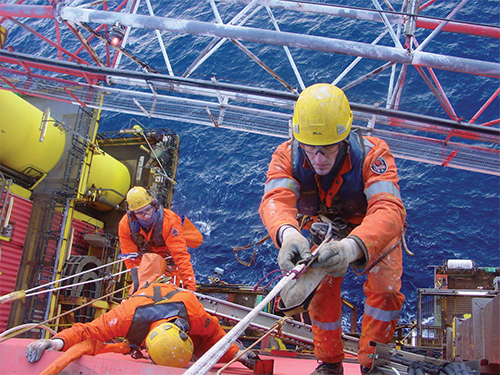 Despite the small number of platforms that Muehlhan currently has in its portfolio, the group has gained valuable experience in the offshore sector working for blue chip companies, including Shell UK, and has quickly developed a market-leading reputation for the safe and efficient delivery of quality work. The company also recognises the need to work closely with clients to understand their requirements and expectations. This can perhaps be most starkly illustrated with its history of technological innovation. Corrosion protection is not an area with great leaps of innovation, relying instead on incremental improvements to application technology and durability. Muehlhan nonetheless is one of the few organisations in the sector with an in-house research and development (R&D) department that has led with some of the discipline's most important evolutions over the last 40 years. Today it continues co-operating with research institutes and scientists in order to drive R&D, delivering customers the best quality protection solutions available.
Technological pole position is not the only reason Muehlhan has gained an excellent reputation in the market, however. Clients are attracted by the group's ability to deliver a high volume of services with reliably quick turnaround times, a high capacity that is supported by the extent of its work in other sectors of business. Furthermore the company encourages the ongoing education of its employees whilst maintaining an ordered record of personnel qualifications and certificates. Oil and gas companies are particularly happy to have suppliers with such careful record management.
All of these things are crucial factors in Muehlhan's future growth strategy, which will see the company learn from mistakes of the recent past by spreading its presence onto new platforms and into new regions. Stefan took on the CEO position with this as his aim in early 2011 following the supervisory board's decision to regenerate the group's potential for growth. "The group has seen a difficult market environment, particularly because it was previously so heavily focused on the marine business and, as you know, shipbuilding has left Europe and North America for China and Korea," explains Stefan. "Muehlhan was severely hit by that. Its secondary segment, wind power, was similarly difficult because there was many consolidation activities occurring and not everybody survived, so it became an unpredictable market. The group was at the centre of a big economic storm.
"What Muehlhan did have, however, is an equity of 50 to 60 per cent – depending on your definition of equity – and almost zero debt. That means it was and still is very financially healthy. I came onboard to take this healthy financial situation and use it to stimulate our market performance. Now the company is on a good track: changes have happened and continue to take place, for example with the addition of new platforms to our portfolio in 2013. That is just the start, though, of an intensive growth strategy of buying and building within our existing markets as well as entering new ones through acquisition."
The areas that Muehlhan is looking at are the world's oil and gas growth regions. The offshore fields of West Africa represent a lucrative opportunity, as do Australia and Brazil. Australia is one of the worlds liquefied natural gas (LNG) hot spots and Muehlhan sees bright prospects of becoming involved. Managing director Jim West is spearheading its entry into the market, an initiative that will begin within the next two years. Meanwhile, the company is actively working to forge an alliance with a company in Brazil, where huge new offshore oil fields are now being prospected and drilled for the first time.
Even with Muehlhan's excellent reputation in surface protection there are challenges to overcome when entering new regions. First and foremost are the barriers to entry that, contrary to what the uninitiated may think, are incredibly high for the offshore platform market. Whilst corrosion protection on standard ships is more of a generic me-too commodity, platforms require a much higher degree of co-ordination and resources so a few large players have crowded the sector. Muehlhan is nonetheless confident the quality of its services will overcome those hurdles. Other challenges facing the company – outside oil and gas but with potential impact on its offshore activity – are, as previously mentioned, the high cost of ongoing involvement in wind energy and the migration of shipbuilding to the east.
Stefan's recent addition to Muehlhan has added fresh drive to the company and it is now confident that these challenges will not prove detrimental to future strategies. The CEO elaborates on his vision for the company as a whole over the next few years: "Revenue this year is lower than that in 2008, just before the crisis hit, and I want to reclaim those figures. My aim is to make a major acquisition in order to achieve in the range of 500 million euros. This might even mean acquiring a company in neighboured markets. I came onboard to expand this company and that is what will happen."
Muehlhan AG
Services: Surface protection