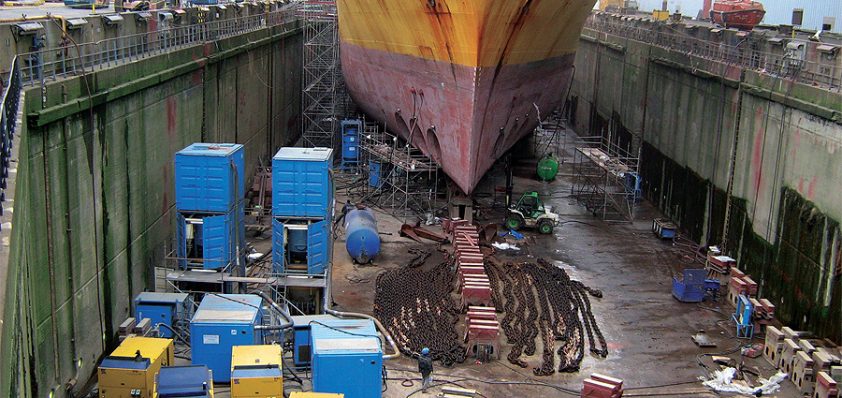 Having a blast
Muehlhan BV, established in 1970 in the Dutch town of Schiedam, is a company that specialises in ship repair and new building, providing surface protection to a range of different vessels though blasting and coating services.
It operates as part of Muehlhan AG, a group of companies that also provides shipbuilding, industry and offshore oil and gas services. With roots that go back to 1881, the group began as a small business that carried out the cleaning for boilers onboard steam ships. However, because the number of such vessels declined throughout the 1900s, Muehlhan was forced to change – and through
utilising its experience of working in confined ship spaces, it has successfully expanded to become the worldwide group of over 20 vessel-servicing companies that it is today.
With more than 125 years of experience in the field, Muehlhan has developed a reputation that has helped it secure various major contracts with prominent companies, such as Damen Shiprepair Rotterdam en Van Brink Rotterdam. Managing director of Muehlhan BV, Ronald Van Der Giessen elaborates on such projects: "Last year we were involved in some large refits for offshore vessels at the Rotterdam repair yard including the Acergy group's Polar Queen, and this year a large project with Keppel Verolme BV in which we provided 22,000 square metres of blasting and coating for an offshore facility."
When such projects are carried out Muehlhan sends its highly skilled staff onboard the vessels, to operate in an efficient manner that caters for the clients' typically hectic schedules. Ronald explains: "When the vessels arrive at the yards and ports, we send our crews on board to carry out all the necessary maintenance activities, which can range from painting to any newbuild work. We have two fixed locations that we operate from in Rotterdam and many locations where we work on a project basis, but we have also worked on various offshore platforms. Additionally, our personnel have been sent all over Europe to the likes of Barcelona, Marseille and Gibraltar with our fleetmarking department.
"We work a lot on cargo tanks on inland tankers that are built abroad in countries such as Romania, China and Russia. Upon completion of the ship's outfitting in Holland we carry out the blasting and coating procedures for which we use our unique self-supporting blasting vessel – Strahl-O-Matic. Within our fleetmarking department this is completed during the ship's loading and unloading period, thus minimising the chance of any delays for the client. It also means that there is no need for the vessel to be docked at a shipyard, which saves any additional costs."
Muehlhan currently maintains contracts with several large global players in the oil and gas industry such as Shell, in the UK, and Chevron, in Holland, whom it has been working with for nine years. Holding these long-standing relationships with such esteemed clients is key to the company's success, according to Ronald: "We build these strong bonds through keeping our customers satisfied,
and this is something that we regard as being very important to all of our operations. We have built an established name in ship coating because we have a very realistic outlook, and we accept that in any business there will be problems. Our success comes from being a company that rises to face its problems rather than run away from them. In upholding this philosophy, we are able to provide our customers with the quality and efficiency that they deserve."
With regards to the current financial crisis, the company is in a comfortable position to ride out the storm, as Ronald continues: "Oil prices have been fluctuating over the past two years, but there has still been a considerable amount of investment within the North Sea area, which is where most of our operations lie. Production may have dropped in some cases but, in general, the wells are still being maintained and will be for a long time to come – meaning our services will continue to be required."
Muehlhan is always looking to the future, with a clear strategy in place for the coming years. The company targets growth in all of its business divisions, continuing to reinforce its already strong position through strengthening its subsidiaries and looking to acquire a well-established network of smaller companies. It also plans to expand its service portfolio into new business areas, as Ronald concludes: "One of our main goals over the next few years is to expand our foothold in the onshore market. With the experience that we hold as a group securing a good position in Holland's vast market will not be a huge problem. With that being said, we do not expect to become Holland's only answer to blasting and coating because it is a very competitive market. We appreciate that this is not a realistic goal but we will strive to obtain a strong position regardless. Thanks to increased work with established companies like Chevron and Shell, I believe that we can continue to expand our exposure, in co-operation with our sister companies abroad, in Denmark and Poland and UK."
Muehlhan BV
Services: Ship repair and new building