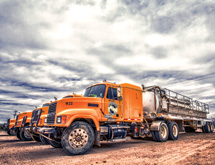 M&W Hot Oil's 30 years of success as an oilfield services provider is largely based on three things: being available, reliable and relevant. The West Texas-based company provides transport and vacuum services, hot oiling, kill procedures to prevent flow into wellbores, acidizing services to treat reservoir formations, chemical sales and wash vacuum services, which combines vacuum and washing services into one truck.
What began as a humble operation in 1980 is now a company running more than 100 trucks. Father-and-son team Bruce and Curtis McKee says that being accessible and operating as a one-stop-shop – especially in the face of growing competition – are key to its success.
"The first time I really noticed competition is in the last four or five years," Bruce McKee says. "Companies have new technology and are able to drill at a good pace so a lot of investors have come into the area. Investment groups will get together and buy 25 to 30 trucks, which is different from the past. Usually it would be a couple of guys and they would get three or four trucks."
Answering a Need
Curtis McKee explains that many of the major oil companies will select service providers based on price, but the independents working in the area tend to be much more selective and simple things such as always answering the phone or returning messages can win big points in the loyalty department. After that, it's all about delivering what's been promised.
"We set up our business based on what the customers need," McKee says. "We are running close to 100 trucks right now and we are focusing more on the specialty trucks. There are a lot of vacuum trucks out there so we are buying trucks where there is greater need. If they need a hot oil truck, we buy more hot oil trucks. If they need a bigger kill truck, we can do that. Our customers like having one company to call. They can make one phone call to a company with multiple services."
M&W Hot Oil replaces approximately 20 percent of its equipment each year. This ensures the company has reliable machinery for each job, and it makes sure to have reliable operators, as well. All new M&W Hot Oil drivers are brought in for basic orientation, and operators must meet OSHA requirements and undergo annual recertification and must complete FIT testing.
Safety First
"One thing that my dad does differently is we don't just turn people out there without training them for a long time, and our really loyal customers understand that comes at a cost," Curtis McKee says. "For us to train a new driver, we still have to pay him and the cost of training may be $30,000-plus for our specialty equipment before we even get any work out of it. But it keeps up a strong safety record, keeps people from getting hurt and saves the customers time and money in the long-run."
Some of those customers have been with M&W Hot Oil since its beginning, and Bruce McKee says the tight relationship it maintains with them could take it into new oilfields soon. West Texas' Cline Shale has caught the attention of many producers who are testing the area. The results seem promising and if the area takes off, it could be very good business for M&W Hot Oil. Other company investments include new yards in Snyder, Barnhart and Big Springs, Texas, bringing the company to eight yards.
"That's one key to our survival – when one area is not busy, we can pick up work in another area and move to another part of Texas or New Mexico," Bruce McKee explains. "Because we own the business, we can make those quick decisions ourselves and maneuver faster than some of our competition."