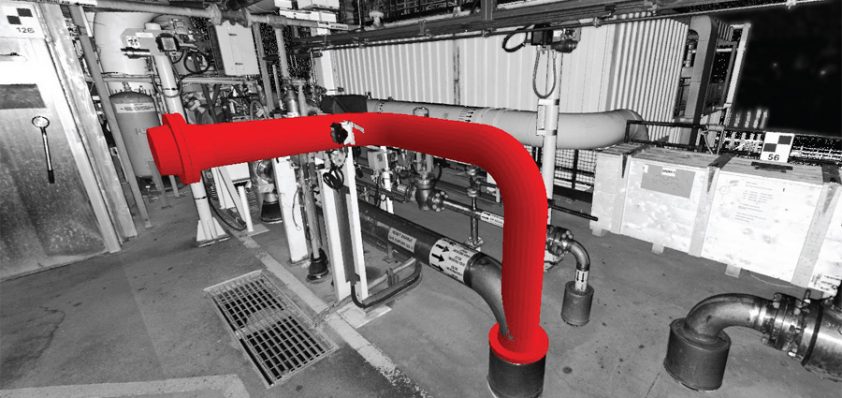 Surveying the future
N.B. Surveys is today one of the largest laser scanning companies in the world. It specialises in high-quality, cost-effective solutions for rapid laser scanning and modelling, digital photogrammetry, dimensional control, land and building surveys.
The company has evolved over the years and now offers this wide range of services, because its clients' needs cover a wide area – from engineering to land surveying projects. With clients ranging from small architects' offices to the very biggest oil companies, N.B. Surveys regards no job as too small and historically, no job has proved to be too big.
Drawing on its 28-year history, N.B. Surveys has a wide range of project experience to draw from, a mature project process and many interesting example projects that clients can reference to reassure themselves that N.B. Surveys has the answer to their challenge. For example, a UK project undertaken on a pipe-laying vessel required the recording and measurement of any deflections in the pipe-laying reel, and model interferences in the laydown area. Laser scanning was selected as the optimum survey system because the speed of capture.
Rapid laser scanning allowed the survey to be undertaken without causing any disruption to the vessel's normal operations. The laser scans allowed design/conceptual models of new equipment to be placed in the scan cloud to check for interferences without any significant modelling effort. This technique allows for new items to be test fitted into the real world for clash checking, design/constructability and HAZOP studies.
As evidenced above, N.B. Surveys frequently works with the oil and gas sector, and its relationship with this industry began in 1988. Founded in 1982, the company's initial workload was based on providing professional surveying services to the land, hydrographic and engineering business sectors. The company flourished over the first five trading years, but it was six years after its foundation when a leading oil company presented it with a unique opportunity. N.B. Surveys was invited to undertake a feasibility study to investigate how engineering dimensional control surveys could be conducted in the hostile and hazardous offshore environment of the North Sea.
The success rate for offshore engineering re-vamp and installation projects was very low and often projects spiralled out of control, incurring high financial, shut down and re-work costs.
It was identified that by ensuring rigorous dimensional control to the offshore environment then costs could be reduced to acceptable levels, and projects brought in on time and within budget. All the offshore owner operators readily adopted this method and so N.B. Surveys became a prime contractor and supplier to both owners and operators and their lead contractors.
During the last 15 years or so, N.B. Surveys has continued to develop its own skill base and embrace any and all new technologies that could be brought to bear in the 'as-building' and dimensional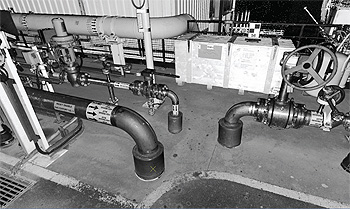 control service business. Its skill in this area has resulted in a multitude of successful projects, with expansion of the operations overseas both in the Middle East and Asia.
One overseas project utilised both rapid laser scanning and digital photogrammetry from the same location, giving the design engineers a unique opportunity to view the plant using high resolution colour images and clash detect without the need for an expensive model. The purpose of the project was to produce a full as-built visual database so that the client could use its own software and design engineers to produce a 3D model.
The laser scan data allowed the client ready access to the laser cloud for model free clash checking to an accuracy of +/-6 mm and highly accurate digital images for tie-in data in the order of +/-1 mm. These two methods significantly saved both costs and time, allowing the entire survey to be done with the minimum offshore mobilisation. In addition, the small survey crew was able to work around the platform personnel allowing the survey to be completed without any disruption to operations.
Working in such a highly skilled and technical field means that N.B. Surveys pays close attention to legislation and certification. One of the achievements of which N.B. Surveys is most proud is its Achilles UVDB accreditation. Achilles supports the growing emphasis on corporate social responsibility and as such, N.B. Surveys inclusion on this supplier database can be seen as further evidence of the company's environmental, health and safety performance and credentials.
It has also been awarded an ISO 9001 accreditation from DNV, proving its quality management system has been certified against a best practice standard and found compliant. Issued by a third party certification body/registrar, the certificate lets customers know they can trust that N.B. Surveys has implemented the necessary internal processes to meet obligations.
N.B. Surveys is also accredited on the 1st Point FPAL system. FPAL is the key tool used by oil and gas purchasers to identify and select current and potential suppliers when awarding contracts or purchase orders. FPAL was set up in 1996 by the industry as its solution to internal vendor approved lists and continues to successfully eliminate costly duplication in pre-qualifying suppliers. The fact that the organisation has completed its FPAL verified accreditation process and is registered on the approved 1st Point vendor database is a source of great satisfaction to the management and staff at N.B. Surveys.
Indeed, it is the staff at N.B. Surveys that are credited by the company as being responsible for its market-leading position. The company has many long-term employees who form a skill base unequalled in the industry, and additionally, N.B. Surveys continues to invest in both people and technology and seeks out the most accurate and cost effective solution for its clients. The company's ongoing philosophy is the continued exploitation of technology to provide the most cost effective solution for all disciplines.
N.B. Surveys
Products: Laser scanning