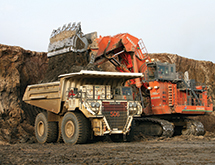 In its line of work, it's not unusual for North American Construction Group (NACG) to work on the same site for the same client for years, even decades in some cases. As a heavy construction contractor working in the Alberta oil sands market, NACG's services play a role throughout a mine's life, from beginning to end.
"Having worked on every operating mine site in the Alberta oil sands and many of them since their inception, we look at our services as covering the whole of the mine's life," COO Joe Lambert says. "We're often one of the first contractors onsite, building access roads or peeling back the muskeg which is that top layer of peaty moss-like material."
That muskeg material gets stockpiled and is put back on at the end of the mine's life as part of the reclamation stage – just another of the many services NACG provides. The company provides direct mine operation services typical of a mining contractor but it also handles all of the necessary "dirt" work that allows mines to operate in the first place. Building access roads, earthworks services, underground utilities, piping, retaining walls and reclamation are all part of its skillset and have been for the past 60 years. The company's diverse services have earned it multiyear million- and billion-dollar contracts.
"As an example of how NACG can develop opportunity on a new mine site, we have a relatively new master service agreement working with a client on the Kearl project," Lambert says. "We are onsite providing support services to their mining operations. The mine has been built and is operating but it hasn't really as of yet hit full capacity, so we are there supporting the operations with ancillary construction tasks that allow our client to maintain a focus on their core production activities."
Lambert says the company has continued to win contracts such as the Kearl project in the face of increasing competition. In recent years, the booming Alberta oil sands market has attracted more service providers, causing a bit of equipment oversaturation. Although the market is tight, NACG has been able to stand out from the rest with its focus on safety and efficiency.
Success Through Safety
"We've always focused on safety," Lambert stresses. "It's a true company value for us and a moral obligation. But on a practical level, it's also a cost of entry in the oil sands industry. You have to have strong safety culture in the oil business to even be considered. Your safety performance can improve your opportunities in the marketplace."
NACG has instituted its "Everyone Gets Home Safe" program to ensure just that. It operates internal programs such as its green hand safety program that connects new hires with senior personnel mentors. The company has also invested more than $1 million in an immersive simulator that simulates multiple types of machines, placing machine operators in different environmental conditions and emergency situations. In addition to internal programs, NACG makes sure to comply with all outside regulations and certifications. NACG even looks to get in front of regulatory requirements and has implemented plans to have all of its front-line supervisors certified through Alberta's Industrial Construction Crew Supervisor program.
At the same time NACG focuses on personnel safety, it also focuses on equipment safety and performance. Purchasing best-in-class equipment and partnering with vendors such as Finning, SMS Equipment, Wajax and Brandt Tractor have been key in ensuring NACG performs each job safely and efficiently.
"Safety and price are big drivers in this business," Lambert says. "Being on time, on budget and having zero harm to people, equipment and environment are keys to any successful project.
"We've been in this business for over 60 years and we see long-term sustainability of the work we do," Lambert continues. "When you're safe and you've got competitive pricing and value through superior execution and management, we believe that's the recipe for success."