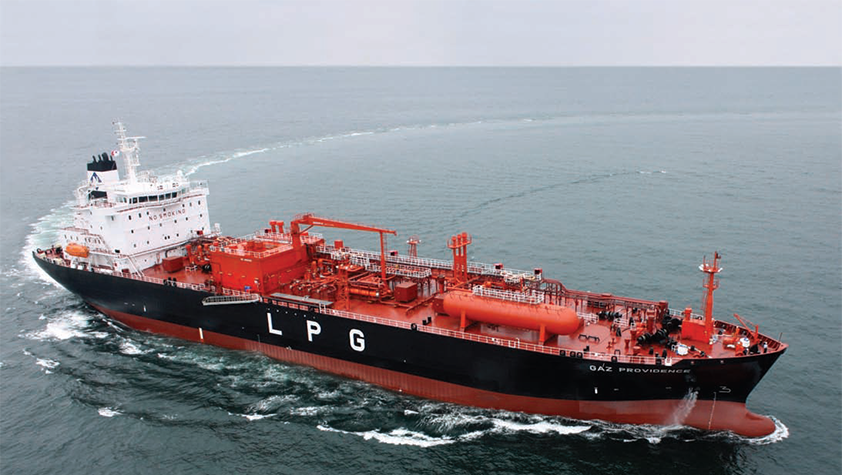 Partner Power
Since its establishment in Beirut, Lebanon in 1972 as a trading house, concentrating on the distribution of petroleum products in the Mediterranean region, NAFTOMAR has since developed to become a major player in the LPG field.
George-Paul Perantzakis, managing technical director, explained how this evolution manifested itself over the years: "Following our first transaction in 1976, we soon took advantage of the vast potential of the LPG market; this led in due course to the opening of a chartering and ship management office in Piraeus, Greece. In 1977 LPG trading and ship operations were united with the acquisition of our very first dedicated vessel, the 4000-cbm LPG/C Gaz Unity. Since then our fleet has never stopped growing, and we are currently operating a fleet of 25 LPG vessels of various sizes and types, out of which ten are less than three years old, part of our new building projects." This new build programme has resulted in highly sophisticated and specialised vessels of three different sizes (9000, 16500 and 22500 cbm).
George-Paul goes onto explain the main activities of the company: "This would be the trading of LPG and petrochemical gases and operating our fleet," he said. "Furthermore, NAFTOMAR Shipping & Trading is a pioneer in floating storage and ship-to-ship operations." Indeed, NAFTOMAR's expertise in ship-to-ship cargo transfer operations is unrivalled. Since the beginning of the 1990s, more than 4000 transactions have been safely carried out, with more than ten million tonnes of product transshipped.
As well as expertise, George-Paul highlighted some other strengths of NAFTOMAR: "Integrity and reliability of our services have been and always will be some of our strong points. Flexibility and innovation have helped NAFTOMAR to be at the forefront of the LPG shipping sector. However, our biggest strength is our highly motivated, well trained and very experienced personnel both onboard and ashore that co-operate together to meet the needs of our clients while leading the way for others in the international LPG market."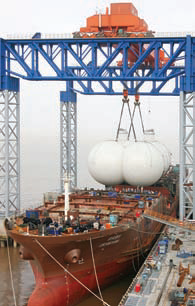 Moving onto customers, George-Paul noted how important close working relationships are to NAFTOMAR Shipping & Trading: "We are mainly focusing on the Mediterranean market without neglecting the Far East, Northern Europe and the Americas," he began.
"Customer relations across all these regions are very important because they allow us to assess and adapt to clients' future needs. We enjoy working with reliable business partners who share our values and concerns for high standards in all aspects of our activities."
This philosophy is also echoed through NAFTOMAR's membership of SIGTTO. George-Paul explained that the company is very actively involved with the organisation: "We participate in the general purpose committee of the society and assisting to various workgroups," he said.
He continued with details on how NAFTOMAR provides expertise to SIGGTO: "As mentioned before, NAFTOMAR is a pioneer and one of the world's experts in LPG floating storage and ship-to-ship operations. This expertise together with our experience of being a dedicated LPG vessel operator for almost 40 years puts us in position to assist SIGTTO whenever required, by providing technical feedback and information, as well as best practices."
Aside from its activities with SIGTTO, utilising these best practices is high on the agenda for NAFTOMAR, and this requires a dedicated approach to quality, as George-Paul explained: "NAFTOMAR is fully committed to meeting and exceeding all recognised industry safety standards. We operate under a very detailed and strict quality system and we take advantage of all the latest technologies in every aspect of our operations."
Health and safety falls under this umbrella, and George-Paul noted that the key for ensuring safety is by promoting a safety culture across the fleet: "The active involvement of our personnel in matters concerning safety is of great importance. In addition to the above the implementation of a rigorous programme of training, drills and inspections, as well as a management self-assessment, ensures that all our worldwide operations will be carried out safely. We are most proud of being recognised for the safety and reliability of our services." NAFTOMAR has been growing and developing as an organisation for over four decades, and George-Paul confirmed that maintaining its leading position in the current market is one of its goals for 2013: "This is alongside sustainable growth and our top priority has always been quality rather than the size," he added. "The future may be difficult to accurately predict, but one certainty is that NAFTOMAR will hold true to its traditional values, placing the greatest importance
on the integrity and reliability of its services and continuing to foster excellent business relationships with clients and partners."
He concluded with some wise words for the LPG market: "All the players in the LPG market should be very careful to avoid mistakes of the past. Oversupply of tonnage is always a real danger for damaging the market balance. New developments in gas technology and the consequent change of trading patterns should be closely monitored for future business opportunities."
NAFTOMAR
Services: LPG trading and shipping