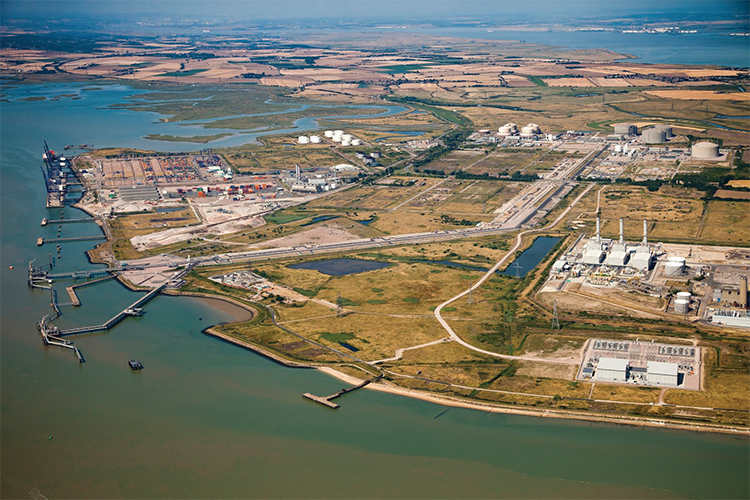 National Grid Grain LNG Limited
Grain to gain
As a wholly owned subsidiary of National Grid, the LNG import facility on the Isle of Grain in Kent was first commissioned in 2005, and since this time has developed from strength to strength with a proven track record of on time and on budget delivery, to its standing today as the largest LNG import terminal in Europe with one million cubic metres of storage capacity, and now it has ambitious plans to grow further.
As the UK government takes steps in the electricity market reform process – determining what is affordable, what provides security of supply and what is sustainable as it drives towards; nuclear generation, encouraging wind farms both onshore and offshore and encouraging new gas fired plant to be built. There is an expectation that a lot of the coal fired power stations will be retired as the environmental legislation allowances are used up and the reforms will lead to new capacity for gas fired generation. The government's capacity mechanism auction is expected to be concluded by the end of 2014, for new power generation capacity to be online in 2018.
Phil Carter, head of commercial UK LNG at National Grid advises: "At Grain we are in a position to provide new LNG importation capacity to support any new gas fired generation, and we are very keen to promote this to the market. We have the ability to bring new capacity online for winter 2018 consistent with the government's time frame for new gas fired generation, as well as for industrial, and commercial and domestic demand."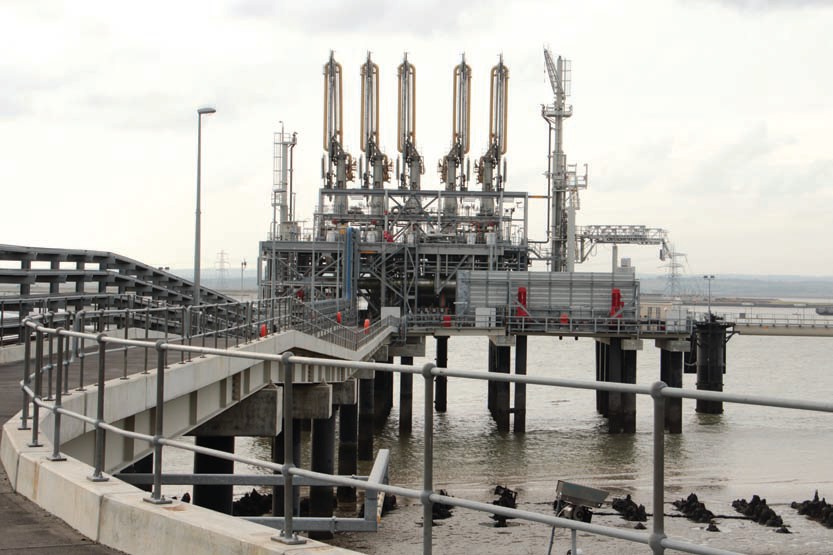 Grain LNG has been exploring opportunities to attract new customers interested in acquiring additional capacity via its Phase 4 Open Season process, now running in parallel with the government's market reform process and targeting 2018 when the UK will be in need of that type of facility. The government has declared that by 2030 it is expecting up to 26GW of new gas fired generation, and in that timeframe the level of import dependency may be up to 76 per cent. Phil continues: "For our Phase 4 development to strengthen we need clearer signals to emerge from the various processes in the market. These could come from the marmarket conditions downstream or from upstream developments and the combination will shape how we move forward."
The UK as a whole does not have a large amount of dedicated gas storage in comparison to other European countries. In the past it has relied on the North Sea gas fields to provide a level of flexibility that can manage outages on the system, or extreme weather conditions with associated high user demand. However, as the North Sea fields become depleted and less flexible, Phil highlights: "With the large tank capacity and send-out capability, the LNG facility at Grain provides our customers with a huge amount of flexibility. Individual customers naturally control their ship delivery schedules, but at Grain they also have control of when they send-out their gas, or alternatively how long they hold their LNG in the facility." In many other smaller terminals in Europe there is a restriction on storage, for example, at seven to ten days. In this period, vessels undergo unloading and exporting of all LNG into the gas transmission system in order to allow the next vessel to dock. "The storage is valuable, both in providing security of supply and flexibility to both the network and customers. As we go forward into a market that is expected to be much more dominated by intermittent renewable power generation, the flexibility for individual customers to manage their stock and level of flow through the terminal will become more important," he adds.
As renewable power generation and new nuclear power assets in the UK grow, it is widely believed that a scenario will be realised where there is greater variability and intermittency. Utilising wind generation backed up by gas fired power generation, combined with very responsive LNG importation incorporating significant storage, the UK can move confidently into the future. The model has been used in Japan and Korea, both of which are very dependant upon gas and other fossil fuel imports. The large facilities in these countries create great resilience, and it has proved successful.
"Through being part of the UK's energy mix, we are indirectly supporting other industries and with gas being cleaner than other fossil fuels we are contributing towards a sustainable future. Geographically we are 25 miles to the east of Greater London, and there is a lot of demand in the south-east for power generation, keeping people warm, and for industry," highlights Phil. With several power stations on the Hoo Peninsula being gas fired, Grain LNG has enough stock in the tanks to be able to flow significant amounts of gas into the transmission system, resulting in greater security of supply for those power generators as well as domestic and other industrial users. "Our facility benefits both the south-east corner, and the wider UK in general. Due to boil off we always have some gas flowing from the terminal into the local network and when our customers nominate at higher rate gas flows into the transmission system and into other parts of the country," he continues.
In 2013 the business announced that it was pursuing the construction of an LNG road tanker loading facility. Now, in 2014 Phil, advises: "We are progressing well, having recently received planning permission for the project. We will shortly be starting the construction process, and so far there has been a lot of interest with several parties expressing keen interest in loading of tankers with LNG at the Isle of Grain."
The planned construction has involved detailed engineering work, preceding the construction process, expected to start immediately and to be completed by Q2 2015. "It is a reasonably quick build process – on the scale of the LNG import facility, relatively modest in scale – so we don't anticipate any issues in terms of construction. We are building on an area of land that is already earmarked and clear of vegetation and environmental issues, so we predict a relatively straightforward process once we start," explains Phil.
With stringent regulations coming into effect in the shipping industry in 2015, LNG is also seen as a clean fuel on which ships could run. As such, the business has witnessed an increase in demand over the last 12 months, as Phil explains: "The markets in Scandinavia and northern Germany into the Rhine have started developing faster than the UK. Our customers own all of the LNG in the facility so we would need to develop any marine reloading services as an opportunity for them, and there is interest in getting involved.
"Markets in Scandinavia and big bunkering ports around Rotterdam are probably going to be the first movers in that space, but we at Grain see this as a future opportunity, and when the market reaches a certain level we will be ready to act and help develop those services that our customers need. Again this is fundamental to our flexibility; we are looking to develop the infrastructure that will allow us to unload a ship of LNG and hold it to enable our customer to either re-load and re-export it, feed it into the transmission system, break bulk onto smaller vessels, or load it onto road tankers."
Longer term the business looks towards bulk reloading, a service that several other terminals in Europe already offer. "It's not something we have needed to do in the UK yet, but I think in a more flexible and responsive market place, it is a forward step that we will take. The biggest development we are looking at is further expansion, and we are in the market now talking to various counterparts; from the downstream big six in the UK, through to international oil companies and through to the upstream developers of liquefaction capability," says Phil.
Looking to the future Phil concludes: "Our focus over the next 12 months consists of building up our portfolio of capability on small scale, both road tankering and ship reloading, while continuing to explore the opportunities for major expansion with greater flexibility for our customers. Our business is not just shaped by demand, but additionally the supply element. New projects are being developed, particularly in the Atlantic basin, with the liquefaction of shale gas in the US, a lot of LNG will start to be produced in addition to potential Russian, eastern Mediterranean, and East and West of Africa supplies.
"All the projects will want to sell their LNG into dependable markets and the UK sector is the most liquid and deepest in Europe, and is forecast to stay the largest. For terminals such as Grain, there will be lots of suppliers looking into the market recognising the political stability of the UK to conduct long-term business."
National Grid Grain LNG Limited
Services: Commercial LNG importation terminal