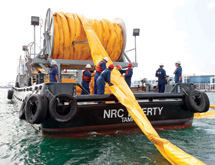 The task of cleaning up an oil spill is not an easy job, but it is one that National Response Corp. (NRC) is always ready and prepared for. "We're very customer-oriented," President and CEO Steve Candito says.
Based in Great River, N.Y., NRC specializes in oil spill and hazardous material response services, firefighting and rescue services, and environmental remediation and industrial services. Candito says that the inspiration for the company came one year after the Exxon Valdez oil spill in 1989.
The following year, Candito explains, the U.S. Congress and President George H.W. Bush signed the Oil Pollution Act of 1990. "That required any company that was handling oils to have a contract with somebody like us ahead of time, so when they had an oil spill, they could call us out immediately," Candito says.
NRC's founders immediately formed the company, which has since changed hands in ownership. Today, NRC operates under the umbrella of J.F. Lehman & Co., a private equity investment firm that acquired it in 2012.
NRC employs a staff of 800 and generated revenues on the order of $100 million last year. Its clients include some of the world's largest shipping, refiners, terminal operators, and oil distribution and transport companies operating in the U.S. and throughout the world.
NRC recently expanded its business with the acquisition of OP-TECH Environmental Services Inc., a Syracuse, N.Y.-based provider of specialty environmental remediation and industrial services in the Northeast and Mid-Atlantic United States.
Additionally, NRC saw OP-TECH as a good fit to expand its offerings and geographic reach. "OP-TECH complements NRC's existing West Coast operations and has similar strengths, including a loyal customer base, quality employees, responsive services and a unique market position," Candito says.
Keeping Busy
A significant and growing portion of NRC's work comes from the rail oil industry, Candito says. There has been an increase in oil transport volume, which could lead to more incidents similar to those that have recently occurred, which he predicts will lead to increased scrutiny and potentially new regulations.
"Even if that doesn't happen, the rail industry is being very proactive right now," he says. "It's a good thing to have relationships with companies like ours. We have resources spread throughout the country, and we can get things done very quickly."
Candito adds that the rail industry polices itself to prevent accidents. "They have some of their own safety requirements in addition to those mandated by regulations," he says, noting that some of NRC's employees are trained through the industry's systems. "We support the rail industry with training and resources whenever possible."
NRC also has focused on providing services to companies involved in the Marcellus Shale in Pennsylvania and the Bakken oil fields in North Dakota. " One of NRC's major clients is now looking for us to assist up in the Bakken," he says, noting that there is not a substantial infrastructure in the Bakken to process waste materials. "We're talking to our customers about beefing up that infrastructure."
The Right Combination
Candito joined NRC in 1991 as the general counsel and vice president of client services. When the firm's former president resigned to go back to his family's business, he was appointed as president in 1999.
Before joining NRC, Candito gained experience that included practicing maritime law for eight years and sailing aboard oil tankers for five years. "It was on an oil spill that I met one of the founding companies [of NRC]," he recalls.
Candito is pleased with the ownership of J.F. Lehman, which "is very interested in supporting our strategy of expanding our business to serve the needs of more customers needing our services," he says, noting that the firm also has added new employee benefits, including a new compensation plan."
NRC also plans to make more acquisitions and open more offices, including ones in Reno, Nev., and Williston, N.D. "We've got a combination of acquisitions and organic growth going on," Candito says.