Navigator Terminals UK Limited
Bulk storage
Ambitious and innovative, Navigator Terminals Limited is an independent bulk liquid storage provider that plays a key strategic role in the fuel, chemical, and gas supply chain across the UK. Established in 2016 with the intention of creating the leading bulk storage owner and operator in Great Britain, the Navigator Terminals was created when the operating assets of Vopak UK and Greenergy North Tees were combined. Today, Navigator boasts over 1.28 million cubic meters of storage across four terminals, each strategically located in major UK ports. Storing and handling crude, petroleum, chemicals, distillates, bitumen, liquefied gas, and biofuel products, the selected terminals are pipeline connected to local manufacturing and gas processing plants. With state-of-the-art petrol blending facilities and industry-leading road loading racks, customers of Navigator Terminals benefit from these investments.
"What sets us apart is our customer service, value add and what we can bring to the table," explains company CEO Jason Hornsby. "We have built our reputation on service excellence, developing dedicated, highly-skilled and competent people to deliver a consistent proactive solution driven approach. In terms of strategy, we have industry leading automation and asset integrity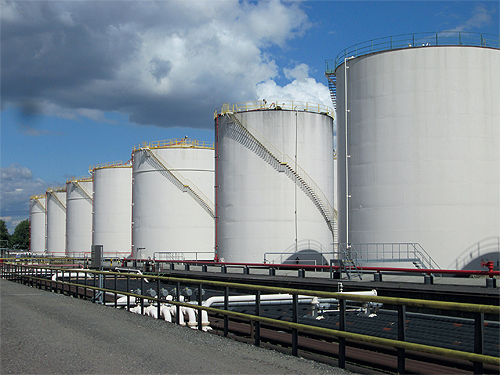 management blueprints that can be applied as 'out of the box' solutions. This is supported by an in-house Engineering and Projects Centre of Excellence, designing and executing value adding growth projects irrespective of size or complexity.
"Having worked both locally and internationally, the Navigator UK management team has gained over 200 years of storage sector experience, successfully managing multiple upper tier COMAH sites in one of the most highly regulated operating environments in the world. The group as a whole has the capacity and depth in experience to leverage the knowledge, and resources of over 200 employees and specialist staff operating from four UK locations."
The four locations are Navigator Terminals Seal Sands, Navigator Terminals North Tees, Navigator Terminals Windmill, and Navigator Terminals Thames. Strategically located on the River Thames, Navigator Terminals Thames is at the heart of London's distribution network, serving the fuel, chemicals, and bitumen markets of the Home Counties, London, and the Midlands. A highly-automated facility, the 378,000-cubic-metre site offers a full suite of auxiliary services including blending, heating, and additivation.
"At our Thames site, we have been able to support our customers, through a number of key strategic projects. Continued successes with efficiency have been the main focus," Jason explains, "as well as lowering and improving the unit cost of storage and supply for the future. Additive injection and storage capabilities have been further enhanced, and we have introduced new products to the portfolio, including high-blend biodiesel loadable from the rack as well as Marine Gasoil (MGO) on the rack or delivered by barge for ship receipt."
Product discharge lines have also been a focus for Navigator in recent times. Two 14-inch lines have been installed on both the company's main jetties through to the Thames terminal for distillate and gasoline grades, offering improved resilience and faster service – the work is just a small part of a much larger initiative.
"Our latest project is to increase the operating capacity on our jetties, through additional dredging and the installation of new dolphins, which allows ships to work more efficiently," he says. "The successful execution of this project means ships can be laden with increased cargo, which helps our customers with savings through transit cost, again working towards the lowest unit cost of storage.
"Constant improvement in service and operational efficiency is something we must focus on in order to remain ahead of the competition," Jason adds. "Over the last four to five years, at the Thames terminal alone, we have continually improved the site, spending in excess of £10 million in the process."
Strategic investments like the one Jason refers to have become a trademark element of Navigator's growth. The company is not afraid to invest in areas of the business that it believes will help to support its customers and fuel its continued expansion. Alongside the addition of blending facilities, road loading racks, and terminal pipeline connections, Navigator investments have allowed the organization to put innovation into practice.
"We've been able to move on from traditional tank inspection practices by utilizing drone technology to carry out close detailed internal inspections and external thickness checks on assets," Jason reveals. "This strategy not only reduces cost and inspection time, but it also lowers the safety risks to personnel. We've also introduced an Enterprise Resource Planning (ERP) solution, purpose-built for the needs of the storage industry. This has standardized processes across the organization from contract setup to stock accounting and HMRC regulatory management.
"Supporting Navigator's business and productivity with technology is important, and our long-standing technology consultancy partner, Waterstons, provides access to a wide range of specialists, who help run and maintain our scalable, flexible IT systems. These systems, including some tailored specifically to Navigator's needs, facilitate data-driven decision making. Waterstons understand our business, and work in partnership with us to support our ambitious innovation and growth plans," says Jason.
In recent times, one of Navigator's largest investments has been the acquisition of a brand new 10,000-cubic-metre bitumen storage and road loading facility for its Thames terminal. Consisting of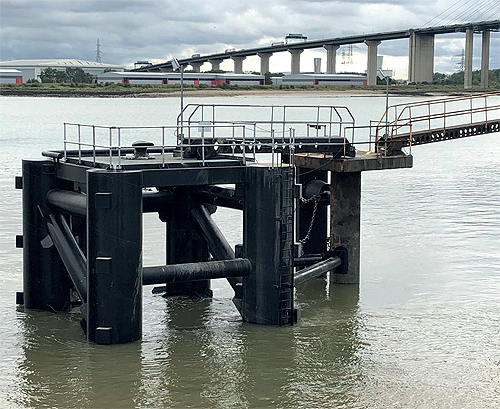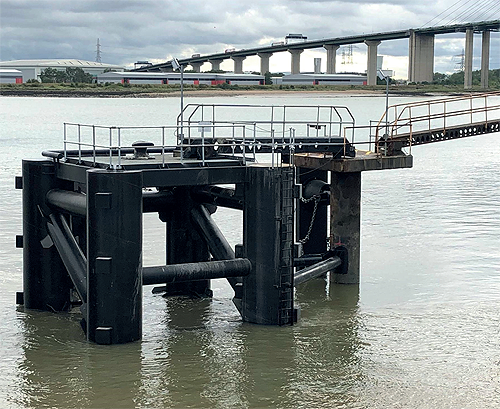 electrical trace heating pipelines, two 5,000-cubic-metre tanks, a marine loading arm, and all ancillary services, the multi-million-pound investment was delivered on budget and is widely recognized as the best bitumen loading facility in the South East of the UK.
A highly modern, dynamic, and customer-focused organization, Navigator's success is driven by the strong values that underpin the company's everyday decisions and behaviors. This was reinforced in 2019 when Navigator Terminals released a new set of 'Service Principles and Values', ensuring that current and prospective customers will experience a standardized and consistent service that sets an industry benchmark. The new guidelines outline the ideas of integrity, teamwork, professionalism, innovation, ownership, and most importantly safety, that are demonstrated at every level the organization.
"Our company culture begins with education and is driven by valuing our employees and the role they play in Navigator's success," Jason states. "We strive to nurture an open, inclusive, and just culture whereby everyone can and is expected to contribute, speak out, and stop work if they feel it is unsafe. This is an extension of our pioneering safety culture, which we have developed and honed since the inception of the UK terminals in the 1960s. Members of the Navigator management team were industry representatives on the post-Buncefield task groups and Process Safety Leadership Group (PSLG) contributing to the formulation of the regulatory landscape for the UK sector, the learning of which is now being adopted internationally.
"The safety, health, and wellbeing of our staff and all individuals who visit our terminals is of the highest priority and each of our locations is accredited in a range of globally recognized standards, including EN ISO 9001 (Quality Management), 14001 (Environmental Management) and 45001 (Occupational Health and Safety Management). These external achievements are complemented by our internal Navigator Safety Essentials – organizational standards that define how we conduct our core business functions in the safest possible manner."
In addition to the great importance placed on process and personal safety, Navigator recognizes its responsibility to protect the environment and is committed to being a responsible member of the communities in which it operates. With this in mind, the organization has set a number of goals to ensure that, wherever possible, the environmental impacts of its activities are reduced. These targets range from reducing the size of the carbon footprint associated with travel through to a reduction in water and energy usage at Navigator terminals via the implementation of a range of innovations, including the use of smarter technology.
"Our sustainability strategy is broadly based around using less, buying less, and paying less for our energy," Jason explains. "We operate an energy committee which has a clear mandate to improve the use of energy across our business, while developing project ideas to reduce consumption. Along with the moral reasons to pursue green initiatives, security of supply and energy resilience are key factors when we assess future projects. The company is now assessing a number of significant Behind the Metre (BtM) investment ventures including battery storage and solar."
With the current UK target of no new carbon fueled cars post-2035, along with net zero emissions by 2050, Navigator Terminals is looking to the future by starting to diversify today.
"We are committed to this transition, along with both the upstream and downstream customers we serve, to decontaminate and de-carbonize our industry. Along with our industry sector, we still see an important role for next generation synthetic and liquid E-fuels in the required energy mix that will be needed to realistically achieve the government targets, rather than relying on a one technology solution only. We believe that we have a critical LIMITEDfuture role to play in achieving these targets. We are in a fortunate position within these emerging markets as we have the experience, expertise, and land available at our terminals to partner with the next generation renewable fuel producers, as we move further away from traditional carbon petrochemical products."
Considering the impact of the COVID-19 pandemic on the global economy, Navigator Terminals has performed well throughout a challenging year for the industry. From this foundation, the company is now working towards participating in a variety of green growth diversification projects to ensure Navigator Terminal's existence and profitability up to 2035 and beyond.
"We hope some of these projects will be operational within the next three to five years," Jason reports. "Our appetite and focus is for organic growth, whilst expanding the business by diversifying to meet market demand. We will continue to innovate and deliver, staying ahead of the market through our ability to adapt as opportunities change."
Navigator Terminals UK Limited
www.navigatorterminals.com
Products: Bulk liquid & gas storage provider