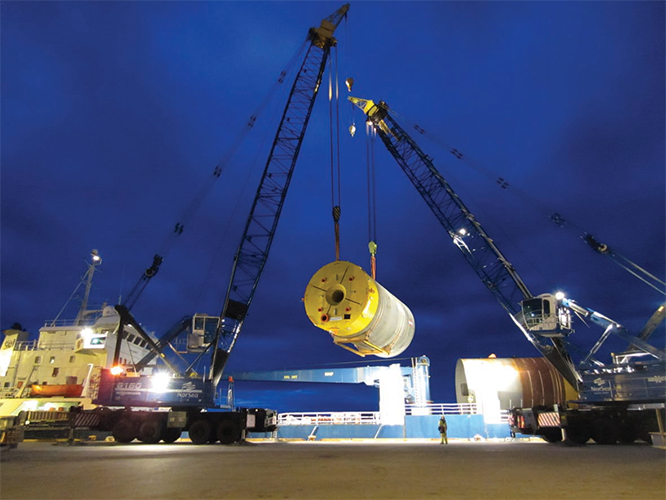 Fast track development
Within the offshore oil and gas sector efficient operation is naturally of vital importance.
While the highest standards relating to the quality and responsible execution of operations will always and unquestionably remain of the upmost priority, it could be argued that a reluctance to explore new approaches to well construction is hampering the offshore industry in tapping as yet, unexplored cost saving potentials.
Harald Strand, founder and general manager of Norway's NeoDrill has more than 40 years of experience in engineering and drilling, and founded the company on the 2nd of February 2000 to seize on an opportunity to increase the efficiency of top-hole well construction. Through the use of its CAN (Conductor Anchor Node) technology, NeoDrill is able to reduce the amount of rig-time taken to install conductors on the ocean floor. However, despite the benefits of this technology within the offshore sector, it is found difficult to challenge established methods of operating, as Harald explains: "This is something that has become more difficult since I started in the industry 40 years ago. In the old days it was easier to bring in new technology if the drilling superintendent believed in it, whilst today the drilling operations groups have strict instructions to follow the drilling programme and not to experiment. Hence, it requires guts to dare testing out potentially better ways of doing it!
"When I started the company, it was with the objective of saving rig time," he continues. "As of the year 2000 and throughout the following years, saving rig time was not that important to the big oil companies because they simply had too many rigs. Then during 2006 ENI accepted the technology for deepwater drilling operations and ordered two CAN units. This meant that we started at the deep end of the pool so to speak. As our first installation was at 1100 meters and the second one was at the depth of 860 meters. We had a very good start with these projects and through them the technology was proven. Up until then, 17 deepwater wells (>850m) had been drilled on the Norwegian continental shelf with an average of seven days taken to install conductors. The technical best conductor in terms of speed had been installed in four days. With the CANs we were able to install the conductor within 24 hours.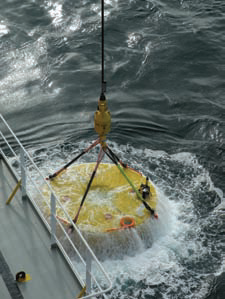 "The basic idea was to develop a way to preinstall a conductor before the rig was moved into position," Harald elaborates. "Looking around there were a few technical building blocks that we could use, one of which was a suction anchor and the other was the installation of conductors through driving using a subsea hammer. That allowed us to use a dynamically positioned vessel to install a conductor without using a drill string, which needs a vessel with a drilling facility for operation. So the development was really about taking established techniques and using them in a different way. Also we had to learn how accurately we could install a CAN. The criterion for a conductor is a maximum inclination of one degree or better. We had no information in the industry regarding how accurately a suction anchor could be installed so this was something that we had to learn for ourselves.
"During this development we learned that indeed we could install at one degree or better and that also meant that we could make a longer centre pipe of the CAN. That is important because now the center pipe became as long as the CAN itself, this could be for instance up to 12 meters (longest so far) and thus may be used as a conductor. For some well locations it has the potential to do so, with the benefit of extremely rapid installation and turn around times."
NeoDrill's CAN products have now been matured into fully engineered solutions. For instance, through finite element analysis projects the company can compare the operation of CAN supported conductors and the performance of unsupported conductors. The CAN design was also developed taking into account soil and geotechnical information and analyses in collaboration with GeoDrive Technologies based in the Netherlands. The result of this investment of time and knowhow is a technology that provides a host of operational advantages. The benefits of conductor installation via a NeoDrill CAN include reduced rig time, resulting in a more cost effective solution, extended well fatigue life, increased axial and lateral load capacities, increased bending, fatigue and accidental load capacity, 'fast track' field development and accelerated production. In addition to offering a highly competitive solution the CAN technology offers a reduced environmental footprint and improved performance in terms of safe operation. Important to note is also the "recycling" feature of the CAN: once being deployed for an exploration well, it can simply be pumped out of the seabed, after which it undergoes a simple refurbishment before being deployed again for the next well.
In addition to its CAN range, which is tailored to the project's needs, NeoDrill provides additional solutions to aid installation and operational performance. The cuttings collection funnel (CCF) is designed for use on environment-controlled wells and is installed over the CAN prior to well spudding. Thus, all cuttings can then be removed via pumping either to the rig or to a disposal location. The CCF can then be removed after the installation and cementing of the wellhead casting. The company also provides CAN Trawl Protector (CTP), for suspended well protection and wellhead support structure (WSS), which acts as a 'repair kit' for poorly supported wells. The WSS is installed over the conductor and is loaded with weight material for gravity and suction penetration. After installation the annulus between the WSS and the well is cleaned out and grout filled with fit for purpose cement slurry.
Following its initial deployment with ENI in 2006, NeoDrill's CAN technology has found customers and investment from a number of leading oil and gas operators. During June 2010 Statoil Technology Invest acquired 25 per cent of NeoDrill and the company has continued to deploy its CAN units for various operators such as Centrica in the Cooper field and Det Norske at its Dovregubben field, both located on the NCS. In addition to these projects, it has continued its co-operation with Statoil by installing two CAN units for the company and has successfully completed another installation for ENI this year, which is currently NeoDrill's deepest installation at a depth of 1400 meters. This summer the first installation took place on the UKCS, where a production well CAN suitable for more than ten years' operations was successfully deployed.
In terms of proving its technology the company has seen a 'trial by fire' in what it considers to be the most challenging waters for its CAN units from a technical standpoint, and is confident that it will be able to deploy the technology throughout the world as Harald concludes: "We have started in what is actually the most challenging market. This is because, while our product offers advantages at all water depths, deep water with a soft seabed is the optimal candidate. Areas like the Gulf of Mexico, West of Canada, West Africa or Australia would probably have been easier to penetrate, but we have decided to first get up and running at home, which is the Norwegian and UK shelf. The fact that the technology has shown that it can save rig days is important. It is adaptable to exploration and production and when deployed correctly and in an optimal way it can work with the objective of accelerated oil. So for operators that would mean harvesting higher returns from their investments, to me this seems like low hanging fruit, but you need to have the guts to go and pick it."
NeoDrill
Services: Drilling and field development technology