New age
NeoDrill's story began 16 years ago with the concept of pre-installing subsea well conductors to save rig time. Founded upon innovation, the company is responsible for developing ground-breaking technology with its CAN® (Conductor Anchor Node) and associated systems to help cut well construction time and costs, and enable complex drilling programmes in well construction.
"We started in 2000 with CAN, mainly as a problem solver for soft sea beds, based on suction anchor technology and its high load capacity to offer an efficient tool in this typically weak link in conventional well design," begins MD, Harald Strand. "We installed the two CAN units in 2006 for ENI, at 860 m and 1100 m water depth, thus jumping in at the deep end of the pool. Following the CAN, we have developed our product range to include the CAN-ductor system, which has been built as a cost cutting solution, CAN-Slender, which enables slimmer and therefore cheaper wells for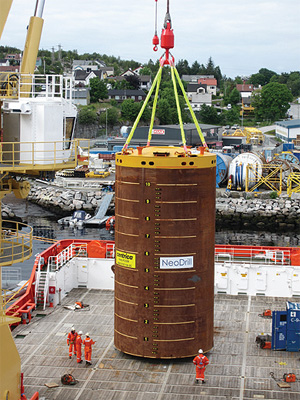 exploration purposes and CAN-Complete, a set of equipment for single-well producers. We have already installed one CAN for a production well in the UK for Endeavour, which has been producing since 2013."
The company prides itself on finding unconventional solutions to conventional problems and, with a strong patent position, is in a unique position to serve the market with its constantly evolving technologies. Technical Manager, Wolfgang Mathis, outlines how the CAN offering has evolved and what benefits it brings to projects. "The CAN mitigates some of the instability issues with drilling in soft sea beds by taking the load off the conductor and preventing washout – this we have successfully installed 13 times," he says. "Now we have moved onto the next step with the integration of the conductor into the CAN, a product we named CAN-ductor. The integration is done in the workshop and delivers verified conditions, higher load capacities, reduced costs from less cutting and cementing works as well as greater risk mitigation.
"In addition to this we are also looking carefully at CAN-Slender, which allows exploration wells to use less steel with less seabed dig out volume and therefore less cost again. All the loads that the well is normally subjected to during the drilling process are taken by the top of the CAN, thus allowing for slimmer drilling components below the CAN. All of this work can be done from a vessel in less time and assures more predictable results."
Demonstrating the advantages of NeoDrill's technical expertise and its systems are two vastly different yet equally complex projects. First up is a CAN system installed in 2014 for Centrica's Ivory Well at a depth of 1425m in the Norwegian Sea. With drilling to be carried out in late-November amidst harsh weather conditions, the Operator placed emphasis on reducing the amount of time spent out at sea. "To carry this out we installed a standard CAN with a vessel before rig arrival, then the rig jetted the conductor into place complete with a pre-installed bottom hole assembly (BHA)," Wolfgang outlines. "The conductor had a hanger installed, which is a clamp on device that interfaces with the CAN. Therefore, once the conductor had been jetted down through the CAN the hanger latched onto the CAN and the load was transferred from the conductor housing via the hanger and into the CAN. At this point, we could simply disconnect the BHA from the conductor and continue to drill the next hole section without waiting for the conductor to set."
The project illustrated a number of time and cost saving benefits. Primarily, work that would typically have involved at least three trips was carried out in one. In addition a lot of preparation work was carried out from a vessel, rather than from a more expensive rig, allowing the operator to log five rig-days saving. The use of a CAN system meant that a much shorter conductor length could withstand higher loads. Wolfgang notes that the conductor was in place less than 24 hours after it arrived at the site – an overall time saving that significantly de-risked the operation when it came to weather exposure.
The second flagship project was at the Wisting well for OMV Norge and required an entirely different approach. "OMV had discovered substantial reserves about 250 m below the seabed, so it was an incredibly shallow and thin reservoir that needed a horizontal well in order to allow enough draining area," Wolfgang describes. "Drilling horizontally in such shallow conditions had never been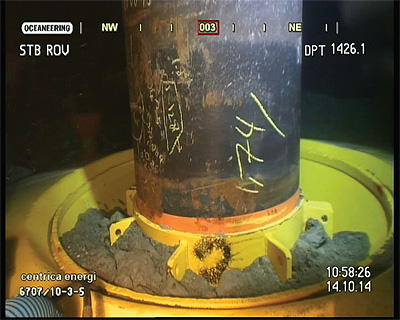 done before, and you can imagine if you install a conductor that is 60m long, you have already lost a quarter of your vertical depth to make the curvature. Our CAN system was perfectly suited to this kind of scenario as with the pre-installed CAN-ductor system, we were able to stop the conductor at just ten metres below the seabed and thus allow enough distance for OMV to achieve the required angle for horizontal drilling."
With NeoDrill's CAN system as one of the key enabling building blocks, OMV's Wisting well now holds the world record for the shallowest horizontal well ever drilled from a floating drilling unit. Consequently, not only has it proven the possibility of such a feat, but also the concept and technology put forward by NeoDrill in solving the most complex, and seemingly impossible, of challenges.
In an industry currently facing significant financial pressures, the need to look for innovative, cost cutting solutions is more critical than ever. Harald notes that there is significantly growing attention to sustainable cost reduction, particularly in the UK, as operators look to carry out operations in a more cost effective manner rather than a short term squeeze of the suppliers. He also points out a future requirement for P&A operations, which, once again, CAN offers a suitable solution for.
The wealth of opportunity for NeoDrill is therefore vast and the future looks accordingly positive as NeoDrill aims to have doubled its installed capacity by the end of 2017, as it is presently involved with several field development projects, for which the CAN technology is a strong contender. "In the shorter term we are looking to garner greater market acceptance and gain access to overseas markets, and we have a number of potential projects lined up to help us achieve this," Harald concludes.
"Our vision for the future is that the well design engineers will have to explain why they have not used the CAN system in their well design, as opposed to today when they have to explain why they want to. We have a highly innovative solution that solves a number of problems and we are committed to develop this alongside our clients. Our ability to respond to their changing requirements will be a major part of NeoDrill's future."
NeoDrill
Services: Developers of innovative top-hole well technology; The CAN® System