For a better tomorrow
Founded in January 1948, Neste Corporation (Neste) was created as a means of securing Finland's oil supply. With the idea of building an oil refinery in Finland first being muted in the mid- 1940s, this vision was realised in 1957 with the commissioning of a facility in the city of Naantali that was capable of producing 800,000 tonnes per annum of petroleum products.
By 1962, this capacity had increased to 2.5 million tonnes per annum, at the same time that Neste was successfully starting to expand into the petrochemical industry. Such was the growing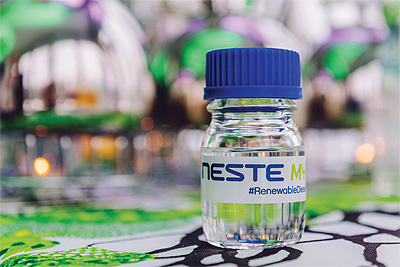 demand for its products in Finland that a second refinery was commissioned in Porvoo in 1965, and in the years that followed, the company's business interests also grew to include natural gas, exploration and production, and even a retail service station brand. "Right from the very beginning, Neste has been willing and able to invest heavily in its operations. In doing so, and by partnering formidable industry experience with environmental values, it was able to create some of Europe's finest refineries. For example, we launched leadfree and sulphur-free fuels decades ago – and we were the first company in the world to do so," begins Neste Corporation President and CEO, Peter Vanacker.
Leading authority
Such achievements became something of a precursor to a major transformation of the business that began in 2005, when the decision was made to switch Neste's focus to the production of renewable and sustainable solutions. This global range of products and services would allow its customers to reduce their carbon footprint by combining highquality and low-emission renewable products and oil products to tailor-made solutions.
"As you can probably imagine, there were few people within the industry at the time that believed that a regional oil refinery company could become a global leader in renewable products," Peter reveals. "For our part, we immediately set about focusing on the production of cleaner, higher quality products, and building production capacity and capabilities for such products in not only Finland, but also in Rotterdam and Singapore. This has resulted in Neste becoming the world's largest producer of renewable diesel refined from waste and residues, as well as a leading authority when it comes to bringing renewable solutions to the aviation, plastics, polymers and chemicals industries."
Peter himself began his role as President and CEO at the beginning of November 2018, having previously worked as the CEO and MD of CABB Group, a leading fine and specialty chemicals company, and having held various executive positions at Bayer. "What personally inspired me to move to Neste was its enthusiasm to help create a healthier, cleaner planet for our children," he details. "What also impressed me was the drive and motivation of every employee of the business to be a part of this journey, and how this passion helps to form the DNA of Neste.
"My main priority will be to maintain the growth that Neste has experienced in recent years, while we continue to work towards increasing the positive impact our activities have on our climate. One of the ways we will do so is by moving into new bio-based and recyclable feeds for use in our production processes. We have established a target of preventing nine million tonnes of greenhouse gas emissions being emitted by our customers in 2022, and where we stand today we feel that we are in a position to set even more ambitious targets in the coming years."
In its home country of Finland, Neste today possesses an oil refining capacity of approximately 15 million tonnes per annum, giving it a strong market position in the Baltic Sea region, and now boasts 2.7 million tonnes per annum of renewable product production capacity. With the removal of any remaining bottlenecks, this is due to increase to 3.0 million tonnes by 2020, while expansion of capacity in international markets will bring it close to 4.5 million tonnes per annum by 2022.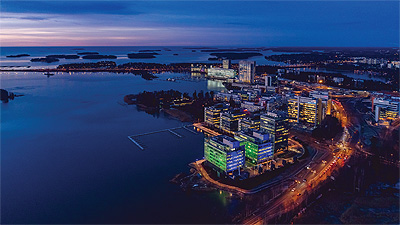 In addition to producing renewable diesel, most of Neste's renewable product refineries are able to produce renewable aviation fuel and raw materials for various polymers and chemicals. "In recent years, we have spent a great deal of time and effort developing renewable jet fuel as we believe it is one of the most viable solutions for emission reductions in the world of aviation," Peter adds. "During 2018, we have been ramping up production of this business stream, culminating in Neste making the single biggest investment in its history in December, committing 1.4 billion euros to the extension of its renewable product overall capacity in Singapore by up to 1.3 million tonnes per annum. As well as strengthening our leading global position in the production of renewable products made from waste and residues, our investment will also improve our capability to enter into new markets, for example the rapidly growing aviation market – one which is crying out for sustainable solutions to meet its emissions reductions targets."
Such has been the inspired success of Neste that, for two years running now, it has found itself placed in the top three of the Corporate Knights Global 100 Most Sustainable Corporations list. Marking the thirteenth consecutive year of inclusion, Neste has been included continuously on the list longer than any other energy company in the world. "We are delighted about our inclusion among the 100 most sustainable companies in the world and utterly grateful and honored to have been selected in the top three for the second consecutive time," Peter stated upon release of the 2019 list. "Such a top ranking can never be taken for granted as all the world's best performing companies aim higher and improve their performance year after year. Our ranking shows that Neste has continued to develop its sustainability in the right direction."
Working in partnership
The work of the company does not stop there, however, what with approximately 1500 of its total workforce of 5500 directly employed within its R&D and technology departments diligently looking for new breakthroughs in renewable products. "Among the many different things we are doing at present, we are putting increasing resources into the possibility of using waste and residue raw materials to create bio plastics, or even introducing waste plastics as a raw material element itself. This latter development also falls into the work our people are doing to improve feedstock flexibility," Peter states. "In the meantime, we are also embracing partnerships with other key industry players such as Clariant, a world leader in specialty chemicals."
This particular partnership, announced in November 2018, will happen in two phases. The first will see the two companies start by replacing fossil-based ethylene and propylene used in Clariant's high-quality hot-melt adhesives, with monomers derived from renewable feedstock. The second phase will then see the two develop other sustainable additive solutions derived from renewable raw materials for plastics and coatings applications. It is believed that this will enable other sustainabilityfocused brand owners, such as furniture producers, sporting goods manufacturers, and electronics and automotive companies to increase their own bio-based offering, and thus reduce their respective climate emissions.
"Going forward, I believe that it is very important that we continue to expand our global reach in order to meet our goal of helping as many companies and brand owners to meet their mandates and aspirations as it relates to climate emissions," Peter goes on to say. "These efforts are at the forefront of our thoughts every single day, after all it is climate change that we feel will define the future of the energy sector and drive the demand for sustainable solutions. For our part, Neste will remain steadfast in its commitment to making a positive impact on the environment as we introduce more bio-based and renewable feeds into our own processes and products."
Neste Oyj
Products: Renewable fuels