Fluid motion
With over 140 years of industry experience and currently in its fifth generation as a family owned venture, NETZSCH Pumps & Systems has grown from a humble beginning as a local supplier of pump wagons for firefighting and agricultural machines to a global powerhouse in the manufacture of positive displacement pumps. The business was founded by brothers Thomas and Christian Netzsch during 1873 in Selb in Upper Franconia, Germany and has continued to grow, beginning production of its iconic Mohnopumps (NEMO) pump range in 1952. "For more than 60 years, NETZSCH has manufactured positive displacement pumps worldwide. Designed specifically for difficult pumping situations, NETZSCH pumps range in size from the industry's smallest metering pumps to high volume pumps for applications in the oil and gas or mining industries," says Thomas Böhme, Head Of Business Field Oil & Gas Mid-/ Downstream for NETZSCH.
"With a production of over 55,000 pumps per year NETZSCH underlines the technology and market leadership, which it has gained thanks to the quality of the pumps and spare parts and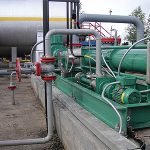 comprehensive service. The quality of NETZSCH pumps is guaranteed by the core competence and vertical manufacturing, which we have built up over many decades," he continues. "With the worldwide implementation of common standards in accordance with DIN EN ISO 9001 in development and research the company guarantees the highest quality at each of the five production sites."
"Our development and sales activities are focused along our core competences on trendsetting technologies and applications, to expand our market and technology leadership for the benefit of our customers," Johann Vetter, head of project management at the German headquarters, adds. "We don't see ourselves only as a developer and manufacturer, but more as your partner from project planning through case management to complete service concepts. Regular innovations are the key to our long-term market leadership. But only innovations relevant to the market are successful, because they meet the current needs of customers. That is why innovations are a pillar of the NETZSCH strategy that supports the ongoing growth of the company."
NETZSCH pumps are present in nearly all of the world's major industry sectors, meaning that the downturn of a single industry can be countered by company's activities in other markets. Indeed, while the low cost of oil has naturally had an impact on the business, NETZSCH continued to win orders within the oil and gas sector while further strengthening its presence within the food and pharmaceutical; chemical, pulp and paper and mining sectors. "Of course we have been affected by the current crisis within the oil and gas market in the same way as everybody else, but we have also been successful in getting good oil and gas orders inside the EMEA region and in compensating for the challenges in the oil and gas market with strong sales in other industries," Thomas Böhme elaborates.
Across its business NETZSCH divides its activities into several business fields focused on specific industry sectors, this allows the company to focus on the core needs of its clients and provide the most efficient pump solutions in both standard and bespoke models. "Within the company's pumps and systems business unit for example, our oil and gas division specialises in the delivery of systems with progressing cavity pumps for the production of crude oil and other highly viscous materials and these pumps are ultimately used throughout the world. Whether it is a large oilfield operator or a small production company – the experts at NETZSCH give their full attention to all projects. At the same time we keep pace with the increasing technological demands of the industry through highly efficient work. The successful co-operation of our own research and development teams with universities and operators of our pumps in the field globally proves this fact," Johann Vetter details.
"Typically within oil and gas and mining applications the demand for larger pumps delivering higher flow rates and higher pressure is increasing faster than in other industries," he adds. "Therefore NETZSCH has developed its range of L.Cap high-performance pumps for flow rates of up to 1000m³/h and pressures up to 24 bar. Over the last tens years NETZSCH has not only sold more than 280 pumps for multiphase applications but among them also the largest progressing cavity pumps currently used anywhere in the world."
During March 2016, for example, NETZSCH announced that it had provided custom diluent injection pumps for a major energy transporter. With a goal of reaching the highest operational efficiencies at the storage facility, the customer was looking to install a pumping system that would take the heavy crude oil from the tanks and blend it with diluents to lower the viscosity of the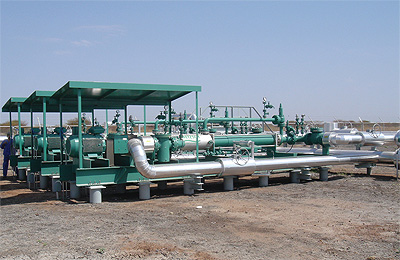 crude oil to be pumped to the main pipeline for distribution. Indeed, viscosity variability requires greater injection control of diluent as the crude oil sits in storage tanks over a long period of time, lighter product settles to the top and heavier product to the bottom. "Crude oil is drawn off the bottom of the tanks first and this is where most amount of diluent injection is required. As the product changes in viscosity there is a constant need to adjust the amount of diluent being used. NETZSCH approached the design of this pumping system with progressing cavity pumps to take care of operating issues associated with constantly changing viscosity," Thomas Böhme notes.
A critical design issue was the extremely cold operating temperatures during the winter months, with ambient conditions of as low as -22 to -40 °F / -30 to -40 °C and diluent temperatures as cold as -8 to -13 °F / -22 to -25 °C, NETZSCH engineers needed to carefully consider the elastomer selection for this application. Because the NETZSCH progressive cavity pumps would operate outdoors, it was determined to use a reduced wall stator with heat tracing to insure that a 23 to 32 °F / -5 to 0 °C operating temperature was maintained within the elastomer. In addition, three resistance temperature detectors (RTD) were to be mounted in each pump to provide feedback data to the control system. To compensate for the cold temperatures, NETZSCH designed a rotor that is slightly over-sized in order to keep the interference fit at sub-zero temperatures. This presented an additional hurdle at assembly time. The solution for assembling a stator on an oversize rotor was to pack the stators in ice in order to make assembly possible.
By using four custom-designed progressing cavity pumps piped to a common header NETZSCH was able to provide the customer with the level of diluent injection control that he was looking for. With the NETZSCH system, the customer has the ability to run anywhere from one to all four pumps and with the use of VFD's one will have complete control over diluent injection. The large pump size (one of the largest ever built by NETZSCH) also allows the customer to run the pumps slower for a longer life cycle – a critical maintenance advantage in the extremely cold operating environment.
Although the oil and gas market remains depressed, NETZSCH is able to offset this volatility through the delivery of highly specialised projects for technically demanding applications and by expanding its reach in other markets. During the coming years the company is confident that it will continue to grow as a leading pump and system manufacturer within the oil and gas sector and beyond. "At present we are focused on market penetration with our launched products, while over the next three to five years we will be focusing on sustainability and, especially for the oil and gas market, increasing the awareness of our positive displacement pumps such as NEMO, TORNADO und NOTOS for the mid- downstream and especially multiphase applications of our customers. Despite the current oil price crisis we still see a growing demand for our pumps, as many new oil and gas resources are being found in remote and extreme environments. These challenging pump applications need reliable solutions to secure our customers processes and the increase in these application possibilities fuels a growing demand for pumping equipment for ever more difficult conditions. New reserves tend to be more contaminated than earlier finds. These contaminated oils, sand water gas etc, play directly to the strengths of our products, also to the downhole PCPs, drive heads and accessories," Thomas concludes.
"Our experience in these applications as well as our growing reputation and close partnerships with EPCs and end-users gives us the knowledge of many varied processes, which enables us to design and tailor our products to meet the requirements of our customers. Examples of this are our multiphase and large capacity progressive cavity pumps. The continuing demand within this market and our activities provides a positive outlook for NETZSCH PCP (progressing cavity pumps) for the Oil & Gas market."
NETZSCH GmbH
Services: Pumps and systems manufacturer