NETZSCH Pumps & Systems Ltd
Full service in place
With a history dating back to 1873 when the company was founded as the Gebrüder NETZSCH Maschinenfabrik (NETZSCH Brothers Machine Works), the NETZSCH Group today represents a family owned enterprise with some 3000 employees. The company was established as a family business in Selb, Germany, where it is still headquartered today and has since grown to encompass some 163 locations across 28 countries on five continents.
The NETZSCH Pumps & Systems division represents one of three distinctive organisational areas within the wider group, which also include its Analyzing and Testing and Grinding and Dispersing divisions. NETZSCH Pumps & Systems manages a 'full service in place' philosophy that is targeted at delivering a comprehensive service configured to the exacting needs of its clients. For more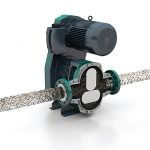 than six decades, NETZSCH has developed, manufactured and marketed positive displacement pumps worldwide. Its products are specifically designed, developed and manufactured for use within some of the world's most difficult pumping situations, throughout some of the most technically demanding industry sectors.
Indeed, NETZSCH pumps are present within a broad base of industry applications within the environmental and energy; paper and chemical; foods and pharmaceutical; mining and oil and gas sectors. "NETZSCH is essentially present in all industry sectors but our key markets are within the environment and energy area, which includes municipal sewage, marine, power generation and bio gas applications," details NETZSCH Pumps & Systems Managing Director, Simon Williams. "However, we are also active within the food industry, which is grouped with the company's pharmaceutical business, as well as within in the upstream and downstream oil and gas divisions. We currently have pumps pumping crude oil from below the ground to the surface in heavy oil applications and topside applications where NETZSCH pumps are pumping oil and gas process liquids around platforms and FPSO vessels."
NETZSCH currently boasts a production capacity of 50,000 pumps per year with the worldwide implementation of universal standards in accordance with DIN EN ISO 9001 in development and research to guarantee the highest level of quality across the business. Throughout its history, NETZSCH has supplied clients with its proven NEMO progressive cavity pumps, TORNADO rotary lobe pumps and its recently introduced NOTOS multi-screw pumps, as well as a macerators and grinders, dosing technology and equipment for custom built and challenging applications. "NETZSCH product ranges include our Progressing Cavity Pumps, which we have manufactured since 1952 and we have been a continuous design innovator throughout the years," Simon reveals. "For example, we adopted the rotary pump range in 2000 because we saw that the technology was eroding our existing market for progressive cavities. Therefore we acquired the technology to ensure that the business was not standing still. Ten years after we launched a revolutionary take on rotary technology, efficiently 'ripping up' the design manual to bring something really unique to the market place. In recent years we have also continued to develop the progressive cavity pump range with 'full service in place' features, including the ability to change the pump's mechanical seal without the user having to remove its suction and discharge casings."
Most recently, NETZSCH has introduced its unique family of NOTOS multiple screw pumps (MSP), which embodies highly recognisable NETZSCH design and superior quality standards to meet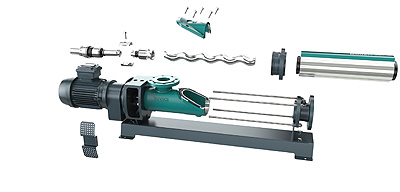 the needs of clients that demand the highest levels of service requirement. "NETZSCH had previously manufactured a range of screw pumps under licence in Brazil for a good number of years and we realised that we had a good reliable install base and that we had the capability and experience to manufacture these products ourselves. Around ten years ago we decided to embark on a journey to release a new product to the market and this was fully realised during 2016. The NOTOS range is manufactured using an extremely clever machine tool system, which allows us to incorporate a complex screw-set and to produce a highly effective and mechanically accurate pump," Simon explains. "We have also taken care with the design of the NOTOS family of pumps to ensure that is fits in with the wider design of the rest of our pumps so that the client can get to know the look of a NETZSCH pump. We want to be more like a car manufacturer that has a personality and proven reliability, rather than just manufacturing a simple piece of machinery."
Throughout its product range, NETZSCH employs cutting-edge design technology including computational flow modelling to ensure the most effective and efficient pump solutions. "During the design of the NOTOS family of pumps for example, we established that it was possible to achieve incremental increases in efficiency by machining deflector plates onto the shafts of the pump system. That was found through modelling techniques initially and then further improved in the test field," Simon observes. "We are very heavily into the design, build and testing of prototypes, rather than building and releasing for prototyping. This allows us to ensure the highest levels of efficiency."
NETZSCH understands that time is a critical factor within all of today's industry sectors. Clients are increasing unwilling or unable to wait for deliveries, while global competition continually results in new products being introduced to market. To meet the needs of this challenging market NETZSCH has developed its 'full service in place' (FSIP) concept for its pump systems, which promises a full turnkey service from design to implementation, as well as the highest levels of quality and aftersales support. With its growing family of proven pumps and associated technologies, NETZSCH is ready to support clients both old and new in an increasingly competitive environment. "Our focus is to build on the foundations set by the potential of our new and existing products," Simon concludes. "With the introduction of our NOTOS range we hope to ensure further sales and to continue to grow by meeting with customers that we have perhaps not met before."
NETZSCH Pumps & Systems Ltd
Services: Machinery and instrumentation manufacture