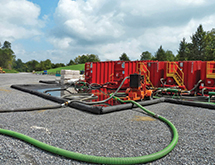 Manufacturers have looked to New Pig Corp. since the early 1980s to keep their factory floors clean and safe. The company's first and namesake product, the PIG Absorbent Sock – a tubular, shape-hugging sock used to absorb oils, coolants and other industrial fluids – established it as a leader in the absorbent product industry. Other products, including floor mats, followed the PIG's success.
The company in 2011 extended its reach outside of manufacturing when it re-engineered one of its floor mat products for oil and gas producers faced with the problem of controlling spilled and leaking fluid from well sites. One of the common previous solutions to this issue – covering sites with the plastic liners designed for pits – created a problem of its own, as the liner surface was slippery.
By re-engineering its existing Traffic Mat non-slip matting product into a well pad liner for well operators, New Pig also addressed durability issues for the growing oil and gas industry in the Marcellus and Utica shale plays close to its corporate base in Pennsylvania. "We talked to a number of operators and saw what was going on in well sites," says Beth Powell, who worked in product development for the company at the time it entered the oil and gas market.
Powell in 2013 was chosen by New Pig to serve as vice president and general manager of New Pig Energy, a wholly owned subsidiary of the company devoted to well pad containment products. New Pig Energy's main offering is the PIG Well Pad liner, a patent-pending mat product that represents the newest evolution in New Pig's product line.
Safe and Clean
The PIG Well Pad Liner is a durable, polypropylene composite consisting of three barrier films in between double layers of geotextile with heat-fused surfaces. The liner features a high-traction surface, minimizing slip-and-fall injuries in wet or dry conditions.
"Ours is the only well pad product certified by the National Floor Safety Institute [NSFI] for its high co-efficient friction work surface," Powell says. "This product has two main benefits – it protects workers on site, and because it's tear and puncture resistant, it protects the environment, as well." These attributes earned the liner the "product of the year" award from Environmental Protection magazine in 2011, 2012 and 2013.
The PIG Well Pad Liner also offers cost savings to customers, as they can be used in place of rig mats. The liner is capable of handling multiple stages of well production such as top-hole rigging, horizontal rigging, workovers, fracking and flowback. Companies often replace other liners after each of these steps, Powell notes.
PIG Well Pad Liners are warehoused and manufactured in Altoona, Penn., just a short distance away from New Pig Energy's sales office and headquarters in Tyrone, Penn. The company also fulfills orders from warehouses located in Wyoming and Ohio.
In addition to offering well pad liners in two different thicknesses, New Pig Energy also manufactures and supplies berms, sealants and patches.
'Intense but Rewarding'
The company goes beyond manufacturing to offer services including installation and service. "We're learning that there's a relentless reinvention cycle that goes along with serving the oil and gas industry," Powell notes. "If companies like you, they will ask you to do more and more."
New Pig Energy liners are used beyond the wellhead, providing secondary containment throughout the drilling site. "We've gone from providing a product to having companies rely on us for the entire set of services necessary to protect the environment on a site," she adds. "Our customers are good at letting us know what they want us to do next."
New Pig Energy meets regularly with clients to monitor the progress of its products and also maintains close relationships with suppliers. It also works closely with local organizations such as the Pennsylvania College of Technology, for which it supplies liners used on a training rig.
"The oil and gas business is a 24/7 business, and if you want to get into it, you have to be willing to support that schedule," Powell says. "It's a lot of hours and very intense work, but very rewarding, and the people I've worked with in the industry are the hardest-working people I've known during my career."