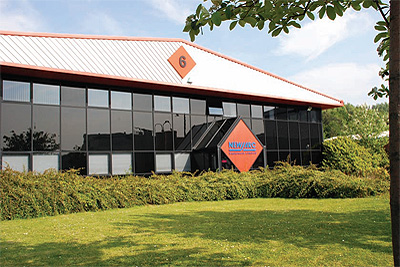 Source of excellence
Founded in the North East of England during 1972, Newarc Limited is a UK based designer and manufacturer of inverter-based welding power sources for manual metal arc (MMA), metal inert gas (MIG) and tungsten inert gas (TIG) welding. The company has traditionally supported the UK's oil and gas and energy industries with innovative and high integrity welding products and solutions, as well as the petrochemical, process equipment, metal fabrication, shipbuilding, construction, aerospace and railway sectors. Indeed during more than four decades in operation, Newarc has earned a comprehensive base of industry experience and a market-leading reputation in the provision of welding services.


"Over the years the business has encountered various changes in the welding industry and has seen several recessions come and go but has weathered the storms with a constantly evolving portfolio of innovative products offered to multiple industry sectors," elaborates General Manager, David Kerr. "As its portfolio grew and Newarc established a reputation within the welding profession, so did the presence of the business. Newarc established an office in Aberdeen during the 1980's and continued to develop a national identity with major contracts in the ship-building, offshore oil and gas and power generation sectors. By the early 1990's the business was exporting British made welding inverters to the Middle East, Far East and Caspian region for a wide range of users and industries. Over the past decade the business has continued to grow steadily and strengthen its position in existing regions. Today with some new and exciting developments within our research and development department, as well as with the introduction of some new personnel to the management team the business is targeting growth in both new and existing regions."
Newarc supplies a variety of MIG, TIG and MMA equipment from 150A to 1,000A to clients operating within the oil and gas sector, which are complemented by a range of products that support site work. "The Viper2500s 250A inline TIG unit is an exceptional example of the company's unrivalled innovation," David expands. "The unique selling point of the device is that it operates from any DC power source without the need for control cables. The product is recognised globally as a leading product in its class, and is highly sought after within the industry. The multi-process package is another favourite within the oil and gas sector, with the small light-weight add-on T300 TIG unit and WFU12-4c feeder accessing small confined spaces or working at heights is made easy."
All of the inverter-based welding power sources provided by Newarc are manufactured at the company's headquarters in Newcastle upon Tyne. Its present process set-up provides Newarc the capacity to produce up to 5000 units per year, however the company is keen to expand its capacity to match its ambitions for future growth. "As we implement our developing growth strategy we will review parallel expansion plans to meet growing demand. We have several advanced delivery models already defined that enable us to expand the entire operation at both our existing Newcastle and Aberdeen facilities," David says. "Research and development is one of the most important processes within our business and underpins our overall growth strategy. We have an extremely strong team of engineers with a wealth of experience in the industry, however, we recognise the need to strengthen the team in order to realise our strategic goals. We believe we have found the perfect answer here by agreeing to a strategic partnership with Heriot Watt University to perform a three-year collaborative research and development project."
The collaborative research project between Heriot Watt University and Newarc will focus on several technical innovations that have already been identified in a joint study toward the development of the next generation of Newarc welding machines. The partnership has received backing from Innovate UK under its Knowledge Transfer Partnership (KTP) programme, which also triggers significant grant funding to support the employment of a high calibre Phd or Masters level Engineering graduate to undertake the project.
Further to its on-going research and development activities, Newarc differentiates itself through the adherence to the highest possible standard, in terms of both quality and service. "We pride ourselves on providing genuinely British made products and staying true to the value of what this means. We have built a reputation synonymous with these values, providing not only quality and reliability with our products but also in our after sales service. When the product is sold we don't simply give ourselves a pat on the back and walk away, for us the relationship has only just started & we have an obligation to our customers and also the future of Newarc to ensure the customer is satisfied throughout the entire life cycle of their asset purchase."
In the wake of the market uncertainty caused by the depressed oil price, the next 12 months will be critical for Newarc as it seeks to develop the long-term growth of the business. "We are fortunate to have established an extremely strong brand in our field, however, we recognise that there are some very simple tools and mechanisms that we can apply and harness to vastly improve the brand visibility both in new and existing regions," David concludes. "From a technical perspective, a particular area of importance is developing the now established partnership with Heriot Watt University. Personally I am very familiar with the Innovate UK KTP programme which is at the heart of this relationship and have witnessed first-hand just how powerful this can be for all parties involved, so this offers an extremely exciting journey for the business."
Newarc Ltd
Services: Inverter-based welding power sources