Newmont Australia – Tanami Expansion 2 Project
Going for gold
Newmont is the world's leading gold company and a producer of copper, silver, zinc and lead. The Company's world-class portfolio of assets, prospects and talent is anchored in favorable mining jurisdictions in North America, South America, Australia and Africa. Newmont is the only gold producer listed in the S&P 500 Index and is widely recognised for its principled environmental, social and governance practices. The Company is an industry leader in value creation, supported by robust safety standards, superior execution and technical proficiency. Newmont was founded in 1921 and has been publicly traded since 1925.
In 2019, following the transformational acquisition of Goldcorp, Newmont became the world's leading gold company and a producer of copper, silver, zinc and lead. Newmont gained this position through its own assets, Goldcorp's world-class mines and the formation of the Nevada Gold Mines joint venture with Barrick, which created the world's single largest gold producing complex.
Energy, Oil & Gas focused its attention on the organization's Australian operations, and spoke to Vince De Carolis, General Manager Tanami for Newmont Australia, to get some more details of what is happening 'down under'.
"Newmont Australia was Australia's leading gold producer in 2019, producing around 1.431 million attributable ounces of gold and 64 million pounds of copper," he began, before continuing with
some further details of the mining operations. "Newmont Australia's 100 per cent-owned operating assets include Boddington in Western Australia and Tanami in the Northern Territory," he explained.
"Newmont Australia has operated the Tanami gold mine since acquiring Normandy Mining in 2002. The underground mining infrastructure and operation is located at Dead Bullock Soak (DBS), where presently we are mining the Callie orebody. The processing infrastructure is located 40 kilometers to the east of the mining operations at the "Granites". Ore is transported by road train from DBS underground to the processing facility. In 2019, Tanami produced 500,000 attributable ounces of gold and processed 2.6m tons of ore." The operation takes place on land owned by the First Nations Warlpiri people, who have formal agreements in place with Newmont to share value and protect their land, heritage and culture.
Significant scale
The Tanami mine has recently been the focus of a significant investment by Newmont – as Vince highlighted, this project received full funding in October 2019 and is already under execution. "The Tanami Expansion 2 Project (TE2) is an enlargement of Newmont's Tanami gold project, 530km NE of Alice Springs in the Northern Territory," he went on. "The main scope of the project involves the construction of a Headframe and a 5.5m diameter, concrete lined, vertical hoisting shaft to a depth of 1460m below surface. The shaft will be used for the transportation of ore and personnel and will accommodate support services and cooled ventilation air to support the further development of the mine at depth. The project includes additional scope for the existing Mill facilities at Granites, where we will do some brownfields work to increase processing capacity."
The vertical shaft that Vince referred to is a key part of the TE2 project, as creating this access, rather than using the existing decline from surface, will allow Newmont Australia to mine deeper, and extend the resource and mine life. "The ore will be brought up vertically via skips rather than trucking the ore out which is the current process," he added.
"Importantly, additional scope, such as ventilation in the mine and expanding the processing capacity of the mill, will improve working arrangements and secure Tanami's place as the key processing facility in the region. The expansion of the mill means we can put through more ore and produce more than 150,000 extra ounces of gold per year."
What makes this project even more impressive is that it is underway in one of Australia's most remote locations. Tanami is 270km from its closest neighbors, the remote Aboriginal community of Yuendumu, and is described as a 'Fly-in, Fly-out (FIFO) operation'. Vince noted how Newmont was handling this particular aspect. "The building of an accommodation camp at the Callie mine will greatly assist in managing fatigue for our underground workforce, saving them 80 minutes of travel time a day back to the existing accommodation camp," he said.
"As the country's largest underground gold mine, Tanami is an exceptional ore body and this next phase of investment has the potential to extend the mine life beyond 2040 and provide a platform for us to further explore a prolific mineral endowment in the Tanami district."
Given the significant scale of TE2, proceeding under normal conditions would make this project a complex logistical and engineering challenge, but factoring in Covid-19 has raised the stakes even higher. Vince confirmed that the project is going well with all critical activities having progressed despite the pandemic. "Development slowed a little in Q2 due to the pandemic, with comtravel restrictions due to regulations related to Covid the main issue, but we are working closely with our principal contractor Worley to mitigate any impacts that Covid has presented," he stated.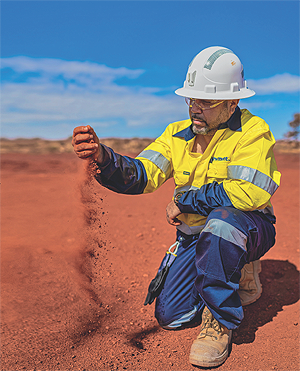 Robust protocols
Overall, Newmont's response to the Coronavirus pandemic has been remarkable, with quick action and tough strategies in place. "Newmont Tanami was a stand-out in being one of the first mines in the Northern Territory to have a Covid Management Plan approved by Government," stated Vince. "The health and wellbeing of our employees, their families and the communities in which we operate comes above all else. Every action we took to manage the pandemic was based on that premise. We implemented robust protocols early on at each of our sites to protect the health and wellbeing of our workforce and in turn, the communities around our operations. To better support our communities and workforce, earlier this year we also established a $20 million global Community Support Fund, and we have been able to extend that to local community needs in the Northern Territory."
Sustainable value
While 2020 is proving to be one of immense global challenges, 2019 was actually a key 12 months for Newmont's portfolio in Australia, as it works to build a sustainable and long-term future. As Vince noted, the full funding for the Tanami Expansion 2 project was granted that year, and he gave some examples of what other activities the business has undertaken, which included another important development at Tanami. "We completed the Tanami Power Project, which will deliver a more secure fuel supply and reduce greenhouse gas emissions," he said. This USD 200m+ project included the installation of two power stations, a 66kV interconnected power line, and a 275 mile (450km) natural gas pipeline. The pipeline was built and will be maintained by Australian Gas Infrastructure Group, while the power stations were constructed and will be operated by Zenith Energy. The project is expected to generate net cash savings of $34 per ounce from 2019 to 2023, delivering an Internal Rate of Return of greater than 50 per cent.
In addition to lowering costs and carbon emissions, the completed Tanami Power Project will pave the way to further extend the life of the operation. Completion of the project also coincided with Tanami pouring its 10 millionth ounce of gold on the back of record production of 500,000 ounces last year.
But Tanami isn't the only site of improvement in Australia. "At Boddington [a large gold and copper mine located 120 km from Western Australia's capital city, Perth] we continued our proud tradition of innovation by being the first open pit gold mine to invest in Autonomous Haulage Systems (AHS), fully funding a project in February 2020 that will see Newmont Boddington adopting a technology that will be a world first in open pit gold mining.
The total net investment in Boddington's AHS will be $150m, with efficiencies expected comto extend the mine's life. The company also sees additional upside potential from the replication of the AHS at other Newmont operations.
Boddington's autonomous Caterpillar haul trucks will feature rigorous safety controls that reduce employee exposure to potential vehicle interactions. Newmont is also executing a robust people strategy at Boddington, providing opportunities for reskilling and redeployment of haul truck drivers to other roles supporting the AHS.
With safety and staff both being highlighted as significant priorities in the AHS implementation, it is not surprising to learn that a strong strategy lies behind Newmont's approach to corporate and social responsibility. "The company is widely recognized for its principled environmental, social and governance (ESG) practices," Vince confirmed. "We have a fundamental belief that strong ESG performance is essential for delivering sustainable, long-term value for all of our stakeholders and is part of the fabric of Newmont. We have learned lessons about the need to engage communities early in order to build robust, long-term relationships. These lessons are reflected in our mature operating model, underpinned by robust governance practices, which leverages our collective expertise and applies best practices to social and technical issues.
"Today we have an Independent Board that holds management accountable for ESG performance, with ESG sitting on the Executive team since 2006, transparent reporting since 2003, and a disciplined country risk program that ensures we assess our jurisdictions and risk tolerance. We are very clear around the jurisdictions we are prepared to operate in and we have a robust succession planning process to continually develop the next generation of leaders across our business."
Having been given a glimpse into the world of Newmont Australia and the wider Newmont Group it is clear that the company has continuous ambitions to develop and grow over the coming years. Having been crowned the top mining company on FORTUNE's 2020 list of the World's Most Admired Companies, as well as other multiple acknowledgments over the years, Newmont's efforts to create sustainable value and opportunity have been recognized, and the company looks set to continue this success well into the future.
Newmont Australia – Tanami Expansion 2 Project
www.newmont.com
Services: Mining