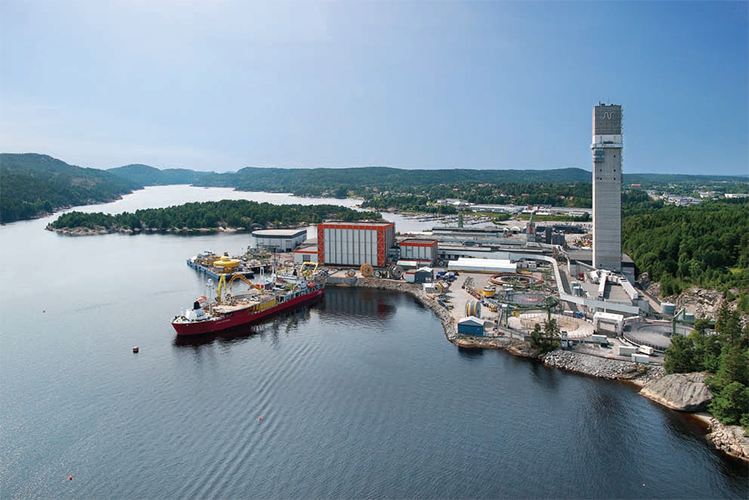 Data delivery
Nexans Norway AS is the leading supplier of power and telecommunications cables in Norway, and is one of the world's leading manufacturers of subsea umbilicals and high-voltage sub-marine cables.
"Since manufacturing of our first power cable in 1919 we have continued to make improvements, advancing technologies and taking a leading role in changing communication capabilities, hence improving people's quality of life. As demand from society changes, we have evolved and grown, today employing 1600 personnel in five different plants in Norway, and 26,000 dedicated employees worldwide," says country communication manager, Trude Larstad.
Its contribution has successfully linked not only people, but also infrastructure such as offshore platforms, industrial plants and nations together. Capable of producing lengths of heavy umbilicals and submarine powercables up to 1000km and fiberoptic submarine telecommunication cables in longer lengths beyond 5000km, the scope of the projects ranges from small scale production sites to trans-oceanic crossings. Offshore subsea umbilicals, ROV umbilicals and other specialized cables in fact generates approximately three quarters of the Hybrid Underwater Cables Division's business, with the last quarter a result of the presently booming sub-marine telecom market. Beyond specialising in the supply of heavily demanded cables, Nexans also operates its own installation vessel and barges, which as Ragnvald Graff, marketing and sales director points out: "Operating our own installation equipment completes the full turnkey capability that we are able to provide."
For Nexans, 2015 marks a major milestone as it celebrates its centenary in business. As the company continues to play a key role in the Norwegian oil industry, supplying innovative solutions,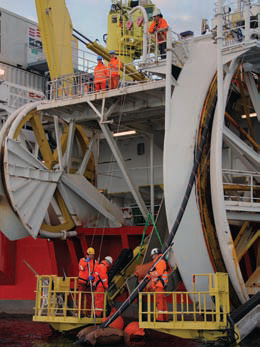 day-in and day-out, it is the skills and innovations of its employees, which has ensured such success, and its continuation. Highlighting the company's latest project Trude comments: "In February we were awarded the NordLink HVDC interconnector project between Norway and Germany. To receive such a large order on our anniversary has been a welcome gift." The first ever power connector between Norway and Germany will be Nexans' largest subsea power cable contract to date in terms of length and value, with a contract value of approximately 0.5 billion euros.
"We have a specialised plant in Halden where the subsea cables for the Nordlink project will be produced and tested. The plant was first built 40 years ago, for the purpose of delivering the interconnector on the Cross-Skagerrak facility. Nordlink will be installed by Nexans Skagerrak, its own vessel and protected by Nexans own submarine trenching machine, Capjet for mechanical protection on the seabed. It is very satisfying for us to be trusted with the NordLink project, and provides a boost to continue with forward investment," says Ragnvald. Engineering works associated to the project have already begun, reflecting the anticipated cable production, beginning mid 2016. "The next stage is to implement a number of those investments so that we are able to begin with manufacturing," adds Jens Gulbrandsen, product-development director.
As the demand to produce more cable in a shorter time becomes greater, the business looks to further increasing its capacity in preparation for the growing future market. "Since the 1950's we have supplied and exported power cables to worldwide clients on both turnkey as well as separate and individual installations. As a business we are responsible to have installed 30 to 40 per cent of the world's capacity on submarine cables," says Ragnvald.
In 2011, Nexans was awarded a significant project with Statoil on the Asgard field for supply of power cables, static and dynamic umbilcals. Winning all three packages of the tender. "I believe that illustrates Nexans position in the market. We are different from other umbilical manufacturers in that we have developed from a cable background," says Jens. His statement is supported when considering that competitors such as Technip and Aker extend from process, pipeline and mechanical backgrounds. "We have a competence within Nexans for all aspects of cables, and this instills the customer with the confidence that we are able to deal with any situation," he adds.
Later, in 2012 the business signed a global agreement with BP, for the supply of a Direct Electrical Heating (DEH) system, announcing in 2014 that it had provided to BP the first delivery in what will be the world's largest and most complex DEH system to date. The Shah Deniz DEH contract, forms part of a ten-year frame agreement between Nexans and BP, to supply umbilicals, DEH systems, accessories and services for various deep-water oil and gas projects worldwide. "We have since signed several additional contracts with BP for projects in countries throughout the world. We are recognised as a supplier that is able to deliver on time and to cost, in addition to the other technical advantages that we offer," explains Ragnvald.
Through long-term contracts with Statoil and BP, Nexans has benefitted from an opportunity to fine tune project execution and design philosophy, developed further by its close relationships. "Everybody in the oil and gas industry is aware of the drop in oil price, which has enhanced the need to work closely as an industry to provide cognitive solutions," says Ragnvald. "As well as active projects, we retain a focus on those yet to be realised. We are very capable of handling long lengths and heavy weights, determining our ability to assist with these future developments," adds Trude. Awarded its first telecom-repeater cable contract in 2014 for the supply of 1200km of cable for installation between Nigeria and Cameroon, Nexans Norway has set the course to continue growth in the market.
Nexans Norway
Services: Power and telecommunications cables