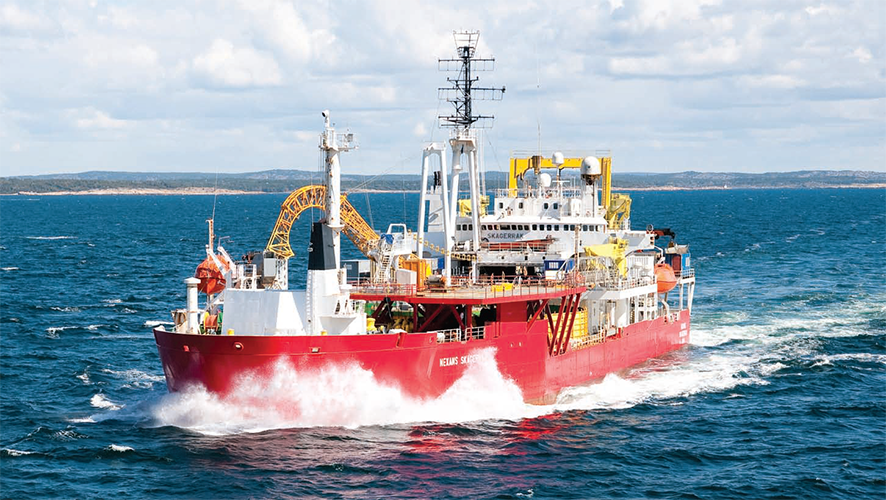 Wired up
As the leading supplier of power and telecommunication cables in Norway and a leading global manufacturer of high-voltage submarine cables, Nexans Norway AS boasts a long history and high level of expertise in the cable industry.
"Nexans Norway was founded in 1915 under the name Skandinaviske Kabel-og Gummifabriker; it was bought by ITT in 1934 and then changed its name to Standard Telefon og Kabel. In 1987, French Alcatel acquired the company and split the cable activities from the rest of the organisation to form a new one, Nexans, in 2000; this was noted on the Stock Exchange in Paris in 2001. Nexans has always had cables as its core business, with submarine cables a key focus," begins Rakel Korsvold, communications officer at Nexans Norway AS.
Previously featured in European Oil and Gas Magazine in July 2010, the Oslo headquartered Norwegian subsidiary of international cabling supplier Nexans Norway has witnessed swift expansion and increased challenges in the offshore markets it operates in, as Rakel highlights: "Since 2010 we have signed contracts both for our offshore domestic and export market and experienced positive growth; we currently have several projects ongoing with Statoil in addition to the eight million euro Gullfaks Rimfaksdalen contract. The largest is the Asgard Subsea compression project, which i due for delivery next year."
In September 2013 Nexans Group, the world's leading turnkey contractor for onshore and umbilical cables to the electricity, gas and telecommunications industry, was awarded the eight million euro contract by Statoil for the supply of static umbilicals on the Gullfaks Rimfaksdalen project, based in the Norwegian North Sea. This contract further strengthens the group's relationship with the oil major as it follows three recent projects that feature the new Nexans designed standard umbilical.
A total of nine kilometres of static umbilicals will be manufactured at Nexans' specialised facility in Halden, Norway, for deployment at water depths of approximately 137 metres to provide subsea-tieback between the existing Gullfaks A platform and the Opal and Rutil gas discoveries. The new standardised umbilical design integrates fibre optic, data and hydraulic services and has been developed by Nexans to offer a cost-efficient and reliable solution for fasttrack subsea oil and gas projects.
Discussing the ongoing successful relationship between the two firms, Krister Granlie, Nexans Norway's vice president of the Hybrid Underwater Cables Business Line, said: "Winning this fourth standardised umbilicals contract for Statoil confirms the success of this design in both reducing project costs and lead times, as well as increasing the repeatability of engineering, procurement and fabrication. It is a perfect example of the fully flexible and comprehensive approach we offer our subsea customers, with solutions ranging from standardised designs to bespoke umbilicals purpose designed for specific requirements."
Through innovation and product development, the dynamic ISO 14001, ISO 9001 certified firm aims to remain the preferred supplier of customer adapted, profitable and reliable cable systems. Improvements to cable tend to be based on innovative designs and the meticulous observation, analysis and assessment of formulated materials through the utilisation of cutting edge equipment.
Despite its dedication to product enhancement and its foothold in state-of-the-art cable technology, Nexans Norway's success also relies strongly on in its superior customer service, with its 1500 personnel working to the core values of valuing people, thinking about the needs of the customer and committing to excellence and responsibility while working as part of a global operation. With plants, facilities and offices in close proximity to customers around the world, Nexans strives to understand local culture and the country's supply chain to ensure fast and efficient responses to production requirements.
Moreover, the company works closely with customers to meet demands, solve specific issues and tailor proven technology to best suit the project in hand. A prime example of this dedication to excellent customer service would be the company's ongoing successful co-operation with Statoil, where a strong customer focus and dedication to meeting specific project needs, such as logistics, technical performance and on-time delivery, has resulted in major contract wins such as the 45 million euro contract awarded in December 2012.
Nexans Norway will provide hydraulic, data and fibre optic services for three Statoil fields on the Norwegian Continental Shelf: the North Sea based Oseberg Delta field, the Barents sea based Snohvit gas field and the Norwegian sea based Smorbukk Sor field. Manufacturing began at Nexan Norway's Halden facility in mid 2013, with a total of 42 kilometres of static and dynamic umbilicals expected to be delivered during 2014/2015; the umbilicals will reach a water depth of 100 metres for the Oseberg field, 300 metres for Smorbukk and 345 metres for Snohvit.
When discussing the 45 million euro contract, Ragnvald Graff, sales and marketing director of Nexans Norway's hybrid underwater cables division said: "This latest umbilical contract for Statoil furthers our longstanding working relationship with this very important customer on the Norwegian Continental Shelf. In addition to our excellent references from historic projects, this is a good continuation of our co-operation with Statoil on the two ongoing projects in the Asgard and Gullfaks fields."
Located in the Norwegian Sea, approximately 200 kilometres off the coast of Norway, the Asgard oil and gas field delivers around 28 billion cubic metres of gas and 14 million barrels of condensate, equalling 200 million barrels of oil equivalents. Awarded the 75 million euro contract to design, manufacture and supply 165 kilometres of static and dynamic power cables and umbilical cables from Statoil in November 2011, Nexans will complete the complex subsea project in 2014.
With global expertise and a century of experience behind it, Nexans has long provided high quality solutions in cables and cabling systems, from conception and design through to manufacturing and installation. As part of this history, the future looks bright for Nexans Norway as it looks to enhance its technology development to a state-of-the-art level and focus on retaining its excellent reputation in the cable sector. "The market is very strong at the moment and over the coming years we will be focusing on innovation and product development to ensure Nexans remains the preferred supplier for our customers," concludes Rakel.
Nexans Norway AS
Services: Power and telecommunications cables