Generating energy
Nexans Group is a well-known innovator and global leader in the production of advanced cabling and connectivity solutions, bringing energy to life through an extensive range of best-in-class products and innovative services. The company keeps its focus in four main business areas: building and territories (including utilities, smart grids, and e-mobility), high voltage and projects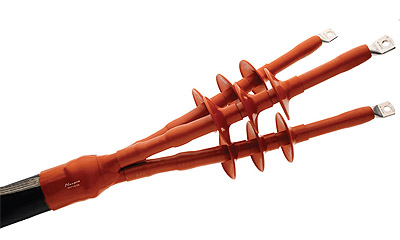 (covering offshore wind farms, submarine interconnections, and land high voltage), telecom and data (covering data transmission, telecom networks, hyperscale data centres, and LAN), and industry and solutions (including renewables, transportation, oil and gas, and automation). Headquartered in Paris, Nexans Group employs more than 26,000 people, and has an industrial footprint in 34 countries – in 2017, the Group generated 6.4 billion euros in sales. For over 120 years, innovation has been the company's hallmark, enabling Nexans to expand its offering, and create numerous divisions, one of which we will present to you in this article.
Nexans Power Accessories is a business group of 1200 people with five production units in Europe and three overseas' sales and distribution units. This business group engineers, produces and distributes worldwide: plug in connectors, surge arrestors, terminations, joints, ferrules and lugs, bushings and smart grid components. Nexans Power Accessories has earned a reputation for being Europe's number one seller of connectors worldwide under the brand name Euromold® owing to the efforts of the Nexans Power Accessories sales team and its close co-operation with the extensive distribution network the company has established. Nexans Power Accessories has also claimed a leading position in direct sales to Power Utilities, OEMs, project developers, and engineering companies, active in the distribution network, substations, renewable sector and industry.
Specialising in the field of pre-moulded cable accessories for medium and high voltage, Nexans' innovative products involve compact connectors, wet-and dry mate, and joints for wind turbines, onshore and offshore junction cabinets, and smart metering sensors, all of which help the production of wind and solar energy. The business offers a complete range of accessories for underground cables, such as pre-moulded EPDM rubber connectors and silicone terminations for cables and epoxy bushings for transformers and switchgear.
The different types of separable connectors are among the company's trademark products. They are designed to connect polymeric insulated cable to equipment such as transformers, switchgear, and motors, and are suitable for both indoor and outdoor use. Nexans' latest invention in the field is the 480TB connector Euromold (registered), which offers a greater installation flexibility with a full choice of coupling connectors, and the possibility to protect the user's network with screened, separable surge arresters. The innovative design of the outer cone connector has led Nexans to suggest that it will become the standard for connectors in the years to come. Recently a new compact 200 ampere connector with totally new design was launched for transformer applications. The teams also opened the way to the engineering and sales of wet- and dry mate connectors, used in marine applications like floating wind and wave turbines.
Producing joints and terminations is another specialty of Nexans Power Accessories. It devises both straight and transition joints. The former are designed for jointing screened polymeric cable to be laid in air, or directly buried, while the transition joints are used to joint single and three-core paper cables to three single core polymeric cables. As to the terminations, they find applications in the connection of polymeric insulated cable with equipment, as well as for outdoor terminating onto overhead lines or bus bars. The indoor terminations, designed by Nexans, are used in controlled environmental conditions, and the outdoor terminations are designed to operate efficiently, even when exposed to prolonged sunshine or other weather conditions. Years of experience added to field recognition allows Nexans to propose three kind of technologies: heat-shrink / coldshrink / cold applied (slip-on) and even some hybrid mixes according to customers' specific requirement and applications.
There are four key markets where Nexans Power Accessories offers its services. The company is well-positioned in delivering into the power networks, railway networks, and the oil and gas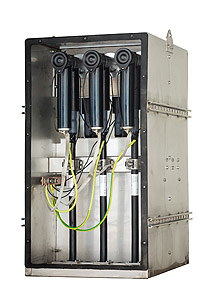 industries, but it is the wind sector that has been the main focus for the business in recent years. Having grasped that wind power is continuously growing and is expected to play an even more central role in the world's electricity market, Nexans Power Accessories has developed an in-depth expertise that allows it to interconnect large wind turbines and complete wind farms to local or distant grids. Its qualifications enable the company to oversee the complete installation of medium and high voltage cables, including initial prequalification, design, customised production, logistics, installation, topside termination, testing, and pre-commissioning. Offshore, Nexans is capable of supplying and laying MV subsea cables between wind turbines and the transformer platform, as well as the MV or HV link to the onshore substation. In addition to this, it provides underground cables and all the necessary terminations that support the work of the turbines. Nexans Power Accessories also produces junction boxes of on- and offshore applications and pre-tested jumpers for the connection to switches.
With the development of its competences in the wind sector came the interest from various organisations, who commissioned Nexans to provide accessories and cables for their projects. In 2016, it won a contract from Statoil, a Norwegian multinational oil and gas company, to provide static and dynamic cabling and associated accessories for the world's first floating wind farm, Hywind Scotland. With the wind farm now in operation, it has been predicted that its capacity will allow the generation of enough green energy to power around 20,000 homes, and will lead the way for the development of more and larger floating wind farms.
Another success story that stands out in Nexans portfolio, is its participation in Horns Rev 2, the second stage of the project that built the Horns Rev offshore wind farm, 27-41 kilometres off the west coast of Denmark. The second phase included the interconnection of 91 wind turbines at the location, and a central offshore transformer station. Nexans supplied a staggering 70 kilometres of MV subsea power cables, along with an HV subsea cable connecting the wind farm with the Danish offshore power grid. As the world is becoming more and more inclined to develop the potential of wind and solar energy, it seems that Nexans will remain in a good position to capitalise on this growth to connect applications. Given that the company is keen on constantly evolving its offerings, there is no reason to doubt that its forward-thinking solutions will continue to tangibly contribute to the strengthening of the sector.
Nexans Power Accessories
Services: Producer of connectors and cable systems