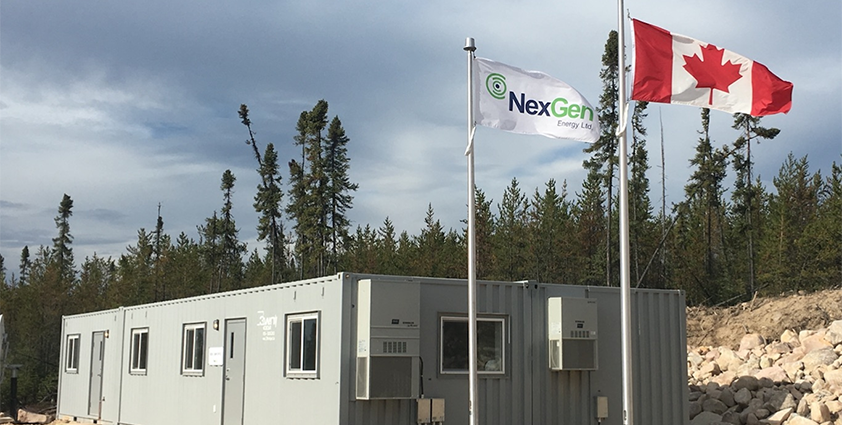 NexGen Energy continues to see positive results from the Arrow Deposit in Canada and looks forward to mine production in the near future.
Five years after the discovery of the Arrow Deposit in uranium-rich Saskatchewan, Canada, NexGen Energy Ltd. has confirmed through a Pre-Feasibility Study that it is capable of becoming the world's largest producer of uranium. Once in production, NexGen expects the mine to produce more than 25 million pounds annually and generate nearly C$1 billion dollars in cash flow annually based on US$50 per pound uranium contract pricing.
"This asset will leapfrog Canada into the No. 1 uranium-producing nation globally representing a unique strategic position with countries such as the United States, which is the largest consumer of uranium globally, but which currently imports 95 percent of its uranium requirements," Vice President Corporate Development Travis McPherson says. "In July 2017, we completed a preliminary economic assessment, which basically highlights how unique and strategic Arrow really is by announcing for the first time that it will be the world's largest and lowest cost uranium mine."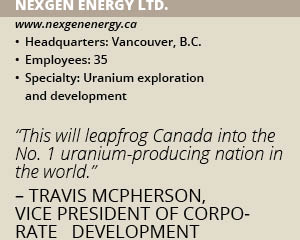 NexGen Energy was founded in 2011 after an extensive four-year global evaluation process of uranium assets, which led to the acquisition of the Southwest Athabasca Basin project portfolio that consists of more than 260,000 hectares today. Rook I is NexGen Energy's flagship project, which includes the 100 percent owned Arrow Deposit.
At US$50 per pound U308, Arrow's first LOM production will generate C$909 million per annum in after-tax next cash flow and 25.4 million pounds of production at $4.36 per pound operating costs.
That results in more than 90 percent operating margins, making it possibly the largest lowest cost uranium mine, McPherson notes.
Preparing for Production
"In November, the Pre-Feasibility Study confirmed all of the information presented in the preliminary economic assessment, but only used indicated resources due to regulation in Canada, despite the fact that we have seen tremendous conversion rates from inferred to indicated," McPherson explains. "The study was entirely consistent with the outcomes from the PEA, but were done at a significantly higher confidence level and utilized a smaller resource base."
NextGen Energy has now started the largest drill program in its history with 10 rigs and 125,000 meters, all focused on increasing the confidence level again to a Definitive Feasibility Study stage by early 2020. The company will formally start the permitting process this year. "The data we've collected over the past five years would already indicate to us whether there was a red flag with the project anywhere, but it's a relatively tiny mine with traditional mining methods in a straightforward geography and topography," McPherson says.
Once the company receives approval from the government, it expects to have a mine up and running three years later. "Building a mine is fairly well-defined in terms of schedules, but we are looking at ways to shorten that through the potential deployment of innovative techniques and technology."
Although the mine is not yet in production, NexGen Energy received the 2019 Environmental & Social Responsibility Award given by the Prospectors & Developers Association of Canada, which is the leading voice of the mineral exploration and development community. "This award means so much to everyone at NexGen and is an honor, but we have lots more to achieve in the local communities and that is really what drives everyone at NexGen," McPherson notes. "As an organization, we are focused on creating as much positivity for as many people as possible and this includes for the people who work for us, our shareholders, consultants, the communities around us, etc."
About 45 percent of NexGen Energy Saskatchewan-based employees are Residents of Saskatchewan's North and as the mine progresses, the company will continue to increase that percentage. "It's really been a focus of the company before we drilled the first meter back in 2013 to be truly and genuinely involved in the communities," McPherson says.