Growing ambition
NKT Flexibles operates a global business, supplying highly engineered flexible pipe systems to the offshore oil and gas industry.
Having installed its first flexible pipe system in 1968, the organisation led the way for the commercialisation of the product for wider use. Since that time the company has broadened the range of applications for flexible pipes, from near coastal shallow waters to ultra-deep waters. The flexible pipe systems are used today by practically every company involved in the extraction of offshore oil and gas around the world.
CEO of NKT Flexibles, Michael C. Hjorth, talks about the company's history: "NKT was originally established as a cable manufacturer in 1898 in Denmark. NKT Flexibles has grown out of this company and was established as an independent business in 1999 with its headquarters in Copenhagen, Denmark, and its main manufacturing facility located in the town of Kalundborg. We've been delivering our systems to the pipeline industry for over 40 years and to the oil and gas industry for the last 12 to 13 years. Today we're a worldwide provider of flexible pipe systems to all the major oil and gas companies involved in the offshore sector."
Over the past year, NKT Flexibles has been working on a number of projects in its backlog, which has safeguarded the business against the negative effects of the economic downturn. Michael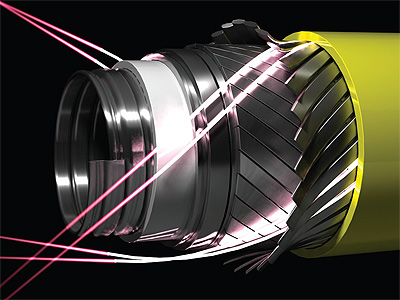 describes this work and how he sees the financial situation developing: "We are currently working on a few projects in the Norwegian market, as well as the Far East and Middle East, and we have also started progressing onto deepwater projects that have been contracted by Petrobras to deliver to Brazil in 2010 and 2011. This backlog has protected us to a large extent from the financial crisis, but we are aware of how much the market has weakened. It's clear that the combination of the global recession and lower oil and gas prices has had quite a dramatically negative impact on the number of new projects being commissioned.
"We have also been developing new technology, including an optical monitoring system. This is a technological development, into which we have put a lot of funding, as it will prove absolutely vital to oil companies. In the past few years, we have observed an increased need for technological solutions to monitor the behaviour of the flexible pipe system. As early as 2000, we developed the technology to implement optical fibres in the armour wires of our products. Laser light is pulsed into the optical fibres and in this way we can monitor the movement of the fibre and thereby the armour wires. The measurement of the actual movement of the flexible pipe is important in predicting the life of the flexible riser system. We are the only supplier of flexible pipes that has this technology available today."
Another area the company has focused on is deepwater products, which is somewhat resistant to the weakening market mainly because the related projects are planned so far ahead that the economy is expected to pick up again before they are finished. Michael elaborates: "Deepwater projects are planned very much in the long-term and as they are of such strategic importance to the client, they still command high levels of investment even in today's climate. In this area, Brazil is a region of growing importance to NKT Flexibles, due to the sheer volume it holds."
Despite the general positive outlook of the deepwater sector, there are still challenges that NKT Flexibles must overcome to develop its business in the area. Michael explains: "It is the extreme depths of these projects that cause the most problems. First of all the pipe must be able to withstand the huge pressure that exists below 2000 metres underwater – the pipe can be up to 2.5 kilometres long, as the pod of the pipe extends from the vessel on the surface. The upper 100 metres of pipe carries the weight of all the remaining 1.9 kilometres, so tension and fatigue are absolutely critical. Insulation is another crucial aspect of ultra-deep water extraction, as the heat of the oil and gas must be maintained as it travels to avoid a change in its state."
Michael goes on to outline future opportunities and development within the business: "We are confident that there is light at the end of the tunnel, in terms of the world economy. As soon as it recovers, the demand for energy will rise once more. That in itself could cause another problem, because if the oil price recovers to 80 or 100 dollars a barrel, suddenly the oil companies will want their stalled projects up and running again, putting a huge strain on the supply chain caused by the lack of current investment. Despite these potential future problems, the eventual upturn will still benefit the industry and we are confident that NKT Flexibles can continue its positive development into becoming a fully-fledged system provider. This will enable us to reach the level where oil companies see us as a partner in their field developments rather than a supplier. That is our strategic challenge for the future."
NKT Flexibles
Services: Flexible pipe systems