Pioneering approach
NKT Flexibles has grown out of NKT, a company that was originally established as a cable manufacturer in 1898 in Denmark.
NKT Flexibles installed its first flexible pipe system in 1968, thereby pioneering the commercialisation of this unique product for wider use. Since then it has broadened the range of uses of this unique product, from near coastal shallow waters to ultra-deep waters, whilst expanding pressure and temperature ratings. NKT Flexibles was established as an independent business in 1999.
Today its flexible pipe systems are used by virtually everyone involved in the extraction of oil and gas in offshore provinces all around the globe. It is committed to meeting or exceeding the requirements of the world's leading oil companies and their contractors, for safe, reliable and cost effective seabed-to-surface flexible pipe connections. As such, its products and services form an integrated part of development concepts, ranging from static jumpers and flowline grids to highly complex dynamic riser systems. In addition, it provides complete turnkey solutions to the water and chemical industries where flexible pipe based import/export systems for near coastal applications have proven highly cost effective.
NKT Flexibles' headquarters are located in Copenhagen, Denmark, and its main manufacturing facility can be found in the town of Kalundborg. This facility has recently completed a major expansion project, a second tensile armour line and a second pressure armour line have been commissioned. In conjunction with the design of both machines, special attention is being given to creating a safe and comfortable working environment.
Particular focus has been placed on improving the safety of staff, reduced installation time and minimal machinery maintenance requirements with the aim to achieve a highly reliable production process. A primary focus on safety and design during the construction phase has been a crucial element in ensuring that no accidents or injuries have occurred.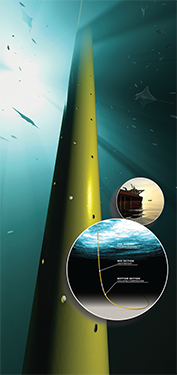 In choosing the existing Kalundborg facility for this capacity expansion, NKT Flexibles will harvest advantages from higher flexibility in operations without jeopardising its high focus on safety and quality. This will ensure continuous improvement in its growing organisation and allow NKT Flexibles to take on multiple large volume orders simultaneously.
The factory expansion will lead to a more balanced production flow as well as providing redundancy for critical processes. Furthermore, the expansion will improve NKT Flexibles' competitive situation in respect to ultra deepwater flexible pipe technology.
Indeed, the area of ultra – deepwater flexible pipe technology is one of particular focus for NKT Flexibles. At the end of 2009 a new development project looking at this area was launched, under the name 'HAFNIA'. This particular initiative is directed towards developing a reliable and cost efficient solution for a flexible riser system capable of operating in water depths down to 2500m. The project is targeting the use of the simple catenary configuration using individually optimised sections. Time to bring this solution to the market is critical; hence the basis for the HAFNIA project is to combine the use of existing, well proven materials and process technologies with new and innovative approaches to areas that have historically been challenging for flexible pipe technology in such water depths.
The exhaustion of more mature oil regions at relatively low water depths is constantly pushing the requirements for water depth capability of the flexible pipe products. With conventional technology the weight of the steel armour layers introduces limitations to the sizes and water depth of deep-water flexible pipe. In order to further push the limits replacement of steel armour wires by composite materials is under development.
The development of flexible risers in connection with floating production systems at a water depth of 2000-3000 metres is critical for the future success of ultra-deep water field developments. The NKT Flexibles FLEXTREME pipe concept is a hybrid composite/metallic un-bonded flexible pipe with a low weight and extremely high crushing, collapse and tensile capacities. The concept allows for the implementation of carbon fibre-reinforced polymer (CFRP) materials in the flexible pipes thus effectively pushing the envelope of composite pipes towards water depths, which cannot be reached using the conventional flexible pipe technology.
Apart from focusing on ultra-deep waters NKT Flexibles is also continuously pushing the barriers for the use of flexible pipe systems in shallower waters. Capitalising from a long standing tradition of technological excellence NKT Flexibles offers unrivalled solutions for medium to high temperature applications based upon the use of cross-linked poly-ethylene [XLPE/PEX] or un-plasticised PVDF. Thermal insulation properties of the products are improved using dedicated insulation tapes developed in close conjunction with the supplier.
Throughout 2009 and 2010 NKT Flexibles has been challenged by a difficult market situation caused by caution amongst the oil companies and the contracting industry in terms of progressing new field developments as well as major maintenance projects.
Nevertheless, the year was characterised by solid performance on project execution allowing the company to deliver financial results largely within the expected range. Activity wise a number of projects for the Norwegian continental shelf were successfully completed and delivered. Other regions such as Brazil, the Persian Gulf and India also saw deliveries from NKT Flexibles successfully accomplished.
NKT Flexibles
Products: Piping systems