Flexible connections
NKT Flexibles delivers flexible pipe systems to the offshore oil and gas industry as well as the chemical and water industries worldwide.
The company manufactures unbonded flexible pipe solutions for use as dynamic and static risers, static flowlines, subsea jumpers, topside jumpers and expansion joints. NKT is a professional and competent supplier of highly engineered flexible pipe systems providing a complete solution to its clients including oil companies and the contracting industry.
Michael C. Hjorth, CEO of NKT Flexibles explains why the company has the edge over its competitors: "The products and systems that we supply to the offshore industry are second to none and historically we have had no failures on our pipes. This is a very difficult and complex product but we set quality above everything else. We also focus heavily on the development of technology and when we develop products for the industry we are always looking at the global aspect in terms of choice of materials, manufacturing processes, design and experience. We try to resolve problems as quickly as possible therefore contributing to the superior quality of our products, which we will not compromise on."
There are many other advantages that flexible piping has over standard steel pipes, Michael explains some of the main benefits: "One reason why flexible piping is so interesting is it's by far a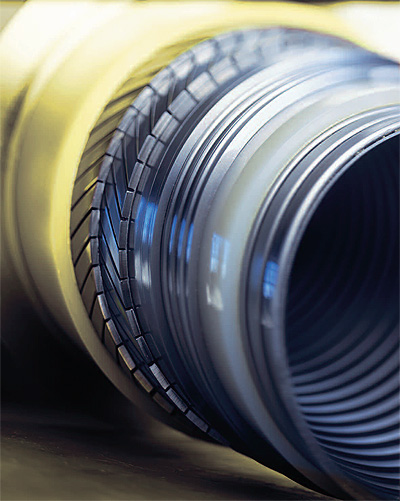 superior product in terms of flexibility and installation. There are a lot more possibilities with respect to how you install it on the seabed. It is also tailor-made so will always meet the demands of our clients." Other advantages include a design that combines the flexibility of a polymer pipe with the strength and weight of a steel pipe and the flexible pipes follow the natural contours of the seabed therefore minimising the susceptibility to free pipeline spans. Finally the flexible pipe application is the only viable technical solution for a variety of typical offshore pipeline systems including dynamic risers for connection of floating production systems to the seabed pipeline grid and wellheads.
NKT Flexibles wants to be regarded as a serious and professional employer observing the law and collective agreements as well as the unwritten code of honour both in its local community and globally in the markets where the company operates. Michael explains: "We focus quite heavily on creating a good environment for the personnel within the company. We have a philosophy, which considers the employees to be the most important asset to the company. We try to create an environment that is both inspiring and efficient, which allows the individual employee to develop and increase his/her skill level and competencies thereby ensuring that the company achieves the highest output from the people working in engineering, administration and production."
Michael continues: "I think it is no secret in Europe these days, especially in the offshore industry, that there's a high demand for skilled people so once you have good employees on board and you've trained them with respect to skills, corporate culture and company values you want them to stay."
In NKT Flexibles all employees take care of each other, and are always prepared to help one another, which provides a pleasant work climate. Today, NKT Flexibles is a dynamic, project-oriented organisation where no two days are the same. It operates in the international offshore market where the demands on quality and safety are high.
NKT Flexibles has established a quality system, which complies with the requirements of ISO 9001 and14001, OHSAS 18001, API Q1 and also the API 17J Monogram License. The quality system is dedicated to the manufacture of flexible pipes from the contract and design review phase, through the manufacturing quality plan, to the as-built documentation. Michael explains: "All the specifications that we work in accordance with are essential in order to operate in the offshore sector. Oil companies now demand that companies have these quality assurance systems in place and if we didn't use these we probably would not be working for the oil companies."
Along with high quality products, NKT Flexibles ensures that it is meeting the demands of its customers. Michael comments: "Our customers are always heavily involved in the development of our products and services because each client has different requirements. There can be changes in design, temperatures, pressure, water depths and chemical contents in each oil field. The oil companies submit documents explaining what is particular about the oil field they want to develop and then it's our job to convert this information into the choice of materials and design of the flexible pipe system they require."
One recent development is NKT Flexibles Flextreme pipe concept, which is a hybrid composite/metallic un-bonded flexible pipe with low weight and extremely high crushing, collapse and tensile capacities. The concept allows for the implementation of carbon fibrereinforced polymer materials in the flexible pipes therefore effectively pushing the envelope of composite pipes towards water depths, which cannot be reached using conventional flexible pipe technology. "The Flextreme is really directed towards the market in the next ten years where oil companies will have to venture
further to extract their oil. This kind of water depth is not possible with the conventional flexible pipe. The Flextreme was developed especially to cater for deepwater projects so all factors were taken into consideration and this flexible pipe is perfectly suited," Michael comments.
The development of flexible risers in connection with floating production systems at a water depth of 2000 to 3000 meters is critical for the future success of ultra-deep water field developments. For offshore developments in water depths down to 2000 meters NKT Flexibles can supply fully qualified conventional flexible pipe applications.
NKT Flexibles have also developed and successfully tested a flexible riser with integrated optical fibres linked to an optical monitoring system. This use of flexible risers for offshore applications is rapidly increasing. Michael explains: "This is a unique innovation as we are the only company in the world that can provide this feature within flexible pipes. This development is really in-demand from the oil companies because they want to control the risks of oil exploration and production. We've invented a way to insert optical fibres into the steel pipes, which feedback to a system that monitors the life of the pipe. Data is continuously collected so we can determine what state the pipes are in – it's a control process rather than just waiting until the pipe breaks." NKT Flexibles currently have one dynamic riser in service with this system – soon to be followed by another one.
Through continuous innovation and development, the company has managed to become one of the leading players in the offshore market. Founded in 1898, NKT Flexibles was one of the first companies in Denmark to manufacture power cables. Throughout the next 100 years the product range was expanded to encompass low, medium and high voltage cables for land, air and subsea applications. Combining its vast experience from the manufacturing and installation of subsea cables with its profound knowledge of performing steel wires and extruding thermoplastic polymers, NKT Flexibles developed the world's first commercial flexible pipe application in 1967. Looking to the future, NKT Flexibles aims to mirror its success in the past by increasing its offering to clients.
Michael concludes: "We are very enthusiastic in the sense that we believe we are now also being recognised by all the major oil companies in the world as a professional supplier of replacement pipe systems. Apart from this we want to be seen as a significant partner to our clients offering best in class technology and working with the oil companies from an earlier point during conceptual stages so we can supply a larger proportion of the entire system."
NKT Flexibles
www.nktflexibles.com