The flexible approach
NMA Oil and Gas is a complete package company providing a range of products and services from oil and gas equipment to drilling oil products and slop oil treatment equipment.
Based in the Netherlands, the company houses much of its design and manufacturing divisions under the same roof, enabling flexibility and efficiency for clients.
Nanco Eelman, business development manager of NMA, explains the organisation's key capabilities: "NMA Oil and Gas is an oil and gas service, production and manufacturing company, providing engineering services, EPC contracting works, engineering production and construction projects. In house, we have an engineering division of approximately 50 people, 45 of which are in Bandung in Indonesia. The engineering division undertakes mechanical, electrical and process engineering as well as specific engineering jobs where a conceptual idea is turned into something producible. In Europe and the Netherlands the law requires that offshore platform work is recorded on an 'as-built' status, we take the idea from paper and digitalise it ensuring that the clients exact specifications and original plans are strictly adhered to. We also have a product rentals and service line called TASK environmental services; we operate, rent and service equipment for the treatment of drilling fluids on drilling locations and equipment for the waste management industry. For TASK, the biggest market is in the drilling industry and we have contracts directly with Shell in Libya."
NMA is a company with reliability and productivity at the core of its business, and is continuously investigating new ways to improve and add to its product base. Nanco explains NMA's latest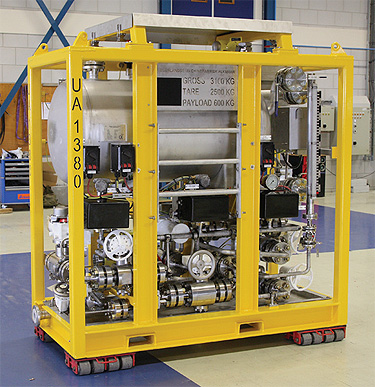 developments: "We are currently working on a new mud cooler, it is a much more modular type system where we can either add modules to increase capacity, efficiency or the safety factors of the system. We can also take the modules and put them onshore and add a blowing module to make it an air cooler, or a water module, to make it a water tower cooling system. This is still in progress and will be ready for the market in 2009."
The versatility of a product like this allows the business to cater for the needs of a wider range of customers. The company's new skid developments are further products that demonstrate this flexible approach: "We are working on skid systems whereby we are given a conceptual idea, we do the basic engineering, the detailed engineering as well as the construction and installation. We are developing a gas treatment skid for a small landwell in the Netherlands for one million euros. Furthermore we are in talks with other companies to supply these modular skids. In addition we provide skid solutions to Westfalia as one of their preferred vendors for skid integration. For our rental division we use Westfalia's decanters and centrifuges, while at the same time undertaking detailed engineering and construction for integrating its distech centrifuges into skid based solutions. We have a range of skid capabilities from diesel oil to salt water for the FPSO market and this is ever evolving.
"Our main strength as an oil and gas company is in the fact that we are a one-stop-shop, offering integrated solutions to the customer – our engineering division provides a quality service from the conceptual idea to instalment. Our skids are designed in this manner while other products like the mud coolers distinguish us in the market with their versatility," Nanco continues.
NMA relies on a skilled set of mechanical, process, electrical, instrumentation and control engineers to create its comprehensive range of demulsifier injection skids, separators units, filter skids, fuel gas skids, mud coolers and shakers that set them apart in the industry. In considering the challenges of finding such skilled workers for the oil and gas industry, Nanco thinks the company's links in Indonesia will be key to success: "We are looking to work more closely with larger corporations in other countries and I think there are still plenty of skills around if you look at a global level. There are a lot of people willing to work and be educated, in countries such as Libya, Indonesia, the Far East and Northern Africa. This minimises costs and brings technology and knowledge into countries that are interested in investing into personnel. In this respect most of our engineers are based in our Indonesian location, the office is located near an engineering university where there are many students interested in working in the oil and gas industry, so we always have the ability to hire new resources should we need to. Although the whole market is struggling with oil prices and the financial crisis, there are opportunities for further growth especially as we only hold a small percentage of the market at present."
NMA Oil and Gas' comprehensive know-how and flexible approach to the industry ensures that its products remain one step ahead of the industry, and Nanco still sees room to develop: "We've added core technologies to the company helping us develop our market ready solutions and we are creating a position in the market for ourselves where a merger or an acquisition may be possible in the future."
NMA Oil and Gas
Services Drilling oil solutions and skids