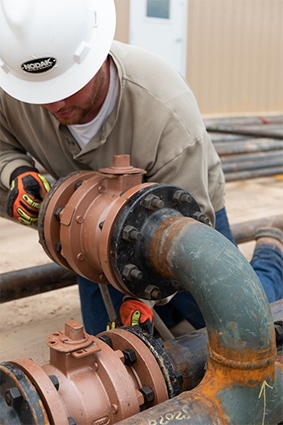 NoDak Oilfield Services develops a 10-year roadmap to becoming a major oilfield service provider.
A decade ago, a carpenter from Montana relocated to North Dakota in search of opportunities for work on an oil rig in the Bakken Shale. Chad Drake didn't know it at the time, but in just a year's time he would take a risk that led to a much higher reward.
Drake founded NoDak Oilfield Services in 2010 based on "old fashioned" principles and a vision to offer clients "the best quality and best service at the fairest price."
What started as a small group of people performing odd jobs has grown into a company of 120 employees with four divisions, which share the same founding vision to consistently deliver; with a commitment to safety, quality and excellence.
Prior to 2017, NoDak operated its two legacy divisions: insulation and construction. In 2017, Drake recruited Clint Hacker to come aboard as the vice president of mechanical operations. The newly formed mechanical division quickly established NoDak's capabilities by successfully completing multi-million-dollar projects. "In 2017, the mechanical division went from zero to millions of dollars in work," Hacker notes. "It is that type of growth and exposure which put us on the map."
Today, Hacker is the COO, and the company has expanded to include not only the mechanical division, but also an artificial lift systems (ALS) division, as well.
Mechanical Division
In just two years, NoDak's mechanical division has secured some of the most premier contracts in North Dakota. The company has hired upwards of 70 new employees, added 20 vehicles to its fleet and invested significantly in heavy equipment to meet the growing demand for its services. "We have tripled the sales of the company in the past two years," Hacker notes.
Artificial Lift Systems
Early in 2018, Hacker formed the artificial lift systems (ALS) division to service downhole pumps in the Bakken "The biggest challenge is building a reputation," he says. "The market is very driven by networking, quality and location of operation. We are at a disadvantage immediately, having to prove our worth with every company."
NoDak's ALS division has built a solid reputation in the Bakken and continues to prove its reputation is rightfully earned, job by job, client by client, day after day. "With years of experience in the Bakken, building, repairing and delivering downhole pumps and components, as well as surface components and parts, our ALS staff is uniquely qualified to supply all of our clients' artificial lift needs," Hacker says. "We provide same-day delivery anywhere within the Bakken."
Reaching New Heights
Although Hacker was given the opportunity to start the mechanical and ALS divisions, he attributes the success of the two divisions to the people he has hired along the way. "Due to the growth we have encountered, I've had to trust people and hire people who are better and smarter than me," Hacker says. "I want to hire people who are more talented than I am and continue that philosophy from the top down, because it's the key to growth."
"At NoDak Oilfield Services, we believe the foundation of all great things are simple, all-inclusive and consistent," Hacker says. "We manage our growth, build with integrity and follow through on our commitments. In doing so, we are all on the same page – from our CEO to the crews working in the field and everyone in between."
Looking to the Future
The growth and success of NoDak is undeniable, and looking to the future, the company sees additional market share available to capture locally and, in time, plans to reach a point where it expands outside the Bakken. The company is considering the Permian Basin and the Alaska North Slope. Hacker notes, "I would say those are our next two angles outside the Bakken, but we must get to a point where we sustain our work and capture what's left in this market and expand from there."