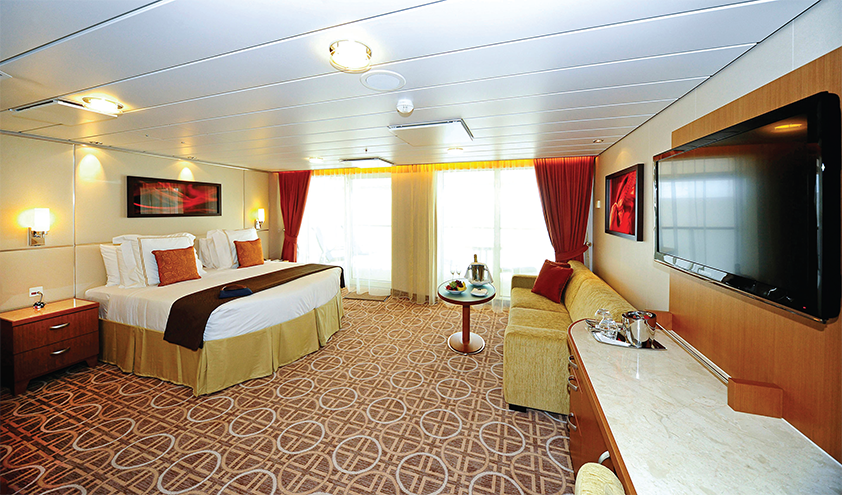 The insiders
Norac AS is a leading supplier of interior systems for cruise ships, ferries, commercial vessels and offshore installations.
Headquartered in Norway, the company has become a one-stop-shop for high quality and affordable interior systems as manufacturers and distributors of fire-rated walls, ceiling systems, doors, prefabricated wet units, floating floors, windows, and furniture. These products have been installed successfully onboard more than 5000 vessels across the world during the last 30 years.
Norac is continuously developing these products in order to meet with customer needs and class requirements with regards to design, easy installation, fire protection, and sound properties. This is partly achieved by the acquisition of complementary companies. All of Norac's products are manufactured with only first class materials in compliance with the most exacting rules and regulations, and its own strict quality control measures. Taking the latest criteria of its marketplace, Norac offers unique solutions that combine optimum sound reducing characteristics with minimum wall thickness. This is something that is becoming more and more important in line with demands for more comfort onboard ships and offshore living quarters.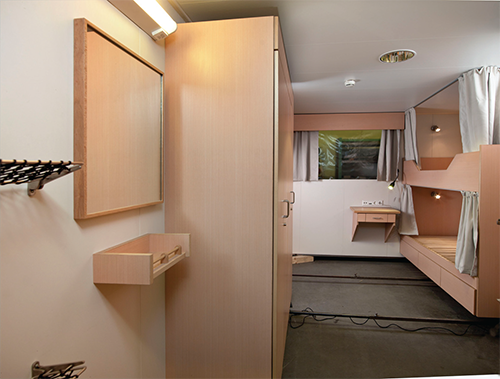 Expanding upon each part of its portfolio in turn, Norac has been delivering wall systems to the shipyards of the world for more than 25 years. From its start as an in-house supplier of panels to the Aker Group's vessels, Norac has grown to become a key supplier in such solutions. The company designs its products to meet the following criteria; quality, flexibility, fire, sound, weight, and ease of installation. Based on new requirements for improved acoustic insulation, Norac has developed a series of acoustic walls, which offer documented sound reduction properties. In such matters the company's own in-house sound laboratory enables it to develop an optimal combination of materials and properties.
Norac also manufactures specialised internal and external firewalls on behalf of, and in co-operation with, BD Systems in the UK. This consists of a comprehensive range of fire and acoustic rate internal panelling and external cladding systems for the outfitting and construction of accommodation units and production areas. They have been developed for high performance and durability in the harshest of offshore environments.
Another key area lies in the manufacture and supply of suspended, and self-suspended ceiling solutions, which are recognised by the industry for both their superior acoustic properties, and ease of installation. In particular, the self-suspended ceiling modules are designed to avoid structural borne noise and reduce safety risks associated with loose fire insulation. Within this range customers can find a ceiling system for all areas onboard a ship from wheelhouse and corridors to cabins, and larger areas like lounges and cafeterias.
Completing the basic structural set up are Norac's series of door, floating floor, and window solutions. The company offers all types of door including ship-type internal A and B doors, external A-class and weather tight doors, and heavy-duty offshore doors of up to fire class H-120 under its subsidiary Norac Baggerød AS. In addition, Norac Baggerød has developed fire-rated windows that range in class from B-30 up to H-90, in a variety of sizes. The windows offer optimum safety and comfort with up to 60dB sound reduction based on on-site testing. Finally, Norac's floating floor systems combine the design properties of strength, safety, ease of installation, and sound reduction, in a package that is simple to transport.
In order to ensure the highest level of comfort, Norac even covers internal aesthetics such as wet modules and furniture, which are designed specifically to fit in with the parameters of offshore and marine accommodation. Building on decades of experience, the company's fully fitted modular wet units are ideally matched to these markets, where an undisputable focus on quality sits alongside the need for durable construction with minimal maintenance costs. Norac delivers its furniture offering through subsidiary Norac Marine Furniture (NMF), which was established in 2002 in the Philippines. The company subscribes to a total concept approach, with furniture supplied as both standard products or customised to individual needs. The wide range of products and solutions mean Norac can be totally flexible in working with its clients to create their own style or design.
By drawing on all of the different Norac divisions and companies, the company is one of the very few in its field that can offer a single source supply of 100 per cent in-house made products. The integration between these different products is overseen by Norac's own engineering team to ensure ease of supply. With such a long experience in the field, Norac has an extensive reference list of clients and vessels. In terms of the oil and gas industry this has included in the past supply of marine accommodation systems to Haven – the North Sea's largest jack-up hotel platform with 447 single cabins, which was outfitted by Norac in 2010 to be operated as a state-of-the-art accommodation unit on the Ekofisk field.
Norac AS
Products: Marine interior systems