A controlled solution
Established in 1980, Norcon delivers turnkey automation control systems for shipping, offshore and land-based industry.
The company, which is based in Vennesla, Norway, employs approximately 40 people and has achieved significant market shares in both the national and international marketplace through its commitment to delivering high-quality products that satisfy the demands of its numerous clients. The organisation is also dedicated to providing state-of-the-art technology that will meet the future needs of various industry sectors.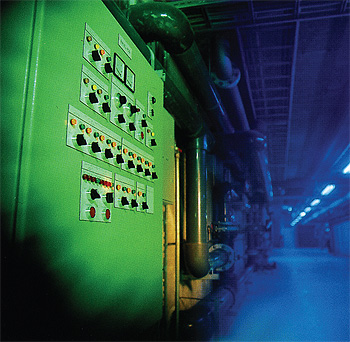 Norcon is a fully owned subsidiary of The Tratec Group, which also owns Agdermaskin, a bulk-handling firm, Koab Industrier, which specialises in products for process industry, Agder Biocom, a renewable energy company and Sense Drillfab, whose expertise lies in the area of drilling equipment. The group's focus has shifted in recent years with an increased emphasis on the development of renewable energy. One of the main target areas for the corporation is to become one of the market leaders in this field.
Norcon delivers systems that are based on PLC and PC technology. These systems include equipment for crane and winch control, AHC winch control, alarm systems, process controls, and level-load and process indication. Furthermore, the company designs and delivers complete crane cabins with control equipment. In addition, it is also strongly involved in landbased business sectors, such as smelting plants, processing industry, power plants, local sector and transport. Much of the company's product portfolio is tailor-made to meet with the requirements of its clientele, which are located all over the globe.
These clients are key to the ongoing success of the business and, as a consequence, first-class customer service is integral to the future prosperity of Norcon. Any product that is developed is stringently tested for performance and durability before it is delivered, while product follow-up is co-ordinated meticulously through a dedicated service department. This team is characterised by highly qualified personnel who have proven their considerable credentials in tough working environments. Furthermore, a sizeable percentage of the systems are accessible from Norcon's service office via a remote support connection – a service that is available during and after any warranty period.
Such initiatives saw the company enjoy the finest year in its history in 2007. As Norcon is in the midst of a stage of positive development, the achievement actually means that the organisation is ahead of its ambitious schedule. The positive results were a consequence of adding to an already strong order book while there are still many further potential business opportunities in Norcon's
field of expertise. To illustrate this, the company currently counts such blue chip organisations as Wtek, Wellquip, ABAS, Scana and Pusnes as clients. In addition, contracts have recently been agreed with KIV (Kristiansand Engineering Department), Oceaneering Rotator, Sorlandschips and Xtrata. The locations for these various projects are wide ranging and take in both local areas as well as jobs in China, Singapore, Korea and the North Sea.
Norcon further enhanced its reputation as a leading industry figure in January this year when it announced an agreement to become an official partner of Siemens. While the company had previously worked with the multi-national, the contract was an ultimate confirmation that Norcon could showcase the necessary knowledge and experience to compliment and enhance Siemens Simatic systems. "There are currently only six other Siemens partners in Norway. Norcon is the first partner in the Sorlandet area and this confirms our position as the region's leading company within the field of advanced automation, with a high professional standard," said Norcon in a statement.
The partnership sees Norcon working more closely than ever with Siemens on both a national and international basis and means that Siemens now refers their customers to Norcon for any necessary support requirements. It continues a proud tradition between the two companies, as Norcon is also the representative of PVSS from ETM, which is fully owned by Siemens and based in Austria. PVSS is a software product used in advanced technology control systems used with communications and other industries. In summary, the award of these contracts is a metaphorical seal of approval that makes Norcon further equipped to manage larger projects in the future. It is a future that promises much; Norcon's eyecatching growth in the past years has been built on a commitment to producing high-end products that has been apparent since the foundation of the company in 1980. It benefits from being part of a truly multi-national group, which combined with its clear commitment to innovation, state-of-the-art technology and customer satisfaction, has seen the organisation establish a solid position in a highly competitive sector.
Norcon Engineering
Services Automation control systems