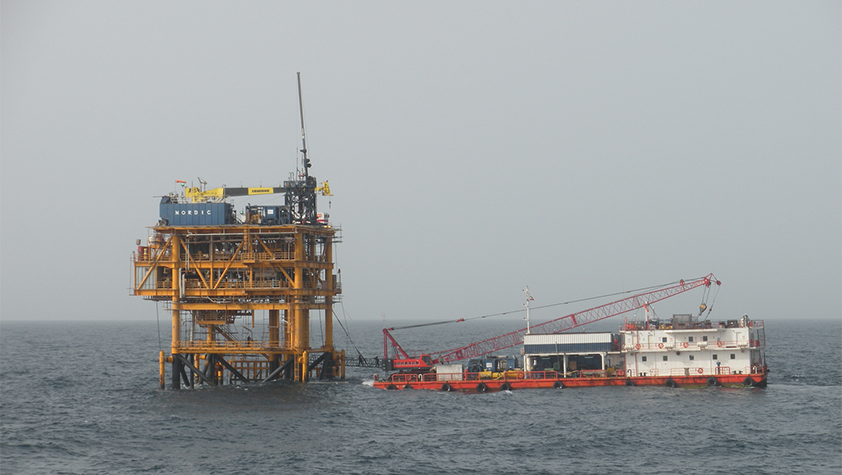 A unique concept
Nordic Energy Fzco is a work-over and well service company based in the UAE.
A group with extensive experience in snubbing and work-over, coiled tubing, and well intervention services acting on the desire to deliver cost effective and innovative services to the oil and gas industry in the region. It began life as a local management company for Nordic Energy Services AS. Today the company's majority shareholder is AREF Energy Holding, which is a Kuwait based Equity Company.
Nordic Energy Fzco is one of the most experienced work-over and well operation contractors in the region. Nordic offers a host of services broadly categorised into five areas, one of which is snubbing and work-over rigs. The advantage of using such a rig for plugging and abandonment (P&A), well completions, remedial fishing operations, stimulation, frac operations, and general work-overs is that the well does not need to be killed before the work begins. Using the grounded experience within the company, Nordic designs and develops its rigs to offer efficient performance and the flexibility to take on conventional work-over tasks as well as completion and coiled tubing operations.
One recent new development is the snubbing and work-over (SWO) 200 Rig, a hybrid model able to switch between traditional rig operations and under-balanced through-tubing applications. Its design is based on the field experience of Nordic's engineers and comprises a modular concept to offer the advantages of both a drilling unit and well intervention unit.
The use of hydraulic work-over and snubbing rigs for drilling applications is a new phenomenon made possible by the development of a number of enabling technologies.
These include enhanced rig designs, pipe handling systems to aid in tripping efficiencies with single joint rigs, reliable slim-hole drilling MWD technologies, top drive systems with torques reaching 25,000 ft/lbs among others. In addition there is an increasing business imperative to maximise recoveries from existing assets and to develop technologies that will make marginal fields economic. This has challenged the service industry and operators to develop and utilise non-conventional drilling and completion techniques.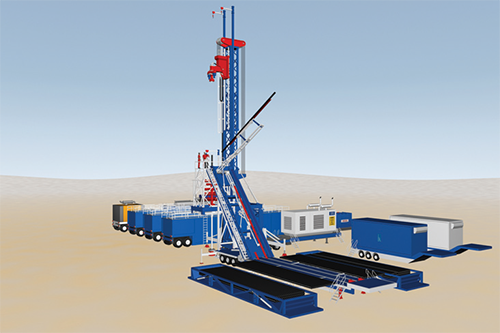 The expansion of underbalanced thru-tubing interventions, work-over's and re-entry drilling has led to a need for a multi-purpose rig specifically designed to perform traditional underbalanced rig-less well operations combined with standard work-over rig work.
A hybrid rig specifically designed to conduct traditional rig operations combined with the ability to switch to underbalanced thru-tubing applications has now been developed by Nordic and has been aptly named the snubbing and work-over rig (SWO)
The concept of the SWO Rig evolved from innovative engineers in conjunction with experienced drilling, work-over and snubbing personnel from Nordic. By combining underbalanced horizontal drilling experience and mobile land based rig design expertise with snubbing and well control know-how, a new specialised work-over and snubbing company has been formed.
With a unique modular concept, Nordic has bridged the gap between a drilling rig and a hydraulic well intervention unit. Up to now the use of single joints (i.e. 30 ft or greater) for well intervention and/or snubbing operations has been restrictive due to the design of standard units and the prohibitive cost effectiveness of handling larger diameter drill pipe sizes. The rig concept developed by Nordic allows a rig up time of three to four hours and a tripping speed of 3000 to 4000 ft per hour in live wells. This new design also allows for continuous circulating while tripping pipe, thus improving safety during underbalanced drilling and/or high-pressure fracing and stimulation operations.
This document describes a modular rig that has been manufactured specifically for bridging the gap between a traditional drilling rig and a Hydraulic intervention unit.
The Continuous Circulation Manifold (CCM) allows all fluid circulation to be constantly maintained while making connections and or tripping with conventional jointed pipe. The CCM makes continuous circulation during connections possible by creating a sealed pressure chamber around the tool joint to be broken. It allows long stroke SWO rigs to safely perform under balanced drilling, acidizing, and safely use compressible fluids on a continuous basis.
The pulling capacity of Nordic's coiled tubing equipment reaches up to 100,000 lbs and is ideal for most remedial operations. Having high and reliable strength is important because of the length of many horizontal wells. The company's units are also designed for working in wide ranging environments, with special focus on the hot weather of the region in which it operates.
Through-tubing tools and services are a highly specialised discipline to which Nordic has dedicated an entire division. A diverse range of well bore tools is custom designed, manufactured and delivered from Nordic to its customers in the oil and gas industry, with the company's expert field engineers drawing on their experience to rapidly devise the best solution. A brief selection of items available includes: standard bottom hole assemblies, fishing tools, PDMs and rotational tools, impact and fishing tools, clean out tools, thru-tubing accessories, and packers and plugs. Many of these are available 24/7 from the company's Dubai workshop. They are used for servicing highly deviated, extended reach and horizontal well operations and have become increasingly popular solutions in modern field development.
All of the company's services are carried out according to a strict occupational health and safety policy that emphasises the risk reduction for both its employees and third party personnel, a quality policy in accordance with ISO 9001 that insists on high standards in accordance with laws and regulations, a three-stage quality assurance structure, and an environmental policy that promotes environmental stewardship.
Nordic Energy
Services: Work-over and well interventions