Looking ahead
Founded in 1999 Nordic Maritime Pte Ltd has spent the past one and a half decades building a trusted reputation as a leading supplier of seismic and offshore services.
Based in Singapore, the company today operates primarily in Southeast Asia, West Africa, the Middle East, India, Australasia and Russia with a fleet currently comprising of six vessels. This is made up of two 2D/3D seismic survey vessels (SSV) and four offshore utility vessels (OFV) that allow Nordic to deliver a broad range of offshore and survey services.
The services delivered by Nordic are divided into four main areas of expertise made up of ship management and agency; marine seismic acquisition; offshore subsea and ROV/IMR operation, conversion and yard supervision. Since the company first began it has offered the highest quality management services that it tailors to meet the individual shipping requirements of its clients. Nordic's management system addresses all areas of technical management, marine operations and HSSEQ and provides procedures, instructions and documentation of all vessel activities, which are presented in a clear, systematic and well-structured fashion. The management system provided by Nordic is easily adaptable by the ship's crew and office management, making it a aheadvital bespoke solution for ship owners looking for targeted and highly professional handling of operational and technical matters. Furthermore the company is able to provide ship agency services comprising port clearance and pilot arrangements; off port limit services, crew change arrangements (for example immigration, visa, transport and hotel accommodation); purchasing services and others.
Within the marine and seismic acquisition side of its business Nordic Maritime offers a complete range of high quality conventional marine seismic services. All of the company's SSVs are equipped with onboard processing systems that allow its clients access to real time information regarding the potential of offshore fields. The newest addition to the Nordic survey fleet is the S.V. Nordic Bahari, which was originally built in Canada during 1983. The vessel was fully converted for 3D survey in 2006 and upgraded and acquired by Nordic in 2013.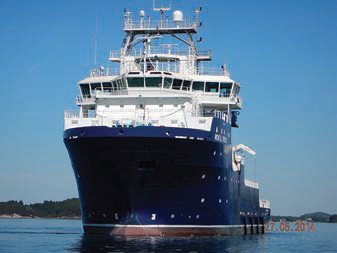 Most recently, Nordic successfully took delivery of an IMR/ROV vessel in March 2014, which installed a 100T AHC crane and went straight on charter in the North Sea for N-Sea. Furthermore, it is now about to sign a five year charter in the Mediterranean for an oil operator, which represents a great achievement for Nordic. At the same time it has a sister vessel of Mokul Nordic under construction at Tebma Shipyard, which will be delivered Q2 2015 and will also have the same 100T AHC crane installed. Nordic has a strong belief in the medium segment IMR/ROV market and plans to increase its fleet with medium sized IMR/ROV vessels.
The company is also proud to offer its proprietary fleet of chase boats and supply vessels in support of seismic survey operations, allowing Nordic to focus on increasing its clients' profitability by operating at peak efficiency and adhering to the highest safety standards. Having worked with most of the National Oil companies in South East Asia, Nordic Maritime is able to draw on a well of experience that guarantees its clients a professional approach at every stage of an operation.
Nordic Maritime is also able to support its clients and their vessels at the yard level, where it is able to integrate its operational experiences into new building and conversion projects. This strength is derived from a long history of experience in in-house engineering and design; project management for new builds, conversions and repair; general vessel inspections and audits; preparation of repair and dry-docking specifications, and supervision and ship yard review selection for large projects. Through a combination of these services and the application of its growing fleet, Nordic Maritime can be considered a total solution provider in the field of seismic and offshore services.
In conjunction with its expanding fleet, Nordic Maritime has continued to enjoy sustained growth and a steady flow of contracts. On December 26, 2013 Nordic Maritime, with its Registered Office P.T. Bahari Lines Indonesia, was awarded the provision of marine seismic data acquisition and processing services for the East Muriah Block offshore East Java, Indonesia by Kris Energy (East Muriah) Ltd. Work commenced on January 29 and called for the S/V Nordic Bahari to execute the acquisition of approximately 1300 line km, which was completed by the end of February 2014. Following next was a 400km sq 3D contract for Husky Energy also in Indonesia.
A key project for Nordic Maritime was the award of a $23.5 million contract to provide 3D marine seismic data acquisition and processing services off the coast of Andhra Pradesh, India on behalf of Cairn India Limited. The project started in March 2014 and involved collaboration between Nordic Maritime and the Russian firm SCF Geo and its seismic survey vessel Vyacheslav Tikhonov. In all, 1023 sq km were surveyed during the project, which also called for the acquisition of gravity and magnetic data alongside the seismic data near Nizamapatnam Bay. Commenting on the project, Nordic Maritime CEO Kjell Gauksheim said: "This award from Cairn Energy for work offshore India is naturally exciting for Nordic and our partners. We are pleased to be entrusted with it and we will perform as always to our established high standards. We believe there are more opportunities like this in the region and we are open to more contracts of the sort in the future."
With further contracts awarded throughout 2014 and a long list of clients including Total, ExxonMobil, Fugro, Saudi Aramco, Petrovietnam PTSC and many others; Nordic Maritime is set to remain a vital player in the oil and gas market within the Middle East and beyond for many years to come.
Nordic Maritime
Services: Seismic and offshore services