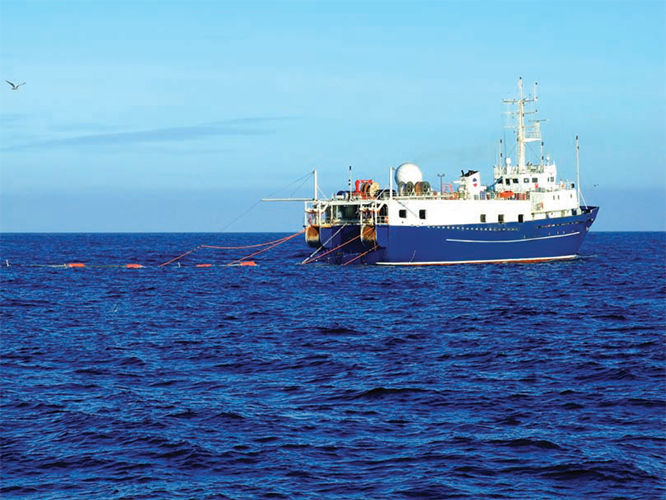 Grand designs
Singapore based ship owner and management firm Nordic Maritime provides a comprehensive range of marine, seismic and offshore services, with operations mainly focused on Southeast Asia, Australasia, the Middle East, India, West Africa, Russia and China.
With a passion for success, the company is driven by a team of exceptional personnel, who strive for client satisfaction through delivering the best possible standard for its offshore operations. Its extensive fleet includes specialised vessels such as 2D and 3D seismic survey vessels, seismic chase/support vessels, crew boats as well as DP2 IRM subsea vessels and DP2 offshore accommodation barges.
"We established Nordic Maritime in 1999 as a Norwegian based ship manager for a Russian third party owner for 2D and 3D seismic vessels; from then on we had three vessels that we managed until 2005 when we acquired our own first vessel, a support chase boat to support the seismic vessels we managed. At this point we became an owner and manager," explains Kjell Gauksheim, chief executive officer (CEO) of Nordic Maritime. "In 2006 we moved to our current location in Singapore and continued our acquisitions with another seismic support chase vessel the same year. In 2007 we converted a 2D seismic vessel under Nordic Maritime and in 2008 we ordered two DP2 accommodation barges."
The company's strategic move to Singapore came as a result of the booming oil and gas market in the Far East and South Asia, which it has since taken advantage of by participating in ambitious and challenging projects, as Kjell highlights: "In 2008/9 we collaborated with the Vietnamese National Oil Company (PVEP) on a project that involved the conversion of a 2D seismic vessel. After we sold the vessel to PVEP we then had two years of a management contract for the vessel, which involved training for local engineers to become self maintained operators. In 2011 we handed over the vessel to PVEP and our successful involvement in this project was over."
This unique experience, involving an extensive 'on the job' training course specifically designed for the project, has given Nordic Maritime a strong advantage when it comes to understanding customer demands through open dialogue and transparency of knowledge and experience. Today Binh Minh 02 is a productive 2D seismic vessel operating in Vietnamese waters under the Vietnamese Flag.
As a Singapore company with Norwegian owners, Nordic Maritime benefits from a strong reputation for delivering high quality services in a fast growing market; not only a ship management and agency, the company also provides project management and building supervision of a range of first class offshore vessels for the oil and gas industry. As complex deepwater exploration and development becomes a global reality, Nordic Maritime is ready to tackle any new challenges through providing a range of first class offshore vessels with deepwater capabilities.
Nordic Maritime's new building programme of premium DP2 accommodation and subsea vessels offers customers a diverse variety of services in the deepest of waters; these include accommodation, ROV, IRM, subsea light construction work and seismic support and survey activities. The newbuild vessels being constructed to increase Nordic's fleet are all equipped with DP2 systems and are designed to handle the most challenging environments. With a firm belief in delivering multipurpose, versatile vessels for an ever-evolving industry, Nordic Maritime aims to help clients reduce vessel operation costs while also achieving sustainable and economical developments in their oil fields.
Elaborating on the company's offshore seismic acquisition services and growth further, Kjell highlights: "Conversions are 100 per cent controlled and executed by our project management and site execution team. We take on the full project management at the shipyard and do everything from A-Z; we did this in 2007 converting a 2D seismic vessel and chartered her to BGP-CNPC. In 2009 we converted a same designed 2D seismic vessel and made an outright sale to PVEP and are again just rigging our own 3D seismic vessel. She was laid up in South East Asia and we purchased her from a Norwegian owner before refurbishing and fully converting her into a four-streamer 3D seismic vessel. She sailed out on her first job in early November. We have decided to flag the new ship under an Indonesian flag in line with our development there."
Having established a strong foothold in Asia through continued investments, market awareness, flexibility and open dialogue between customers, the firm opened an office in Indonesia in 2010 and is now looking at the opportunities for further growth. "The last two years have been very active for us within the 2D and low-end 3D market. We have completed around 5000 square kilometres of 3D in the Middle East and around 25,000 line kilometers of 2D seismic acquisition around South East Asia. However, we believe Indonesia is a growing market and this will be our focus going forward. We now have two vessels under the Indonesian flag, to comply to the local cabotage regulation, and have been looking to increase our fleet in the offshore support side as well due to the potential work we see here," says Kjell.
With an active few years behind it, Nordic Maritime aims to secure its future by continuing to generate revenue from its services in the seismic sector and investing this money into newbuilds for the offshore support market, as Kjell concludes: "As an operator of smaller seismic vessels, we know what is required on the support side, which is why we have developed a design for a very fuel efficient and highly competitive vessel. This design is currently being offered to the biggest seismic operator firms worldwide; at the moment we are building these vessels with full ice-class and a high expectation on comfort and clean-design to meet the highest standards in the market. This is a new venture we are trying to develop."
Nordic Maritime Pte Ltd
Services: Ship owner and manager