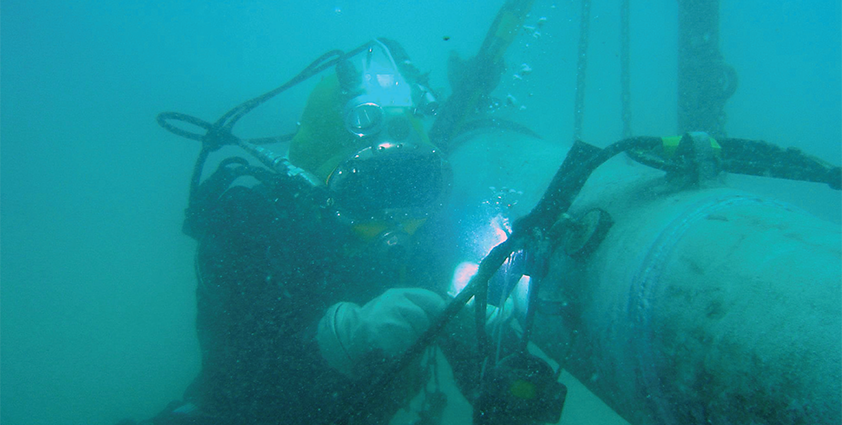 Call the experts
Nordseetaucher GmbH is an international diving contractor, offering an array of related services to its customers.
These come under the headings of offshore oil and gas, inshore and inland activities, nuclear diving, which comprises diving work for power plants, and deep tunnelling, which involves working in compressed air, mixed gas and saturation in tunnel boring machines (TBMs).
In the offshore oil and gas sector, the company provides diving services, plant repair and maintenance, recovery, and installation activities. To achieve this Nordseetaucher GmbH operates teams of highly qualified members with extensive job experience in all the relevant areas. Some have special training in saturation diving, at depths of up to 600m, which was first achieved under working conditions in 1986.
The company has considerable experience in its field, having been founded in 1989 in Ammersbek near Hamburg, where its main office is still located. During this time, the knowledge that the business has accumulated is one of the key distinguishing factors between it and its competitors, as Claus Mayer, managing director at the company, told European Oil and Gas in late 2009: "There are not many companies around the world that offer the kind of work that we do, so we feel very secure in our position in the marketplace, and expect to continue to grow in the coming years."
Since that time, the growth projected by Claus has continued as Nordseetaucher continues to provide one of the most comprehensive international diving servicepackages in the world. Essentially, these services are based around a number of key areas, as Claus highlighted: "Welding is a major part of our activities. We have done a lot of research into underwater welding, hyperbaric welding and ever since we repaired an oil and gas pipeline in South Africa a few years ago, we have also been very busy in the area of pipeline repair. We also carry out tunnelling activities worldwide, and we hold global contracts with manufacturers of tunnelling machinery.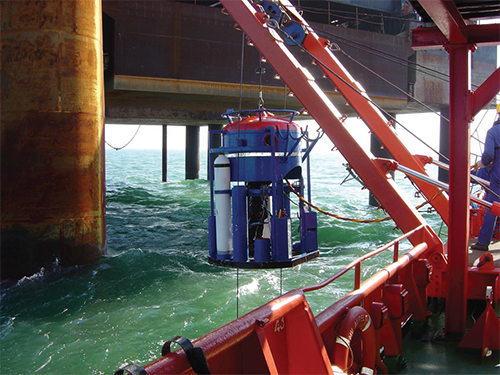 "In terms of nuclear services, we mainly carry out mainland repair work in storage pools for nuclear power plants. This is a specialist area, as there are only two or three companies in the world that offer this kind of work. As for our inland activities, we work to create underwater dams, as well as offering repair work for pipeline and general maintenance services. In the area of deep tunnelling, we have already completed a project at a pressure of 8.5 bar with mixed gas some years ago. That was the first time a company had carried out this kind of work."
Of course, as the industry progresses these services require continual improvement as market demands increase. To ensure that it remains ahead of its competitors, and to address this, Nordseetaucher places considerable emphasis on training its employees. For example, it has its own training centre in Germany where it provides education and courses to existing divers and those wishing to become divers and hyperbaric technicians. In some cases it can take anywhere between three and four years to complete this training, but it is essential to maintain the reputation that Nordseetaucher has in the industry for the expertise of its employees.
This kind of reputation allows Nordseetaucher to actively expand its business into new areas and market sectors. One important area of interest is the Southeast Asian market, particularly China, where this year the company attended the World Tunnel Conference in Shanghai. Claus keenly highlighted some of the company's developments in this area: "Since September 2008 we have been constantly active in China, with around 20 divers and technicians located here at all times. We have already completed a number of projects there and predict a very busy period for us over the next ten years. We are also looking at the Middle East; we are currently very busy in Iran and the UAE. Finally we are considering Russia, Azerbaijan and Kazakhstan, which are all developing into areas of interest."
As a recognised leader in its field Nordseetaucher is regularly approached by companies looking to develop new technologies. One such area is wind power, where the company has worked on a project in the North Sea, which is due to be completed in 2011. Located on the Amrumbank West Sandbank in the North Sea, the project involves Nordseetaucher being responsible for positioning the wind measurement mast, which consists of a monopile, a measurement chamber and a lattice mast with a variety of measurement instruments.
It is projects such as this that ensure Nordseetaucher remains at the forefront of its industry. The experience and expertise of its divers and technicians is well-know throughout the industry, making it the leading choice for companies worldwide. As the offshore and nuclear industries continue to provide ample work, and new areas such as wind power grow, Nordseetaucher can remain confident of further success in the future.
Nordseetaucher
Services: International diving contracting