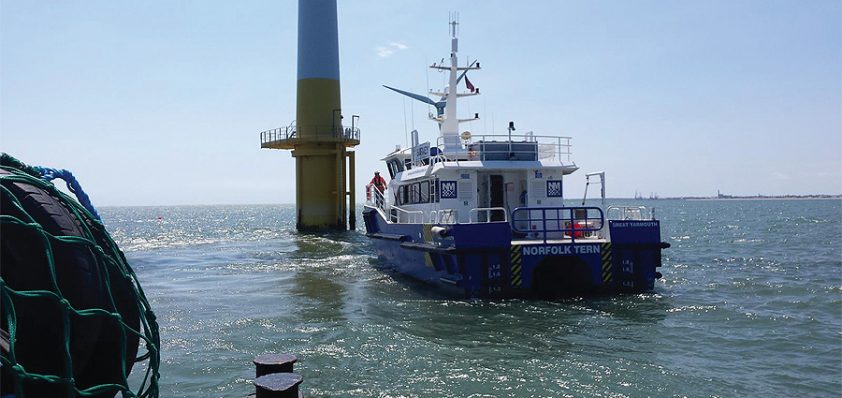 A co-operative partner
Since the company was established during August 2003, Norfolk Marine Ltd has established a trusted reputation as a leading supplier of high quality diving and marine engineering solutions. From its base in Mountcharles, Ireland the company has continued to develop and expand its range of services with a keen focus on quality and customer satisfaction. Today Norfolk Marine is able to deliver a comprehensive portfolio of service solutions to clients operating within a broad base of industry sectors, including marine civil engineering; vessel maintenance and salvage; port and harbour authority; renewable energy; utility and infrastructure; nuclear; and oil and gas applications.
To further increase the value of its extensive service package for its clients, Norfolk Marine also operates as a member of the Achilles Community, allowing the company to share high-quality, real-time data in a global collaborative network. Achilles was founded in Norway in 1990 with the goal of helping organisations to identify, assess, qualify and monitor suppliers throughout the
supply chain. Its community structure provides buyers with access to a broader range of verified and compliant suppliers, while buyers gain access to a broader base of potential buyers. Presently around 860 of the world's leading buying organisations and some 133,000 key suppliers benefit form being members of the Achilles network. The organisation's members comprise over 40 different communities in 11 industry sectors and include customers including wellknown brands such as Shell, Balfour Beatty, Toyota Motor Europe, E.ON, EDF, Vale, ABB, Santos, Petrobas, Chevron, Maersk, Skanska, Statoil, Vattenfall, Repsol YPF, Alstom, Iberdrola, Acciona, Abertis, National Grid, BHP Billiton, Yamana Gold, Halliburton, Anglo American, Aston Martin, Jaguar Land Rover, Petrobras and Exxon Mobil.
"Norfolk Marine is able to provide a diverse range of services to customers through in house expertise and partnering specialist contractors," says Senior Contracts Manager for Norfolk Marine, Laurie McCaughan. "The company can offer a range of personnel and equipment resources from its various operation bases, which enables a timely and cost effective response to customers' needs. Joining the Achilles community presents the company's services to a significant number of existing and potential customers and increased tendering opportunities."
As the company has continued to grow, Norfolk Marine has worked to further develop its service offering throughout the UK, while embracing opportunities that are currently being generated within the offshore renewable energy market. During August 2014 for example, the company opened a new operations base in the Port of Lowestoft. With Lowestoft rapidly developing as a hub for the offshore renewable sector and its vessels operating from the port's harbour area for several years, Norfolk Marine considered it to be a natural progression to establish a permanent base in the region. Both mobile and containerised diving systems currently operate from the Lowestoft South Quays facility along with the company's inspection class ROV units and a full range of in-house underwater non-destructive testing (NDT) equipment. This allows Norfolk Marine to carry out comprehensive inspections of clients' underwater assets in both inland and offshore deployments.
Operations can be carried out from the company's own fleet of vessels, meaning that customers have a single point of contact, hence minimising both logistical considerations and costs. "The operations base at Lowestoft has allowed Norfolk Marine to increase its scope of services in the UK and consists of extensive quay as well as office, storage, workshop and warehouse space," Laurie explains. "This allows the company to provide a much greater range of resources including diving, ROV, survey and wind farm support vessel services from its own easily accessible location. With the current growth of Lowestoft and surrounding areas in the offshore renewable energy sector, Norfolk Marine is able to provide services and facilities locally and from a single supplier."
It is envisaged that Lowestoft will grow to become the company's operations headquarters during the coming years for both European and further international contracts, while the Norfolk Marine office in Ireland will continue as the administrative hub of the business. Furthermore, space is also offered for rent within the Lowestoft office complex, which attracts complimentary service providers within the renewable sector and quay space is also made available along with storage facilities and equipment. This allows both the mobilisation and demobilisation of contracts through the facility as well as the opportunity for other parties to use and benefit from its resources.
With the opening of its operational base in Lowestoft, Norfolk Marine has continued to develop its service offering and delivered several projects within the offshore wind industry. During February 2016 for example, the company completed the installation of its tyre filled net (TFN) scour remediation system at E.ON's Scroby Sands offshore wind farm. "The TFN project at Scroby Sands involved the installation of the company's patented scour protection system to a number of turbine monopiles across the site. The TFN system utilises recycled car tyres to create a protective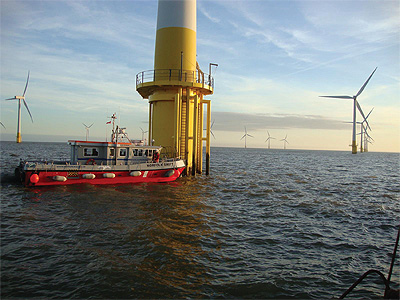 apron around the base of the monopiles, which not only prevents further scouring but also allows the reinstatement of seabed material by trapping migrating sand suspended in the tidal flow. The system presents significant benefits in cost, environmental impact, logistics and resources when compared to aggregate based solutions that are currently used," Laurie elaborates. "Renewable wind energy promotes the replacement of non-renewable resources, and the associated cost and environmental impact. The TFN system reinforces this goal. The supply and installation of the TFN system at Scroby Sands was carried out almost entirely in-house, from the company's Lowestoft base, with assembly, diving, crew and material transfer being provided using existing personnel and equipment resources."
In February 2016, Norfolk Marine also announced that it has entered into a co-operation agreement with the highresolution hydrographic and geophysical survey company, Geomara. Working from Norfolk Marine's Lowestoft facility, the partnership will offer an extensive range of interrelated maritime services and forms part of the company's strategy to further increase its service offering and market presence over the coming years. "The co-operation with Geomara allows both companies to expand the services they can provide and the resources available to them. Customers can source a single supplier capable of providing survey expertise, support vessels and equipment from a number of locations throughout the UK, Ireland, and further afield. Hydrographic surveys are currently being carried out jointly in West Africa from Norfolk Marine's local facilities," Laurie says.
"The next 12 months will see increased activity in the East Anglia area with a number of offshore wind farms being developed," he concludes. "The primary focus will be to remain in a position to provide a range of support services during this growth phase. Other activities will include further marketing and installation of the TFN scour protection system, development of the company's activities in Africa and to continue providing new and existing customers in the UK and Ireland with quality services."
Norfolk Marine
Services: Diving and marine engineering solutions